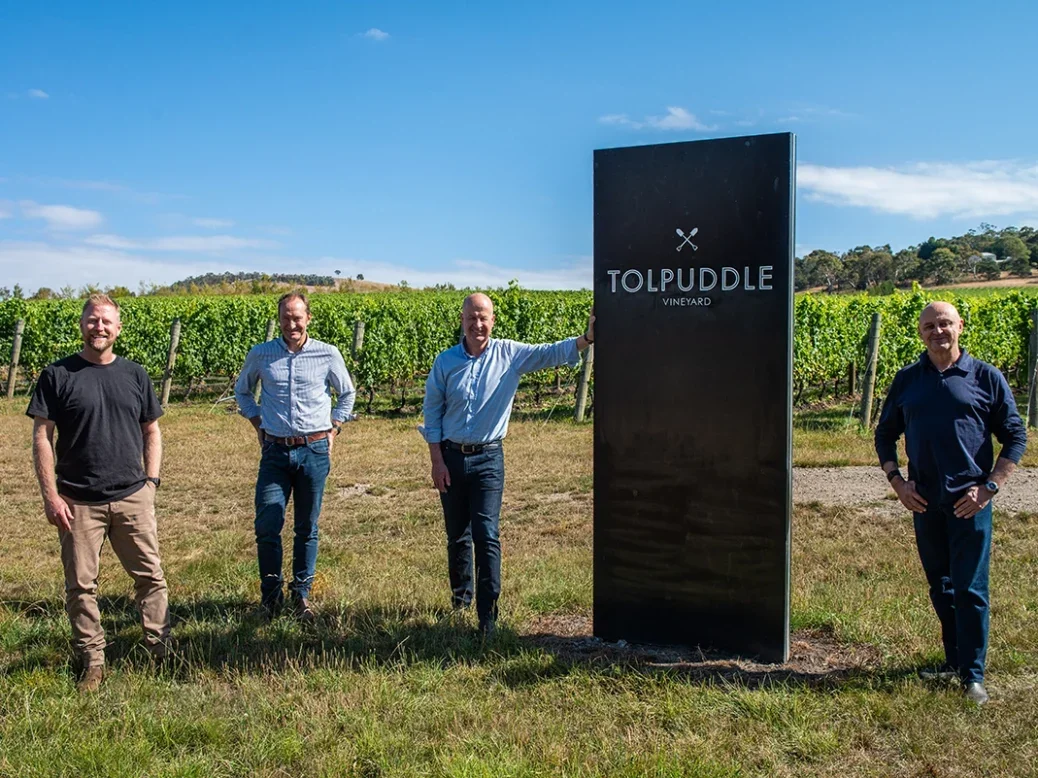 Anthony Rose enjoys an exciting ten-year vertical tasting of Chardonnay and Pinot Noir from Martin Shaw's and Michael Hill Smith's Tasmanian project, Tolpuddle Vineyard.
On a reconnaissance trip to Tasmania in 2011, Michael Hill Smith AM MW and his cousin and partner in wine Martin Shaw were enjoying a seriously liquid dinner on their first night with the legendary Tasmanian terroirist Dr Andrew Pirie and ex-Hardy's Peter Dawson at The Stillwater in Launceston. Dawson claimed that Tasmania would be making the best Chardonnay and Pinot Noir within a decade and that the Tolpuddle Vineyard was producing some of its best. "We then tasted with Pete Dredge at Bay of Fires, and all the Chardonnays that we loved came from Tolpuddle; all the Pinots, too, for that matter, which we'd never even heard of," recollected Hill Smith.
As they drove through the gates of the property in the Coal River Valley north of Hobart, they instantly fell in love with the vineyard but had no idea of how to proceed. "Martin was very pragmatic and not given to spontaneity in any form, so it was all the more surprising that he became so set on buying the vineyard, which we did in 2011," explained Hill Smith. It was highly rated as a business model, and big companies were prepared to pay up to AS$7,000 per ton for some of the fruit, but no Tolpuddle wine was put out under its own label. It had been allowed to run down, was spur-pruned, and soil compaction was a problem. Because it was patchy in parts, the big companies would go around cherry-picking the bits that they wanted for their blends.
In their search for a vineyard site for sparkling wine 24 years earlier, Domaine Chandon's Tony Jordan and Gary Crittenden, whose winery is on the Mornington Peninsula, were shown some analyses of fruit from Glen Ayr by George Park of Stoney Vineyard. They approached Bill Casimaty, who had established a small trial vineyard at his historic Glen Ayr property close to Richmond, to form a three-way joint venture to develop a sparkling-wine vineyard on his property, with access to water to come from the proposed South East Irrigation Scheme. Named after the six Tolpuddle martyrs, whose leader, George Loveless, served some of his sentence working on the property near Richmond, an initial 25 acres (10ha) of the new Tolpuddle Vineyard were planted to Chardonnay and Pinot Noir in 1988, on the south side of Moores Creek from Glen Ayr with the aim of supplying Domaine Chandon.
"It was planted by grown-ups because they knew what they wanted," said Hill Smith at a comprehensive tasting at Trivet in London of all the Tolpuddle Chardonnays and Pinot Noirs made since 2012. In 2006, the vineyard won the inaugural Tasmanian Vineyard of the Year award. Located in Tasmania's southeast, at 42 degrees south, it's farther south than any South African vineyard, roughly corresponding to Argentinian Patagonia or New Zealand's Martinborough and Nelson. It has annual rainfall of 20in (500 mm) and heat degree days of 1,180, with an average January temperature of 63°F (17.2°C)—and January, lest we forget, is summer in Australia. A cool, dry climate, combined with the gently sloping northeast-facing site on light silica over sandstone, makes Tolpuddle ideal for Chardonnay and Pinot Noir.
Expecting Tasmania to be wet, cold, and green, Hill Smith and Shaw were right about the cold but not the green, with mountains to the west and a strong rain-shadow effect, the difference being that the east is dry, with a little bit more sun, so the grapes generally hang longer and achieve concentration combined with high acidity. "Some winemakers say they think the wines are too acid, but as in Chablis, acidity becomes part of the DNA of the wine," Hill Smith insisted, while admitting that they do have to be mindful of the high acidity. Variable flowering can produce low yields, which in turn brings good concentration, and there is little disease pressure at harvest.
A decade of improvements
Since the purchase, Hill Smith and Shaw have spent a decade getting the vineyard right. Under the vineyard team of Murray Leake, Carlos Souris, and Wendy Borg, and winemaker Adam Wadewitz, much effort has gone into soil improvement, including inter-row ripping to avoid soil-compaction, plus extensive composting and the use of cover crops for organic matter. They moved from spur pruning to mainly cane pruning, and they have been gradually replacing the less well-regarded clones. The new Chardonnay plantings are with Bernard 76, 95, 96, and 548.
In the early days, the Pinot Noir was mostly MV6, but the introduction of 777, Abel, MV6, 667, 828, and Pommard has had a positive impact. "In a marginal climate like Tasmania, having a mixture of planting material covers your bases. Pinot is so site-specific that it's difficult to generalize, but Tasmanian Pinot Noir has a reputation for power, so it comes down to how you manage it. And our understanding of how to grow better Pinot down there is starting to show," claimed Hill Smith. "The variation from vintage to vintage will be less marked."
A new dam has been created for frost control, along with improved drainage and run-off, while new foliage wires were added and the cordon wires lowered. An additional purchase of 15 acres (6ha) of neighboring land to the north has brought the total area under vine to 68 acres (27.36ha). "After ten years, we've got to the stage where we're finally pleased with how its performing," said Hill Smith.
In the cellar, Chardonnay is whole-bunch-pressed before fermentation, then the juice is fermented in French barriques, since Tolpuddle seems to crave oxygen. For Pinot Noir, Adam favors around 50 percent whole berries and 50 percent whole-bunch in layers within the fermentation vessel. "Without that, the wine would look a bit simple," suggested Hill Smith. Both wines see about 30 percent oak during maturation. "The flavors are so intense from Tolpuddle Vineyard that the wines seem to carry the 30 percent effortlessly," said Hill Smith.
While the vineyard will settle down at 60 percent Pinot Noir, 40 percent Chardonnay, production volumes will remain roughly equal. Not ones to rest on their laurels, Michael and Martin are building a tasting room at the vineyard—as if there weren't already enough reasons for visiting what is, arguably, Australia's most exciting up-and-coming wine region.
Tasting Tolpuddle Vineyard
With Michael Hill Smith MW at Trivet, London, September 29, 2022
2021 Tolpuddle Vineyard
A wet winter and a wetter than average spring, one of the coolest growing seasons, so a high proportion of smaller berries, low yields, and good concentration.
Chardonnay (13% ABV)
More approachable than the 2020, this shows superb aromatic complexity, and although still in the relative first flush of youth, it's surprisingly intense in aroma, quite Burgundian, akin to Chablis grand cru. Savory, leesy characters combine with richness and concentration of fruit flavor in an intense mouthful whose sweetness turns enticingly savory as the trademark crisp acidity bites. | 95
Pinot Noir (13.5% ABV)
Very youthful, with significant depth to the color. Showing both primary aromas and fruit, this is beautifully fragrant, with a fine, red-berry fruit perfume; some evidence of whole-bunch. The fruit on the palate, too, is bright and richly concentrated, with a seductive strawberry and loganberry richness to it, yet fresh. The concentration and richness turn to savory, thanks to an underpinning of stylish vanilla oak, fine-textured tannins, and a firm spine of incisive acidity. | 95
2020 Tolpuddle Vineyard
Variable flowering resulted in "hen and chicken," but "with small grapes packed with flavor, concentration and intensity increased." The Chardonnay won five trophies at the Melbourne Wine Show.
Chardonnay (13% ABV)
Equally fine as the 2021 in aromatic complexity, with a marked, smoky-savory, leesy quality, subtle supporting oak and an almost painfully lively streak of crisply refreshing acidity bringing freshness yet without detracting from the full-bodied, full-flavored fruit character. All is beautifully balanced, with plenty of potential for a good decade's improving in bottle. | 96
Pinot Noir (13% ABV)
Ruby with violet glints; very youthful in appearance. Lovely, spicy berry-fruit fragrance, complex and intense; some evidence of oak and whole-bunch, like a young Côte de Nuits Burgundy. Intense and concentrated dark-berry and cherry Pinot fruit, with an underpinning of vanilla oak in a structure of fine tannins and firm acidity, all finely balanced, with great potential for aging. | 95
2019 Tolpuddle Vineyard
A highly rated vintage. A mild growing season, the slow ripening resulting in good concentration and power. The Pinot was smoke-tainted, though, from the Huon Valley fires to the south, so none was bottled under the Tolpuddle label.
Chardonnay (13% ABV)
Pale gold. Intense, complex aromatics, combining nutty oak and lees, Burgundian in Chablis-meets-Puligny mold. The aromas are really starting to take off, with evident complexity from both oak- and lees-handling and a hint of struck match. The intensity of bright fruit, ripe and peachy now, is turning gradually to savory, thanks to a fine blade of mouthwatering acidity, all elegantly balanced. | 94
2018 Tolpuddle Vineyard
"A nice, normal vintage, slightly quiet, with slow, even ripening achieved from drier conditions, resulting in good concentration and balance," said Hill Smith.
Chardonnay (13% ABV)
Pale gold. Fresh, the aromas now starting to become more complex with attractive struck match, leesy depth and quiet nutty oak. The fruit is juicily concentrated, sweetly ripe, and textured. Good length is supported by the delicate oak handling and fine lees-derived complexity. | 94
Pinot Noir (13.5% ABV)
Youthful appearance and pale in color, this shows a really attractive, fresh-strawberry fruit fragrance and good vigor. The youthful strawberry and cherry juiciness is nicely rounded out by subtle oak, all the while retaining a lively freshness, thanks to a structure that combines a firm spine of acidity with evident, gradually softening tannins. A crowd-pleaser. | 93
2017 Tolpuddle Vineyard
A cool, challenging vintage—and yet with a long, cool ripening through to harvest, with, thanks to low yields, "amazing concentration. A bit of a beast initially, but it's since calmed down," said Hill Smith.
Chardonnay (13% ABV)
Pale gold. Subtle aromatics, delicately leesy, showing plenty of attractively ripe, full-bodied, peachy fruit that's more fleshed out and concentrated than previous vintages, as if growing in stature and length. It is supported by fine, Chablis-like, citrusy acidity for an excellent, savory finish. | 94
Pinot Noir (13.5% ABV)
Youthful-looking, with a fine Pinot fragrance, sumptuous, complex berry-fruit quality underpinned by a subtle oak-spice that's almost Burgundian. A fine mid-palate, with dark strawberry- and loganberry-fruit concentration. Good length is underpinned by quietly subtle oak in a seamless, enjoyably juicy-textured yet ageworthy and complex red. | 94
2016 Tolpuddle Vineyard
This was a higher-yielding vintage. Not only was the crop bigger, but the bunch and berry sizes were also "weirdly bigger," said Hill Smith. "It produced nice wines, but they lack that crunch in the middle."
Chardonnay (13% ABV)
Pale gold in color, this shows an attractive, leesy solids character in the aromas. It's bright and fresh, with appealing sub-threshold oak, nicely balanced with a peachy ripe Chardonnay fruit quality that is underpinned by refreshing grapefruit-like acidity. | 92
Pinot Noir (13% ABV)
Ultra-pale in color. The Pinot fragrance, while still a tad quiet, is delicately perfumed, the fruit itself savory in character, thanks in large part to an underpinning of some quite firm tannins, but becoming nicely juicy and fresh, with fine, sub-threshold oak, albeit just drying a tad on the finish. | 91
2015 Tolpuddle Vineyard
It was a year that remained cool and dry through to harvest, with perfect conditions for flavor development, and "we were very happy with it," enthused Hill Smith.
Chardonnay (12.5% ABV)
Pale gold. Delicate, refined aromatics, stylish, nutty oak. Lovely fruit concentration and richness, more mouth-filling than previous vintages, elegantly balanced between peachy ripe fruit and fresh acidity. | 93
Pinot Noir (13.5% ABV)
Now starting to shade to an evolved garnet. This is quite Burgundian in its earthy beetroot and spicy Pinot scents, showing appealing mid-palate strawberry sweetness. Still very fresh, with nicely rounded tannins, an overall fine balance, and good, juicy, fresh acidity. | 93
2014 Tolpuddle Vineyard
This was a cool year overall, with "miserly" yields but greater concentration. In a cool year, the stems were not that ripe, and the ratio of berry to stem was higher because it was a lower-yielding year. A successful trial in which 50 percent of the grapes were sent to the mainland as fruit meant that all the grapes were dispatched in this way from 2015 onward.
Chardonnay (13% ABV)
Expressive, nutty aromatics combine with a refreshingly zesty acidity and delicate sub-threshold oak. This is followed in the glass by high-quality Chardonnay fruit-concentration, supported by a crisp, Chablis-like acidity, for freshness and balance. Still going strong after eight years, with a good five years of life left in it yet. | 94
Pinot Noir (12.5% ABV)
Fragrant, fresh, and spicy. There's a whole-bunch, root-like complexity to the aromas and to the berry fruit, which is concentrated and fresh, with a light tannic bite to it, showing that whole-bunch character and bringing a degree of structure. A savory element adds to the aging potential. | 92
2013 Tolpuddle Vineyard
This was a slightly warmer year than 2012, and Chardonnay still only went through around 50 percent malolactic fermentation. Yields were low, with good concentration of flavor. This was Adam Wadewitz's first year as Tolpuddle's winemaker. "In Tasmania, where you get intense concentration, we like a bit of whole-bunch in the Pinot Noir, because the wine can seem a bit simple without it," said Hill Smith.
Chardonnay (12.5% ABV)
Pale gold. Lemony, citrus aromas, rather quiet and a tad four-square. This is showing buttery fruit yet is still fresh, with pleasing, savory acidity and integrated oak. It's just lacking an extra dimension of complexity. Drink now. | 90
Pinot Noir (12.5% ABV)
Relatively pale-hued and pleasantly fragrant. The attractive smoky oak, root-vegetable, and strawberry-sweet aromas are reprised on the palate, with a village Burgundy-like savor. This is supported by subtle sub-threshold oak rounding out the fruit, which is attractively juicy in texture and remains fresh and approachable. | 92
2012 Tolpuddle Vineyard
A very good year, with good flowering and even ripening. Crops were down 20 percent on average. The grapes were pressed at Bay of Fires, and the juice was transported to the mainland, resulting in some loss of lees. There was a problematic malolactic fermentation, which stuck, and the Chardonnay was very acidic on release. "The Pinot was quite reductive as a young wine, with an argument as to how long it should spend on the lees," said Hill Smith, "but it has since picked up nice tertiary characters. Time in bottle adds to the overall enjoyment, even though it may not have quite the intensity and drive of some other vintages."
Chardonnay (13% ABV)
Yellow gold. Lightly lemon and nutty oak, still surprisingly fresh. Quite buttery in character, with a nice brightness to it. Some nutty oak behind juicy Chardonnay fruit, the marked grapefruit-like acidity bringing a slightly raw feeling overall. | 89
Pinot Noir (13% ABV)
Mature shading to the garnet hue. This shows earthy root-vegetable and spice aromas, with some appealing, juicy strawberry- and cherry-fruit sweetness on the palate, and good oak underpinning. Still maintaining its freshness and balance. Drink now. | 90