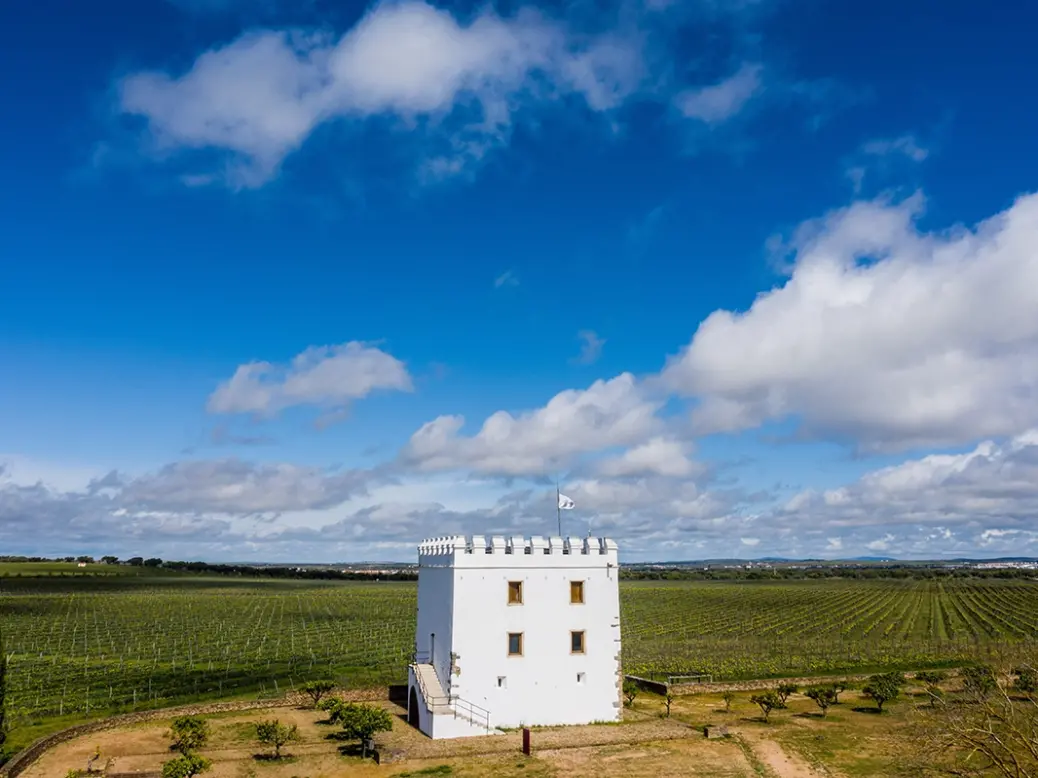 A landmark wine of the Alentejo's modern wine renaissance, Herdade do Esporão Torre has benefitted from a series of improvements in the vineyard and cellar, making for a sleek, polished new release says Sarah Ahmed.
If the 15th-century tower at Herdade do Esporão is emblematic of the transition from medieval times to Portugal's modern age, the estate's wines heralded the dawn of Alentejo's modern winemaking era. All considered, it seems fitting that Esporão's flagship red—Torre do Esporão—is named after this iconic symbol of power and status. 
Founding fathers
Since producing the first wine from Herdade do Esporão in 1985, Esporão has been—and remains—a huge influence on wine growing in this sprawling, southerly region, which accounts for one third of continental Portugal's landmass. Located in the sub-region of Reguengos de Monsaraz, the estate was acquired in 1973 by co-founders José Roquette (a banker) and Joaquim Bandeira (an agronomist).
As the timescale between then and making Esporão Reserva Tinto 1985 suggests, the quality-focused pair had their work cut out for them. After four decades under the Portuguese Estado Novo (Portuguese New State), the government's agricultural policies had resulted in a systemic overproduction of low-quality bulk wines from Alentejo. Working in concert with Professor Colaço do Rosário of Évora University, Roquette and Bandeira provided the so-called "father of Alentejo wine" with the space for an experimental ampelographic field and financed the laboratory that helped to shape the wines of the future.  
Pushing boundaries
Having bought out Bandeira in 1994, the Roquette family—first, José, now his son João—has continued to innovate, with no fear of pushing boundaries or crossing borders. From 1991 to 2021, Barossa-born David Baverstock played a pivotal role, "putting Esporão at the forefront of modern winemaking in Portugal," says João Roquette. During this productive, 30-year period, Esporão launched its entry-level Monte Velho red (one of Portugal's best-selling brands) and Torre do Esporão which, thus far, has been released in only four vintages since the inaugural 2004 (which was a blockbuster blend of 78% Touriga Nacional, 15% Syrah, 7% Alicante Bouschet aged for 14 months in 100% new French oak barriques). In between those bookends, there are now many other wines (red and white) and Esporão's range rightly wins plaudits for its quality, consistency, and innovation, irrespective of price point. 
The company has long drawn on red varieties from beyond Alentejo's borders, notably Syrah and Cabernet Sauvignon and, increasingly, northern Portugal's Tourigas National and Franca. Always looking ahead, however, Esporão planted its own ampelographic field in 2010 to some 190 grapes (37 of which are in full production). Baverstock's successor, Porto-born José Luís Moreira da Silva, marvels, "It is like a living laboratory, with three different irrigation profiles for each variety, and, with interesting results on resistance to sun burn, heat waves, and hydric stress, it could show the future path." Touriga Franca is a good example of a nursery variety that resists sun burn and hydric stress better, adds the winemaker. Comprising 50% and 30% of Torre do Esporão from 2011 and 2017 respectively, Touriga Franca has played a prominent role in the flagship's two most recent releases, contributing to its greater finesse.
A rich palette
In addition to a broader range of varietal options, Torre do Esporão has benefited from Esporão's vineyard expansion program. The producer now owns another estate in Reguengos de Monsaraz (Herdade dos Perdigões) and two in the Portalegre sub-region (Lavradores and Enxofral). Referring to the rich palette of soils, Moreira da Silva notices how they perform differently: "Granite has a greater sensation of freshness and tension and finer tannins, even though, analytically speaking, that is not the case." He describes schist as "much more rustic," while clay produces a plusher mid-palate.
In 2017, the sleekest release of Torre do Esporão yet, the Touriga Franca, Touriga Nacional, and Aragonez were sourced from three parcels at Herdade do Esporão, whose varied soils include sandy-loam with granite stones, transitional schist to granite with sandy and clay loam textures, and schist soils with a light to silty texture. The Alicante Bouschet from Herdade dos Perdigões comes from very deep clay soils, while the Alicante Bouschet from the Lavradores vineyard in Portalegre is on predominantly sandy, granite soils. The Lavradores' component from the elevated foothills of northern Alentejo's Serra de São Mamede, at an altitude of 1,300 ft (400m)—almost double the elevation of the Reguengos vineyards—brings freshness by reason of its cooler climate, as well as its granite soils.
Between 2014 and 2021, all 1,568 acres (634.5ha) of Esporão's Alentejo vineyards attained organic certification and, for Moreira da Silva, cultivating vineyards organically helps balance and freshness, too. The winemaker finds that phenolic ripeness and sugar accumulation now tend to go hand in hand which, he remarks, "is particularly important in Alentejo" (where sugars can race ahead, with alcohol levels climbing, while grape tannins are still ripening). "When you understand what maturation is, you can have elegant, fine tannins and balanced alcohol/sugars and phenolic and flavor ripeness, so our focus is on maturation, not concentration, which is all too easy to obtain in the south."
Comfort and joy
Not that Esporão is throwing out the baby with the bath water. Moreira da Silva started working for Esporão at Quinta do Murças in the Douro, one of the company's two cross-border projects and, contrasting Alentejo with the Douro, he observes, "there's always a warmth of alcohol, always a comfort side to Alentejo wines, compared with the Douro, which I am starting to appreciate." Still, he is wary of "the temptation being too high to extract everything" and, as this vertical tasting of three Torre do Esporão vintages demonstrated, Esporão's winemaking team has been extracting less; in particular, less oak tannin, having moved away from aging in 100% new French oak barriques to a mix of old and new 500l barrels and, for the Aragonez (which is notoriously tannic in its youth), 5,000l French oak vats.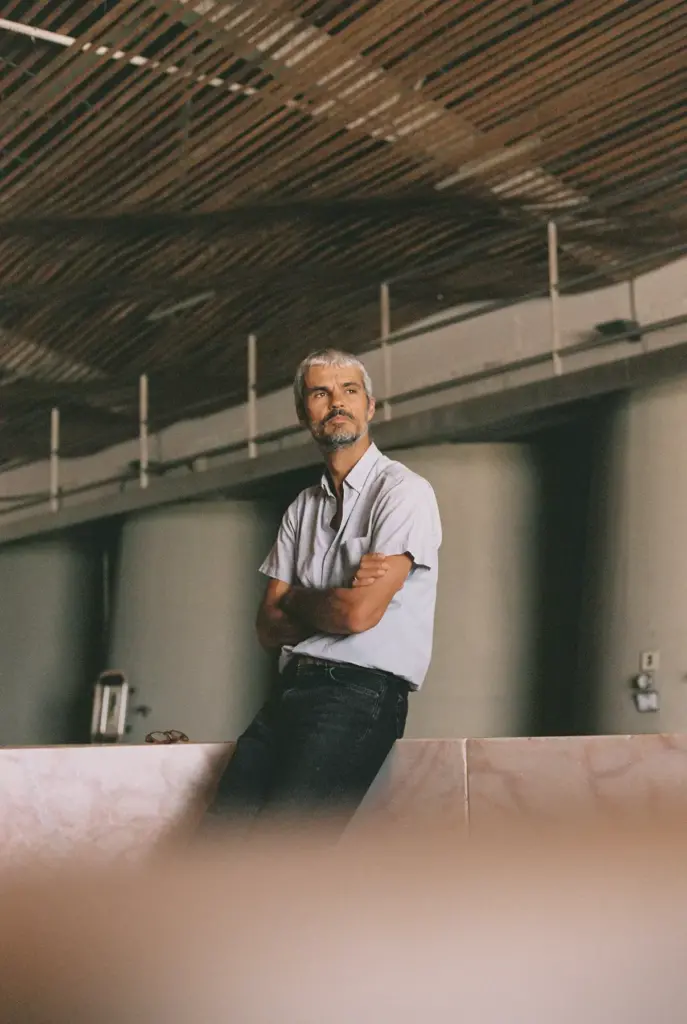 "Co-fermenting grapes [introduced for Torre do Esporão 2017] always achieves a more balanced result," adds Moreira da Silva, pointing out "you get a natural, harmonious integration if you blend sooner." The winemaker and his team also like to balance the "comfort" factor via reductive techniques, such as lees-aging to enhance freshness, rather than acid additions, and aging in bigger format (500l and 5,000l) oak barrels and vats. He cannot say for sure whether today's or tomorrow's wines will taste different because of the grapes or because of climate change but, he concludes, "the winemakers are happy with lighter wines, and focusing on [a balanced] maturation over concentration." 
Tasting
Herdade do Esporão Torre do Esporão 2017 (40% Aragonez, 30% Touriga Franca, 25% Alicante Bouschet, 5% Touriga Nacional; 14.5% ABV; 18 months in a mix of 500-liter new and second-use 500-liter French oak barrels and 5,000-liter French oak vats)
Dialling down the power/extract, oak (none new) and sourcing 10% of the blend from Esporão's cooler Portalegre vineyard pays dividends here, making for a sleek, poised wine. Seamless oak allows the bitter-chocolate-edged sweet core of raspberry, blackberry, and plum to shine. An undercurrent of acidity brings tension and, together with textural but fine, fluid, "wet" tannins, animates the fruit, maintaining impetus and flow. Notes of esteva (spicy, a touch resinous, a touch menthol) and smoky minerality bring subtle back-palate resonance to the lingering finish. Polished, but not over-polished, this accomplished blend (this vintage the first to exclude Syrah) stitches together five parcels from schist, deep clay, and sandy granite soils, ranging from around 650ft (200m) in Reguengos, to 1,300ft (400m) in elevation (in Portalegre). Following a hot, dry spring and summer, lower August and September temperatures allowed for full phenolic and flavor ripeness. The grapes were picked between August 21 (relatively early) and September 29; the Touriga Franca and Touriga Nacional were co-fermented. 2023–33+. 95
Herdade do Esporão Torre do Esporão 2011 (50% Touriga Franca, 25% Alicante Bouschet, 25% Syrah; 14.5% ABV;18 months in 100% new French oak barriques)
A powerhouse (as one might expect from an exceptional, slow-ripening year), with terrific gravitas, structure, and detail, from the inky nose, to pronounced ferrous/cut finger minerality. Muscular, the concentrated, dark-berry fruit is firm and well-defined. Tertiary notes of leather and incipient roast chestnut bring savory nuance. Ample but fine-grained tannins keep pace with, and support, the fruit. Culminates in a long, rich, satisfying finish. Powerful and harmonious, this consummately well-balanced vintage has plenty in the tank. 2023–33. 96
Herdade do Esporão Torre do Esporão 2007 (Alicante Bouschet, Touriga Nacional, Aragonez, and Syrah; 14.5% ABV; 18 months in 100% new French oak barriques)
This blend retains a deep Burgundy hue. Rich, ripe, and flavorsome, the palate reveals deep reserves of concentrated fruit, now a touch salted, seemingly concentrating it all the more, layered with esteva (pronounced resinous, spicy, menthol notes), lashings of chocolatey oak, and tertiary balsamic, iodine, and mushroom hints. Structured tannins and an assertive backbone of acidity lean in, keeping the flavors in play and maintaining line. Dense, with great force of extract, yet mineral undertones, one senses that the milder conditions of this year might have benefited from a gentler hand. Nonetheless, it is impressive and, of course, very noughties (and naughty) in its oak and fruit extract. 2023–28. 93