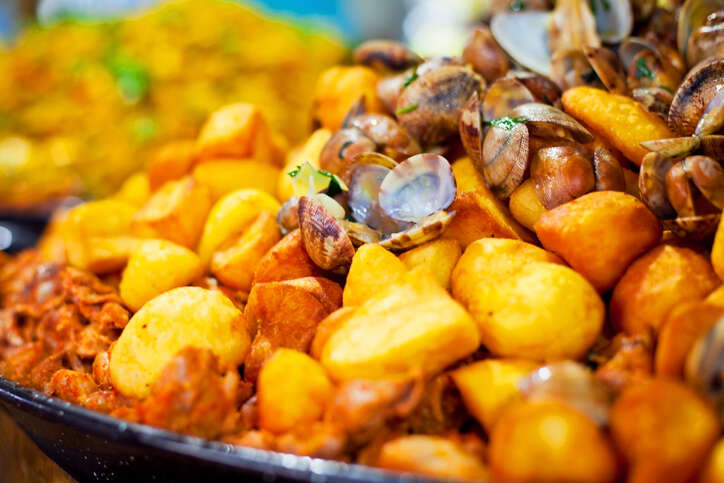 Joanna Simon delves into the unexpected origins and preparation of carne de porco à Alentejana—and picks out the best wines to serve with this classic Portuguese dish.
Of the two things you would think it was safe to assume about carne de porco à Alentejana—that it's based on pork and is from the Alentejo region—one of them turns out not to be the case: the dish did not originate in Alentejo. Meanwhile, one thing you would not conclude, or even imagine, from the name is that there are two hero ingredients. Alongside the pork there are clams.
Carne de porco à Alentejana: Portuguese surf 'n' turf
Portugal's answer to surf 'n' turf is now served throughout the country, but it's generally accepted that its origins are in the Algarve, where the extensive Atlantic coastline has long favoured an important fishing industry. Why, then, à Alentejana, which has half as much coast and only one decent-sized fishing port?
The popular theory is that pork from the Algarve tasted of fish meal and other leftovers from the fish-canning industry that the pigs were fed on. To mask the taste, clams, which were very readily available, were mixed with the pork. In contrast, Alentejo pigs, raised in the open where they fed on cork oak acorns, were noted for the quality of the meat produced by this superior élevage. At what point in history the name was given to the dish, and when and if, by then, it was being cooked in the Algarve with Alentejo pork is about as clear as the sediment in a bottle of mature wine.
Another part of the history of the dish, but again one where it isn't clear whether it is theory, story or truth, is that the eating of carne de porco à Alentejana was used to test the resolve of Cristãos-novos—Jewish converts to Christianity—after King Manuel I decreed in 1496 that Jews must either convert or be expelled from the country. One certainty about the dish at that time is that it didn't include potato, as it does now. Most sources give circa 1570, or at most a few years earlier, for the arrival of the potato in Europe, through Spain.
The significance of cilantro
In addition to pork, clams and potatoes, significant ingredients include white wine, massa de pimentão (a red pepper paste that originated in the Algarve), smoked paprika, garlic, bay leaves, and fresh coriander (cilantro). As an aside, it's interesting to note that Portugal is the only European country that uses cilantro in its traditional cuisine. The meat, a fairly lean but tender cut, is marinated in white wine and flavorings before being sautéed and then simmered gently in the marinade. The potatoes are usually added part-way through and the clams shortly before the end. It is served with the cilantro/coriander leaves chopped on top and sometimes wedges of lemon.
Pork cooked in white wine, clams, red pepper, cilantro … it might all seem to point to white wine as an accompaniment, but carne de porco à Alentejana is not a simple, light dish that needs nothing more than the white-wine equivalent of a squeeze of lemon. There are plenty of whites to chose from, which I'll come to, but the lighter, fresher, lower tannin, less oaky reds that we now see all around mean that there are ready matches among reds made from grape varieties such as Pinot Noir, Poulsard, Gamay, Nerello Mascalese (I'm thinking Etna), Frappato, old-vine Cinsault and País, and old-vine, high-altiitude Garnacha. Conveniently, these are reds that are happy with the assertive, fragrant, greenness of cilantro.
Carne de porco à Alentejana: Rosés and whites

At a time when the quality of rosé has never been better, rosés also have a place with pork and clams, among them the best of Provence and Rioja. To single out four: Château d'Esclans Garrus, ideally with a few years' bottle age, the impressive but cheaper Rock Angel 2019 from the same stable, Ramón Bilbao Lalomba Rosado; and Flor de Muga.
Now to white wines. Although there is neither a long list of ingredients nor a complex method, there are interesting contrasts in the dish, from the richness of the meat to the delicacy of the sweet and salty clams to the tang of coriander leaf; so it needs a wine with some layers and intensity, but not so much that the clams are drowned out.
Chardonnay is always a possibility with pork, but can be too fruity for clams. Not so the oyster-shell, sea-breeze minerality of a Chablis Premier Cru with a few years' age. There are so many to choose from, but I'll single out Samuel Billaud in 2017 or 2014.
Other favourite matches for the dish are Soave Classico (Pieropan's La Rocca and Calvarino and Inama Vigneti di Foscarino are perennial favourites); Kamptal Grüner Veltliner, especially if you're concerned about the cilantro (Bründlmayer by choice); oaked Sauvignon-Sémillon blends (Bordeaux or Margaret River); Savennières; and last but not least Portuguese whites, including Niepoort Redoma Douro Branco and Anselmo Mendes Vinho Verdes.