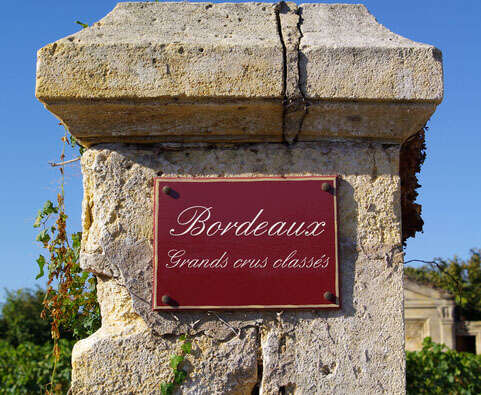 After two years of Covid restrictions, the very existence of in-person Bordeaux 2021 en primeur tastings was a cause for celebration, contributing to a general mood of positivity towards the region, says Chloe Ashton. But will prices for a vintage variously described as difficult and complicated stay low enough to make the campaign a success?
I write this after a long, exhausting, and joyous week of Bordeaux en primeur 2021 tastings—the first since the 2018 vintage, in 2019.
I have tasted around 200 wines and enjoyed numerous back vintages at various dinners. I have reconnected with more people in one week than I've seen over the past two years, and it feels good.
It has served as a reminder of what the best wines in the world are about—capturing a year of history in bottle, and eventually sharing this with people who will appreciate its story, who will create from it their own memory, their own version of what it smells and tastes like, perhaps stopping to remind themselves why it might smell or taste a certain way.
When it comes to wine, I find it easy to romanticize, especially in Bordeaux.
Through hell and high water
But the 2021 growing season was far from romantic. While it is virtually impossible to generalize, the vintage was, above all, a test of character, demanding nerves of steel to tackle one difficulty after the next, and come out the other side with a high-quality wine.
Winter was mild, inciting an early start to the season. During the first week of April, a severe bout of frost swept across all of France—for some the worst episode since 1991—affecting many vines whose buds had burst prematurely, particularly Merlot.
This was followed by the rainiest June Bordeaux had seen in years, wherein many vineyards were subjected to twice the normal amount of precipitation during the month (based on the average rainfall of the previous ten years).
Early summer was rife with the threat of mildew, and though dry, not particularly warm or sunny.
Mercifully, the heat and sun appeared during the last days of August, blossoming into a full Indian summer during September. Weather stations announced thunderstorms during the last weekend in September, and much of Bordeaux was sick with worry—though any Merlot that survived the frost had been picked by the end of the month, the Cabernets were yet to ripen, and the threat of mildew was once again rearing its head.
Vignerons who held their nerve and sat out the storm (which actually never came) began harvesting ripe Cabernets in October.
King Cabernet
As a result, Cabernet (be it Sauvignon or Franc) appears a resounding theme for the vintage—Lafite 2021 contains 96 percent Cabernet Sauvignon, and Larrivet Haut-Brion in Pessac-Léognan has produced a 100 percent Cabernet blend in 2021.
The high proportions of Cabernet and cooler temperatures of the growing season have forced a change in style from the trio of previous, headier vintages, back to something more "classical," with higher perceived levels of acidity, and more focus on the freshness of fruit.
Robbie Toothill, head of wine at Lay & Wheeler, gives me his assessment of the vintage: "While not universally brilliant, there is enough excellent terroir to make it possible to buy some very good wines in 2021."
He notes that stylistically, winemaking advances in Bordeaux have helped the region to achieve a more sophisticated version of an older style, explaining, "The best examples in the vintage are fresh, balanced, with lower alcohol and, importantly, without the greenness that has previously defined cooler vintages.
"Lots of people were negative about a vintage such as 2014, but I find 2021 a lot less rustic in comparison—it offers classicism as a positive thing, because it's now a rarity.
"We don't know how many more vintages like this one we're going to get as climate change continues."
A victorious vintage
Making my way through the official en primeur tasting week (April 25–28), each new property visit added weight to a veritable mosaic of vintage stories, with each wine (and winemaker) expressing the recent viticultural journey differently.
Nicolas Audebert, winemaker of Chanel properties, Rauzan-Ségla and Canon, describes the 2021 growing season as "the taste of victory."
"It's like a rugby match," he says, "where the last three vintages have been pretty easy to win, we've been 30 points ahead before half time. With this last one, we played an extremely tough game, and won by just one point in the last minute—this kind of victory doesn't taste the same."
Jean Garandeau, sales and marketing director at Château Latour, echoes the sentiment: "The year was stressful right the way through, until we got the wines into the chai. From then on it was classic, and quite calm."
Bruno Borie, third-generation owner of Château Ducru Beaucaillou, expresses his gratitude at having such a dedicated and harmonious team, which, he notes, "was an essential element in making production of the 2021 vintage possible."
He describes the resulting wines as demonstrating "a return to our true values—wines that taste of the terroir they were born in, and of the guts of the people who made them."
Indeed, to call the growing season a challenge would be an understatement, as some properties continued their nervousness right up until tasting time.
Jean-Philippe Delmas, deputy managing director of Domaines Clarence Dillon, tells me, "If we had tasted the wines during the original en primeur week [the first week in April], we would have been in real trouble."
This, he explains, was because "The wines seemed to just disappear"—thankfully they are back and "showing better and better as time goes on."
Prior to Bordeaux's en primeur tasting week, Wine Lister, an intelligence and information hub for wine businesses, conducted its annual survey of key fine-wine industry trade members across the globe, this time asking for insight on important factors to ensure success of the 2021 en primeur campaign.
Respondents gave their answers in priority order, as shown in the graph [below].
All or nothing
The number one priority for success appears to be bringing a high proportion of 2021 wine production to the en primeur market.
Indeed, a phenomenon of the last Covid-ridden campaign was reduced volumes, not simply from smaller yields, but also because many châteaux chose to retain a relatively high proportion of what they produced (some as high as 50 percent), to sell in future once physical, and benefiting from age (which comes at an ex-château premium price).
Some members of the fine-wine trade have expressed discontent at this strategy in the past, explaining that it creates false rarity, and somewhat defeats the point of buying wine en primeur.
In a vintage such as 2021, where the quality of the vintage appears heterogenous, a focus on those properties who have best dealt with the challenging climatic conditions should prove fruitful, providing enough of the wine is available to buy now, and not in two years' time or beyond.
Each to their own
Communicating each individual vintage story was voted another important element by Wine Lister's trade respondents—more than half of them place the concept as a first or second priority.
True to this, buying and sales teams came out in spades to greet the renewed, physical Bordeaux en primeur tasting week, and will thus have a strong understanding by now for their own favorite wines, and for the stories that resonate with them the most.
Prior to tastings, one respondent and top-tier Australian merchant told Wine Lister, "Ultimately, success will be dependent on how the wines are reviewed—which is also linked to the beliefs and optimism of each château owner."
Abigail Friedman, buying director of IG Wines, tells me, "I am very glad we had the chance to taste, because it is an incredibly complicated vintage.
"I do not believe it is a great one, and I think it is important that we are honest with our customers about this fact, because it only emphasizes how fortunate we have been to have such a series of superb vintages over the past five years."
Prices in context
In reference to the general momentum building behind Bordeaux at large, Friedman is measured in predicting whether or not that will continue.
"We have heard a lot of feedback from the Place that demand for Bordeaux has been very strong in 2022, largely from Europe and the UK, who have been buying up a lot of back vintages," Friedman says.
"However, although there has been some demand for Bordeaux, it is still lagging behind demand for other regions, like Burgundy, Champagne, and Super-Tuscans."
Friedman nonetheless concedes that confidence in Bordeaux en primeur has risen thanks to the recent en primeur campaigns.
"The dramatic price decreases in 2019 created a very welcome resurgence in the need to purchase wines across nearly every price point en primeur, rather than waiting until they were physically in bottle.
"Our concern is that price increases began to creep up again over the course of the 2020 campaign, and many châteaux seem to have decided that this compelling discount to market pricing is no longer needed."
My sincere hope is that members of the wine trade will have left Bordeaux at the end of the official tasting week with a sense of relative optimism.
Indeed, Wine Lister's latest ratings of confidence in Bordeaux, as voted for by key industry members, suggest some goodwill was present prior to tasting the 2021s—three quarters of wines included in Wine Lister's study saw their confidence rating rise since last year (whereas ahead of the 2020 campaign, confidence had dropped across the board).
Despite the usual early speculation around general quality levels following an unprecedented trilogy of excellent vintages, there are certainly some good wines, and a few great surprises, to be found in 2021 Bordeaux.
Will this be sufficient to absorb the expected release price increases?
Claret cravings?
Relativity is an important factor in understanding en primeur pricing strategies.
From the point of view of a property that has lost much of its yield to frost, a price increase based on reduced availability makes complete sense to them, though more often than not, this information does little to assuage the disappointment of consumers, who may be forced to look elsewhere.
One of Wine Lister's survey respondents notes, "Consumers happily traded down in 2020 and 2021; they simply bought at the same price they were comfortable with as before; if the château they purchased previously increased in price, they switched to another château that sells closer to the old price point they were used to, rather than exercise any sort of loyalty."
This has certainly been a pattern in Burgundy for the past few new vintage releases, wherein prices have increased systematically year-on-year.
The basic difference, and ultimately the key measure of success, is consumer demand. So, while collectors scramble to access virtually any reputable Burgundy producer at any price, Bordeaux currently falls short of this level of demand.
Friedman comments on the potential for desirability to drive the 2021 campaign thus: "I suspect it [demand] will come from our most loyal en primeur followers, who like to buy the same wine every vintage or who want to be sure to keep their allocation. Whether it will attract new investors or drinkers will depend on whether the price is compelling enough for them to be tempted."
Toothill is more positive, suggesting that the quality vs. price ratio comparisons with previous vintages sometimes need to be separated out.
"The fact of the matter is, you cannot compare 2021 to any other vintage," he explains, continuing, "the exciting thing about Bordeaux is that at the top end, they have the finances to experiment, to create new winemaking techniques that will feed into the rest of the winemaking world."
When asked about his approach to this year's campaign, he emphasizes how important Bordeaux is to Lay & Wheeler's business, explaining, "Bordeaux is still ultimately where fine wine starts for a lot of people.
"We therefore allow our customers to buy en primeur by the bottle if they wish—one great bottle is often all you need to start a collection."
Indeed it is, and those who choose to start with 2021 Bordeaux will certainly have something unique on their hands.
Bordeaux 2021 coverage
Bordeaux 2021 en primeur: Romance and reality
Bordeaux 2021 Field Notes: Château Figeac
Bordeaux 2021 Field Notes: Vieux Château Certan
Bordeaux 2021 Field Notes: Château Pavie
Bordeaux 2021 Field Notes: Le Dôme
Bordeaux 2021 Field Notes: Domaine de Chevalier
Bordeaux 2021 Field Notes: Sauternes and Barsac
Bordeaux 2021 Field Notes: Pichon Lalande
Bordeaux 2021 Field Notes: Enquiring Minds