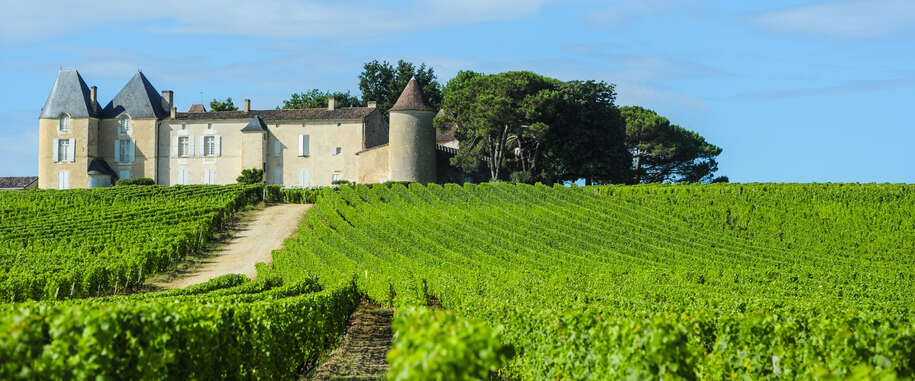 Over the past two decades, The World of Fine Wine's annual reports on the Bordeaux en primeur tastings have become definitive statements on the latest goings on in the region.
For the first 17 years of the magazine's existence, the reports were written by the globally respected author and wine educator, Michael Schuster.
As Schuster hands the reins over to his successor as WFW's Bordeaux en primeur reporter, Simon Field MW (whose coverage of the 2021 vintage begins this week), we are taking the opportunity to publish each of Schuster's masterly vintage reports going back to 2003 on worldoffinewine.com.
Together they provide a detailed record of the region's development since the turn of the Millennium, an informal first-draft history of Bordeaux wine in the 21st century, and an invaluable reference tool for wine collectors.
We start today with 2019, "a year of glorious quality and consistency across the region and all wine styles," as the introduction to Schuster's report in Issue 69 of WFW put it.
"Wonderful dry whites of sap and substance, absolutely beautiful reds of opulence and poise, and exceptional sweet whites of concentration, complexity, finesse, and vigor."
Michael Schuster's 2020 Bordeaux en primeur report
Bordeaux 2021 Field notes: Château Figeac
Bordeaux 19 and Covid-19
2019. The year that gave birth to some of Bordeaux's most ravishing wines ever. And, in late autumn, as these began their slow, quiet lives in barrel, so, too, the year that gave birth to a sinister contagion which began its slow, quiet, but soon to be exponentially toxic, growth across the globe: the coronavirus that became known,in shorthand and inextricably linked to its vintage, as Covid-19.
For Bordeaux, the genesis of vinous magic and, for humankind, the genesis of social and economic misery.
So, its bottles will always carry a painfully mixed message, of great beauty on the one hand, catastrophe on the other; a reminder both of human ingenuity and of human dereliction.
Whose consequences turned our lives upside down, among which, for wine writers, the business of assessing young Bordeaux in barrel. And whose wines, for only the third time in 40 years, I didn't taste as barrel samples actually in Bordeaux.
For me, as for many wine writers this year, Covid-19 intervened at the last moment. The writing had been on the wall for some time when, on Friday, March 13(!) the Union des Grands Crus canceled their March 30 to April 3 tastings program.
And although several châteaux wrote to me immediately to say that I would of course still be welcome to come and taste, I decided the next day not to go, and cancelled all my visits.
We all know what followed shortly: lockdowns. And, in the UK at least (whether or not directly linked to the instant, and dramatic, reduction in greenhouse gases), there followed a long, warm, dry Spring, under skies of an infinitely deep and luminous blue, an April and May of almost incomparable beauty, so cruelly at odds with the grotesque circumstances in which much of the world found and finds itself.
Tasting and trusting: Bordeaux at a distance
I received my first, unsolicited, samples from François Mitjaville of Tertre Roteboeuf. He had written on May 3.
"Good morning, Michael. We missed the pleasure of receiving you during Primeur tastings. You travel every year to come to my home, so it seems natural to return the favor in these difficult times. Would you like me to send you samples of each growth, so you can taste them?"
A dozen of the Moueix range followed shortly after. And then I myself wrote to all the properties whose wines I would normally taste, to ask if they would be happy to send samples.
A large number of individual Châteaux, along with the Union des Grands Crus, did so, and in the end I tasted at home in London 200 wines: 160 red, 20 dry white, 20 Sauternes.
There is, understandably, a mixture of reserve and skepticism about the quality of barrel samples that have been shipped round the world.
What vagaries of temperature variation have they undergone during transport, how old are they when they arrive, how old are they when they are eventually tasted?
All this quite apart from the suspicion with which some view barrel samples even when tasted in Bordeaux. How faithfully can they represent what will eventually be bottled? I don't have a particular problem with that though, otherwise I would not have been doing the exercise for so many years!
I want to reassure readers that all my samples were received in London within a day or two of posting (most of them were sent "Next Day Delivery Guaranteed"), and then tasted later the same day, at most within two days of receipt, so I was tasting samples sometimes within a day, and mostly within two or three days of their being drawn.
The daytime temperatures during the periods when I received samples, almost always by mid-morning, were between 64° and 72°F (18–22°C), the bottles were invariably cool to the touch when unpacked, they went straight into our cold cellar (55°F [13°C]) for three hours, and then into our Circular Cellar (60°F [16°C]), in order to be tasted at around 60–62°F (16–17°C) in our cool basement.
Location apart, I felt the conditions were almost as in Bordeaux itself where, these days, one tastes, typically, from bottled samples a day or two old, rather than from barrel as such.
Four samples out of the 200 I received had an oxidation problem. I requested a back-up, and in each case a healthy one was sent.
I also kept a record of my samples, mainly to help me organize my tasting, and just in case there was an issue.
Not with any idea of using it in this introduction (so it is not particularly tidy—just a working document) but you can see (below) the record of a week's "sample drawing date / date sample received / date sample tasted."
Their arrivals, as it happened, were relatively evenly spread over six weeks or so. And a distinct advantage, using a Coravin, was to be able to revisit, and compare, samples for a couple of days, if I felt so inclined.
I was very happy, therefore, with the quality condition of what I tasted, and it is abundantly clear from my notes how enthusiastic I am!
Of those I would normally record, the notable wines I didn't have the opportunity to taste, for want of samples, were: the first growths, with the exception of the Domaine Clarence Dillon stable (Haut-Brion); the Pavie group, Canon, Clos Fourtet, Beauséjour-Bécot; Vieux Château Certan, Gazin, Nenin, Rouget; Montrose, Pontet-Canet, Las Cases, Palmer, Rauzan-Ségla; Chasse-Spleen, Poujeaux; Carmes Haut-Brion.
Of course I missed talking to owners and winemakers while tasting, always such an illuminating source of first-hand information, but there were Zoom meetings instead and, as usual, a mass of individual Châteaux harvest reports.
So, I still feel I have a very good overall impression of the year—if not a 20/20 vision, then certainly more than a one-eyed view!
The Bordeaux growing season
Looking back, with the exception of 2017's cooler July and August, then awkward September rains, one can see a summer and autumn pattern emerging over the past five vintages: very dry, very hot, very sunny summers, followed by prolonged, almost perfect harvest conditions.
And, individual years' extreme events notwithstanding, there is also a tendency toward milder winters and an earlier onset of spring.
2019's growing season, a bit like that of 2015, was relatively straightforward, without the drama of 2016's six months of deluge, 2017's prodigious frosts, or 2018's rampant mildew challenges.
In essence, it was a very dry summer (the fifth in a row), a very hot summer, a very sunny summer.
But, also as in 2015, the pronounced heat and drought were punctuated across the season by episodes of rain, whose juncture and intensity were just what was needed to restore, refresh, and revive vine growth and grape development.
Spring
Winter had been mild and relatively dry, February and March were also unusually dry, and very sunny, leading to an early budburst at the end of March/early April.
Frost was mostly not an issue, because preventive measures (fires, candles, windmills) were effective. What there was, was very localized, and there was minimal damage.
It was a scare, nonetheless, for some (in Graves, Pauillac, St-Emilion, and Pomerol especially) on the nights of March 27/28, April 13/14, and, more worryingly because so late in the season, on the night of 5/6 May.
But a mostly cool, wet April and a cool May to late June then slowed vine growth, and meant that flowering was around the same period as usual, in late May to early June. Its progress, however, was very variable, because conditions were far from ideal.
For many it was in two stages, and heterogeneous, due to two very different spells of weather. First a brief, warm, dry window at the end of May triggered the process, and where vines flowered early it tended to be rapid and trouble-free.
But then, where they flowered later, progress was interrupted by cool, wet weather over the first two weeks of June, leading to a more prolonged flowering, to a certain amount of coulure (shatter, poor flower set) and millerandage (uneven fruit set), and to a reduction in eventual yields where this was the case.
Jean-Pierrre Moueix reported: "It was the rain in vintage. Indeed, the flowering suffered as a result, and Merlot bunches had an average of just 120 berries, instead of the usual 200."
June was unusually unsettled.
The first three weeks were abnormally wet, with 40 percent more rain than usual (while the overall total was just below average), and particularly cold for the time of year, too, with record low daytime temperatures, in particular a remarkable maximum only in the low 60s F (mid-teens C) on June 5, when it would normally be in the 70s F (low- to mid-20s C).
On the plus side, the abundant April and June rainfall substantially replenished the water- table reserves, a welcome cushion for the persistently dry conditions to come.
And, in contrast to 2018, there was little or no fungal disease, with the grapes and vines remaining in excellent health right up to the harvest. So … a vexatious spring rather than a challenging one, and vexatious was about to become pleasingly benign.
Summer
The last week of June saw the first of the year's two brief heat spikes, with temperatures soaring to around 100°F (high 30s C), and in some places up to 104°F (40°C), on June 26 and 27.
It was the beginning of summer proper—three months of heat, drought, and abundant sunshine.
Four weeks later came the second brief heat spike, from July 22 to 25.
Château Kirwan describes July thus: "July broke heat records: ten days with temperatures exceeding 30°C [86°F], peaking on July 23 at 41°C [106°F] in the shade, and a blistering 53°C [128°F] in the sun!"
Ouff! … as the French put it. And while August was cooler, its nights especially (qv), the heat continued for the next three months, right up to late September—overall, the hottest summer for 30 years, and the third- hottest July since 1900!
Great efforts were made to keep the soil well-tilled and "open" so as to absorb more easily what rainfall there might be (a more difficult choice for those with cover crops between the vines).
Deleafing was generally less frequent, and even more carefully considered, than usual, on a vine-to-vine basis, in order to prevent sunburn, and some properties to moderate the build-up of sugars via photosynthesis.
As in September 2016, and as across the entire growing season in 2015, the timing and volume of rainfall was to prove crucial to the eventual quality and style of the vintage.
In this very dry year, providential rain occurred on four occasions, once each in July and August, and twice in September, effectively saving, and eventually making, the vintage.
The first occasion, on July 26, was the most substantial, and probably the most significant of the year, with Bordeaux-wide thunderstorms delivering 1–1.5 inches (30–40mm)—it was more than twice as much in Sauternes—of life-giving, soil-sluicing water.
Most properties had already paid particular attention to regular summer tilling and harrowing, precisely to keep their topsoils loose, able to breath easily, and in an ideal condition to soak up just such occasional rain.
Un bon binage vaut deux bons arrosages ("One good hoeing is worth two good waterings"): It was certainly a vintage to prove the worth of this old adage.
Triggered by the immediately preceding heat spike, this rain itself kick-started veraison (color change) which, however, in the absence of marked water stress, was relatively drawn out across the region.
The second occasion of rain was in mid- August, 10–12, with anything between 0.5 and 2 inches (20–50mm) of soil-slaking rain across the region, and there were in addition intermittent light showers in August, at roughly ten-day intervals over the first three weeks.
The month was also one of the keys to both the quality and style of the vintage, not only because of its occasional rainfall, but because its middle 12 days were relatively cool, in the 70s F (low to upper 20s C) during the day and, more significantly, because the diurnal/nocturnal temperature variation was exceptional for most of the month.
There was a regular daily difference of 18°F (10°C) or more, sometimes as much as 27°F (15°C), something of a record.
"Lovely days, beautifully cool nights," said Smith Haut Lafitte's Fabien Tietjen.
This day/night temperature variation was yet more pronounced in September, conditions particularly conducive to the development of the grapes' polyphenols, which would eventually provide the potential for the very fine textures and remarkable aromatic richness of the red wines, as well as the retention of a surprisingly good acidity in the whites.
If the first week of September was relatively cool in the mornings, ideal for harvesting the white grapes, the middle ten days were hot and dry up to September 21, well into the high 80s / low 90s (30s C) September 13–17.
There were here, however, between the 7th and 9th, and then between the 18th and 25th, the last two of the year's important rainfall episodes.
The third occasion was 0.3–0.6 inches (9–15mm) on September 7 and 9, on much cooler days, particularly beneficial for early- harvested Merlot, followed by a fine, dry ten days of Indian Summer, with hot days, cool nights, and a refreshing wind.
All of which allowed the red grapes to catch up on the often less than perfect veraison, and to ripen their tannins to levels with the potential for very fine red wines.
But what really raised the eventual quality of the year was the ideally situated, fourth spell of rain, between September 18 and 25, during which time vineyards across the region had 1–1.5 inches (30–40mm) of harvest-redeeming, refreshing rain, sometimes in real downpours—a veritable shot in the arm for as-yet-unpicked Merlot, even more so for the still-ripening Cabernets.
Among other things, with a perfect timing, the rain softened the thick red grape skins and reduced the potential alcohol levels. Furthermore, momentarily cool and wet, it felt like the first real days of autumn.
A relatively pain-free growing season then, uncomplicated and major-incident-free, with little to really raise blood pressure.
Bordeaux 2019 Harvest
As so often in recent years, the weather at harvest time was pretty much pitch-perfect, and mainly a question of waiting for what you considered the ideal picking moment, aided by the rains of September 7–9, and subsequently 21–25.
The fruit for all varieties, white and red, was by and large very healthy, without rot, without mold, and with little sunburn or raisining.
Dry whites
As in 2015, 2017, and 2018, picking for Sauvignon Blanc in Pessac-Léognan started early, toward the end of August, in order to maintain freshness; Smith Haut Lafitte on August 27, for example.
But it was a notably extended white- grape harvest, across four weeks and more as in 2017, finishing mostly on September 23, having benefited from the "refreshment" of rains on the 7th and 9th and, subsequently, from the cool of the early mornings.
The Semillon harvest started at the end of the first week of September, finishing a few days later than the last Sauvignon Blancs. Cos d'Estournel began its white harvest three weeks later, from September 16 to 28, an interesting reflection on just how much cooler it is more than 40 miles (65km) farther north, and close to the Gironde estuary!
Who would have thought, 35 years ago, when the vines were first planted, that you would one day make a dry white wine, in the northern Médoc, which could compete with almost anything from Pessac-Léognan!
The lack of pronounced hydric stress over the summer allowed the white grapes to continue a relaxed, gradual, even ripening, and both principal varieties were excellent this year, Semillon providing a marked richness of texture, Sauvignon Blanc an aromatic vitality and tension.
This auspicious double act made for a particularly successful, complementary combination. growth and grape development.
The hot summer notwithstanding, 2019 was a quite exceptional vintage for dry white Bordeaux, be it classic Pessac-Léognan, or the more recent Médoc whites.
Typically at 13–14% ABV, they are concentrated in flavor, with a fresh to lively acidity, and qualitatively as good as, or better than, their similarly outstanding 2017s.
Quite wonderful wines, of considerable sap and substance, perfectly balanced by their fine acid sinew. Exciting wines, many of which will be their property's best to date.
And, unlike in 2017 when the frosts significantly affected the quantity, yield in 2019 was mostly very healthy.
The style is mostly denser and richer than the respective 2017s, and very differently profiled from the much tauter 2014s; "fatter" than either, but with the acid tension to define and carry them on the palate beautifully.
As to which is "better," 2017 or 2019, it is very close, it will vary, and only time will tell. More important is to say that they are both wonderful, and in many cases, tasted next to each other, it would be hard to choose.
As often as not it will most likely be more a question of style and proportions, with 2017 a touch more restrained, 2014 with more nerve and acidity.
Too many good wines to mention, but if my Carbonnieux sample is indeed representative of the final wine, it is absolutely splendid, a delicious 13% ABV, utterly complete, utterly without excess, now bottled under Diam, and one of my star wines. Have a look at the note.
Another year in which to venture into dry white Bordeaux if you haven't yet done so.
Sauternes/Barsac
The late July storm was most marked in Sauternes, where the rainfall was up to 4 inches (100mm) on July 26/27. This swelled the grapes, weakened the skins, and allowed for gray rot to develop after the early September rains, requiring an extensive "cleansing" pass to clean out any affected grapes, seriously affecting the eventual yield.
The ten hot, dry, mid-September days then delayed the onset of botrytis but, after the initial "clean-up" trie, perfect conditions arrived, with the late- September rains and subsequent concentrate, and for the development of high-quality noble rot on fully ripe, very healthy fruit.
Botrytis set in very rapidly, it was unusually homogeneous in its quality, and picking conditions for the second trie were ideal: blue skies, cool misty mornings, warm, dry, gently breezy afternoons.
But, with heavy rains again on the 14th, what was picked subsequently was much less good quality, and the heart of the vintage in both quality and quantity was thus from that middle trie during the second, and possibly third, week of October.
Many properties picked the bulk of their harvest in as few as ten days overall with, in consequence, and unlike the dry whites, a yield of a pitiful 7–11hl/ha.
Quality, on the other hand was exceptional. Wines with the typically high sugar levels of today, mostly without excess, and with the richness that comes from concentration, the finesse and complexity that come with high-quality botrytis, and an exceptionally vigorous defining acidity.
It was interesting to taste, with a complete cross-section from the communes (excepting Climens and d'Yquem), at very similar sugar levels, just how clearly the official quality hierarchy was reflected.
Not universally, but certainly for the most part you can really perceive the differences in terms of subtlety, complexity, length, and overall scope that reveal the individual properties' terroir hierarchy.
With the exception of a few wines at the lower end, whose samples had slightly elevated levels of volatile acidity, the overall Sauternes quality is very consistent (as has been the case for many years now), and the best of these are superbly balanced, very grand wines, absolutely delicious immediately, but superb long-term prospects, too.
To summarize: Most of the 2019 dry whites are as good as, or better than, their very fine and refined 2017s (of which there is a very great deal less) or their particularly vital 2014s.
2019 Sauternes perhaps has the highest incidence of overall success among the recent top Sauternes years, but vies for top spot with the large crop of fresh, refined, and subtle 2015s, and the small crop of very high-quality, vigorous-in-acidity 2014s.
Red wines—grapes
All of the red grape varieties were successful this year. Because of the dry conditions, the grapes were small, thick-skinned, typically (for these days) high in sugar, with acidities similar to 2018 for the Merlots, a bit higher for the Cabernets, and their small size, with a high proportion of skin to juice, would provide an abundance of both coloring matter and tannin in their wines.
Merlot was notably successful on cooler clay and limestone soils, where it ripened fully, with sufficient acidity, and a very satisfying texture to its tannins.
On the Left Bank, on warmer gravel soils, it was often trickier to manage, its picking window before becoming overripe was narrower; it easily reached a potential 15% ABV before its skins and pips became fully ripe, and it often seemed less easy to "integrate" into the blends subsequently.
No surprise then that the proportion of Cabernet Sauvignon continues to increase here. Cabernet Franc also had the time to ripen fully and, on the Right Bank especially, made an important contribution to both freshness and aromatic complexity in blends.
Cabernet Sauvignons had all the requisite time to ripen fully, too, and were magnificent: rich, complete, vital.
Red wines—harvest
As so often in recent years, the weather at harvest time was pretty much ideal, waiting for what you considered the best moment, aided by the refreshing rains of September 7 and 9 and, subsequently, 21–25.
There was no pressure to harvest, you had all the time you needed. The weather conditions were good, picking conditions were perfect, the fruit was healthy, there was the time to allow grapes to ripen fully, and you could pick at will, according to your individual ideals of the perfect balance of ripeness to freshness.
Normally several days of fairly heavy rain in late September are a vintage-breaker rather than a vintage- maker, but this year, because of the robust and healthy state of the fruit and the subsequent three weeks of weather perfect for both ripening and/ or picking, they did indeed make the vintage.
Reinvigorated, rehydrated, and nourished by the late-September rains, the red harvest could continue to ripen to perfection slowly, for picking in ideal conditions across the last week of September and the first two weeks of October.
The extra ripening time could also "make up," where necessary, for the prolonged veraison (which had led to uneven physiological development within some bunches), allowing the old-vine Merlot and the Cabernets to reach levels that promised outstanding quality.
The absence of time pressure also meant you could pick bunches of a given variety from the same, or indeed different, parcels, at different degrees of ripeness, some unevenly ripened as a consequence of uneven flowering, and ferment them together in order to have additional, fresher nuances for your blending "palette."
There were two main picking periods for the reds, determined by the two rain interludes. Young-vine Merlot, ripe by mid-September and refreshed by the showers of the 7th and 9th, was mostly picked during the first period from the 16th to the 21st; the rest was picked across the second period, the three weeks of fine weather after the late rains of the 18th to the 25th, up to October 14.
These were three weeks of very cool nights (55°F [13°C]), cool autumnal mornings, warm afternoons in the 70s (low- to mid-20s C), with occasional refreshing showers, plus a gentle prevailing wind to rapidly dry off vines and fruit.
Red-wine making
"The harvest date of each plot is the key for this vintage […] and requires a daily check in the vines. Each day we walk miles and taste hundreds of berries in order to establish the harvest plan adapted to our plots."
So wrote José Sanfins, winemaker at Cantenac Brown.
It has long been a truism that the best winemakers have their "footprints in the soil," and in Bordeaux today it has become increasingly the practice to harvest by grape/plot combination, sometimes surprisingly small, but governed of course by the number and size of available vats.
This in order to be able to tailor fermentation to individual parcels, with respect, above all, to temperature and extraction, with the aim of best revealing and illuminating different individual grape/plot characteristics. This is at the heart of fine Bordeaux's increasingly "bespoke" winemaking.
It is also a large part of what lies behind the fruit purity of the 2019s and particularly, as we have seen more and more over recent vintages, the increasingly fine tannin textures.
Many 2010s and 2005s, for example, made today, would likely be very different in their tannin profiles.
There is not only an increasing taste, in the recent post-Parker era, for gentler, subtler, more delicately extracted and less oaky wines, but the need for gentler tannins is also partly imposed by the unavoidable reality of increasingly high alcohol.
High levels of alcohol and high levels of tannin tend to reinforce, to aggravate, each other, essentially "hardening" the overall impression of the wine.
Thus, too, the trend toward "infusing delicately" when extracting from the skins; toward fewer remontages (pumping over), sometimes with just part of a tank at a time over a whole day, so exchange is as soft and slow as possible; punching down (pigeage) very gently if at all, and so on.
Funnel-shaped vats (reduced skin to liquid contact), shorter post-fermentation macerations, reduced levels of sulfur dioxide, and less new oak are also all part of this tendency.
So, too, is an increasing use of a proportion of clay amphorae in both fermentation and aging, in the case of the latter giving similar levels of micro-oxygenation to barriques, but without the addition of oak aromas or of tannin.
"They give width without flavors," as one winemaker put it.
Given the year's hot, dry weather, you still had to select out some shriveled and raisiny grapes at the sorting tables and, as in 2018, many kept fermentation temperatures low, around 77–80°F (25–27°C) (Haut-Bailly fermented at 75°F [24°C]) in order to keep as much freshness as possible.
Finally … blending. This was a real challenge in 2018, but in 2019 the almost universal observation was that it was remarkably straightforward, both a surprise and a joy.
So many good lots merged so synergistically together that it was difficult to know what to reserve for the second labels!
Yields
To put 2019 in the context of the last decade: If you take out the abnormally low yields for 2013 (very poor flowering), and 2017 (frost), the average AOP Bordeaux total was 5.43 million hl, with 2009, 2010, and 2016 all at 5.7 to the nearest decimal.
2011 (5.46), 2012 (5.25), 2014 (5.27), and 2015 (5.3) were all well into 5 million plus.
Which puts 2018 (5.0m—mildew) at 8 percent below the ten-year average, 2019 (4.9m—flowering and drought) at 9 percent below.
They are both on the low side, without actually being poor.
That said, with the sole exception of Sauternes, all seven major communes, as a group, produced more in 2019 than in 2018. And given that 2019 is, all things considered, probably an even finer vintage, that is something to celebrate.
Yields for these communes were mostly very satisfactory.
Pessac-Léognan certainly had something to celebrate with its dry whites. Here they made magnificent wines, probably the finest for a generation, but also with the highest yield since 2004 (2019 was only a couple of percent less), and probably much further back than that. 2019 was 79 percent (!) up in quantity on the splendid but more restrained 2017s, 20 percent up on the equally fine 2014s.
Poor Sauternes had the worst production of the decade with the sole exception of 2017 (though only 11 percent more than that), but the wines are glorious and, as with dry white Bordeaux, equal to the best of, and in some cases even better than, the lovely 2015s and 2014s.
There are anomalies that catch the eye every year … This year it was
Sénéjac in the Haut-Médoc at 20hl/ha.
Why? I asked manager and winemaker Jean-Michel Laporte: "The goal at Sénéjac is 50hl/ha.
"In 2019 we lost 5–10hl/ha to poor flowering, 5–10hl/ha to drought and very small berries (the two sources of most 2019 losses); also 5–10hl/ha to frost, and 5hl/ha to hail on part of the vineyard."
As always, of course, general statistics are blind to singular details.
Red-wine quality and style
Quality
There has been so much that is so good, if in different styles, over the past five vintages, 2015–2019, that it is really an invidious "on a hiding to nothing" comparison to try and say which is "best."
Thinking about it, I asked myself this question: Assuming a very long life, and intact faculties (I should be so lucky on both counts!), if I had to choose to live with only one Bordeaux vintage from the past decade (a pretty fancy run, you have to admit), which would it be?
The answer is that I'd find it very hard to decide between 2019 and 2016.
But that the added performance of both white wine styles in 2019 might well tip the balance in its favor.
I'm relieved it is not a choice I will have to make, but it does reveal just how good I think 2019 is. Because I regard 2016 ("Many wines will rank with the best ever," I wrote when introducing the vintage) as the standout year in the golden run since 2015, with the not inconsiderable advantage, today, of relatively modest levels of alcohol.
For the red wines, too, then (always remembering that I have not yet tasted 15 to 20 of the highest ranking), more than a few will likely qualify as the "best ever" (and I pose that question in their notes), and most will be on a par with, or close to, their respective 2015, 2016, 2018 cream.
In trying to rank precisely, we are "quibbling," splitting hairs, as so often recently.
Style
2019's excellence is, however, not completely unalloyed. How could it
be in such a hot, dry year?
On more than a few occasions, when tasting, you sense that 2019 is already a climate change tightrope performance, with all the attendant opportunities for spills as well as thrills.
Merlot is often just on the cusp of overripe, with the merest whiff of raisins to smell … and then to taste.
And some of the weightier wines will surely be, for better or for worse,
sippers rather than slakers.
These days, climate excess is built into the wines before you even oil the secateurs.
A question of taste? Of course. And yet …. it is often only a hairsbreadth that separates excellence from excess. The high-wire act!
That said, for a very large number of wines, 2019 is a wonderful, an
absolutely beautiful year. If the red wines don't quite have the more
classically proportioned, moderate-alcohol-serenity of the 2016s, they
are less burdened with power and force than their respective 2015s and 2018s.
My notes are dotted withclassically proportioned, moderate- alcohol-serenity of the 2016s, they are less burdened with power and force than their respective 2015s and 2018s.
My notes are dotted with ripe, juicy, wealth, ample, complete, classy…. and fresh. This freshness gives so many of the wines, for all their climate- warmed opulence, an abundance of gravel and mineral aromas, plus a slightly more structured frame, that little bit of stiffening, of "cool-nights" corsetry, which also lends them a discernibly aristocratic bearing.
A singular combination of opulence and poise.
2019 ranking
An apotheosis in this climate-warmed context?
It is difficult to imagine Sauternes, or dry whites especially, that are noticeably better than their 2019s, and many of the reds have a bewitching blend of the fully, sweetly ripe yet freshly defined classicism of the 2016s, allied to the seductively fleshy opulence and "heart-on-your-sleeve" power of the 2015s and 2018s.
Much to appeal then to both "classicists" on the one hand, and to "sheer hedonists" on the other.
2019 is a perfect embodiment of what Bordeaux can achieve in an almost ideally "mitigated" (by cool nights and timely rainfall) globally warmed vintage.
Difficult to imagine much better than this. How much better could much better be?
And even if 2016 and 2017 give us hope, for how much longer can this trend continue, realistically, in the context of inexorable climate warming, without tipping regularly into surfeit?
It is also hard to see how particular weather conditions can "mitigate" much more impeccably than they did in 2019, and hard to envisage a replay of the extremely rare conjunction, in a single year, of such supreme expressions of both red and white Bordeaux.
So, it is for 2019's particular combination of excellence, opulence, and poise that I think of it as a kind of apotheosis among these recent global-warming-touched vintages.
All the more because it seems unlikely, amid accelerating climate extremes, that Bordeaux will be able to perform regularly the hot-dry year balancing trick that it pulled off so successfully in 2016 and 2019? Does it not?
Communes
There is so much good wine across the region this year, I don't feel any individual communes stand out as particularly exceptional or, for that matter, as disappointments.
Rather, a high proportion of the wines seem to match so well many of our imagined paradigms for their communes: fine sinews in St-Estèphe, substance combined with class in Pauillac, middleweight harmony in St-Julien, fragrance, purity, transparency, and grace in Margaux; restrained, gravelly elegance in Pessac, a seamless, scented, velvety richness in Pomerol.
On reflection, perhaps Margaux, Pessac-Léognan, and Pomerol should wear the broadest smiles of all.
And whereas wines of great heat and/or drought vintages tend to speak more of their season's climate than of their commune origins, this is not so in 2019, a most positive distinction for the year.
Favorites
This year I have marked my favorites, some 16 of them, with a red asterisk* against the château in my notes.
There was no plan here, no feeling I had to cover all the communes /
hierarchies / price levels. These were simply an immediate emotional
and taste reaction to an absolutely delicious sample.
It was, as it turned out, across the region! I have indicated a projected, all taxes inclusive UK retail price, taken from wine-searcher.com, based on the lowest current (August 15, 2020) en primeur price, against a similarly calculated cost of the most recent, most highly rated vintage, typically 2018, 2016, 2015 of the wine in question.
You will see it is interesting to consider!
Still a buying opportunity for sure
There was a brief, and surprisingly rapid, en primeur campaign in June/ July, with the Covid-19 uncertainty prompting a 15–30 percent reduction on 2018 en primeur prices.
Given the quality of the vintage, where the reductions were marked (not all were) the offers were fairly quickly snapped up. Mostly the "usual suspects."
Of course, it is over now but, as you can see, there are still bargains to be had.
There is no question that, bought now [NB: September, 2020] (many still at what looks like excellent price-for-quality value), with drinking in mind, you will not regret the purchase.
I would not hesitate to buy what you can afford. The late Michael Broadbent MW wrote, a long time ago, of the 1982s: "These will become the gold dust of the future."
I wonder if we might say the same about many 2019s in due course?
Closing Covid-19 reflection
Ducru-Beaucaillou's Bruno Borie is always good for a provocative thought.
At the end of our Zoom call, when I asked him about the market, this was a teasing part of his response, said with a smile, of course: "The global economy has changed because of Covid-19.
"If prices soften noticeably, the very low yield model, that driver of quality, might change, too, and start to rise…." ie Financial Yield down = Viticultural Yield up?
Comforting then to know that it is remarkable what can be made with "reasonable" yields today!
A short pause for thought nonetheless. Maybe putting this wonderful vintage in an even more telling light?