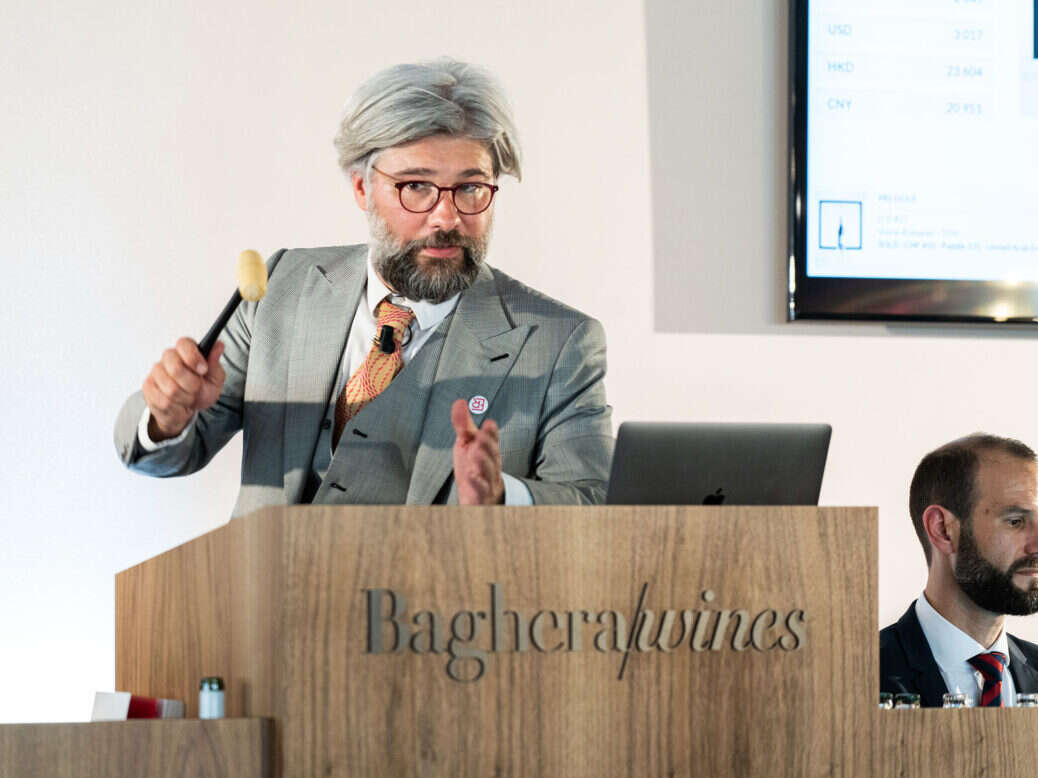 The fine-wine auction market is steeped in tradition. Its recent history, confronting globalization, a new generation of collectors, and digitalization, has resulted in some revolutionary (and likely permanent) changes to its operations and to customer expectations. Chloe Ashton speaks to ten prominent names in today's brave new auction world to find out more.
Auction elders: Sotheby's, Christie's, Bonhams
George Lacey, head of auction sales for London, Sotheby's
Having joined Sotheby's 18 months ago, George Lacey has been busy bringing young energy to the auction house's British office. Lacey cut his teeth at Berry Bros & Rudd, managing the Singapore sales team before moving back to Britain and the house he now calls home.
He has big news to share: "I'm moving back to Asia soon," he tells me—he'll take on the position of head of Asia for Sotheby's, and he cannot hide his excitement.
"Singapore is where I learned most of what I know," he confesses, attributing this to the great generosity of its wine community and its small yet very concentrated nature when compared to the vast London wine scene.
"When I moved [to Singapore], I tried to soak up as much as I could from as many collectors as possible—after all, they have been buying and enjoying wine for 25+ years and naturally know far more than I do."
Despite the swift intra-house move, Lacey has already left his mark on London. "I think my experiences sharing bottles in Singapore was a valuable reminder of why we do what we do," he explains.
Sharing bottles with the wine-obsessed was a key success driver there, and one he sought to implement on his arrival back in the UK.
"We didn't necessarily have a systematic approach of doing presale dinners in London, so that's something I've tried to develop, since enjoying the wines is such an integral part of the collecting journey."
The new regime is clearly working: Sotheby's London division is up 45 percent year to date on 2021. But Lacey is quick to emphasize the bigger picture of Sotheby's recent wins on a global scale: "We have been very strong in knowing where to position tech and how to deploy it. If you look back to 2020, the speed and quality with which we went online is quite impressive."
His passion for this side of the business is not at all misplaced, he justifies, given the simple fact that "pre-pandemic" operating styles will stay firmly in the past.
"Before Covid, everything was happening in the room or through literal sheets of paper with advance bids on them. Now we know how to get to the heart of what customers want in terms of user experience, whether they are in the room, on a beach in Hawaii, or in an office in Shanghai."
Adam Bilbey and Michelle Chan, global head of Christie's and head of Asia Pacific, Christie's
If this year's auction results are anything to go by, Adam Bilbey and Michelle Chan form part of a Hong Kong auction super-force for Christie's.
Chan's history with the Hong Kong wine trade dates back to 2008, when all duties on wine were removed and the business started to boom. She was introduced to the market by her brother—an avid wine collector—and has never looked back.
The combination of her deep knowledge and understanding of "Asian buyers' tastes," as she puts it, and the arrival of Bilbey from Sotheby's in January 2022 has seen Christie's enjoy a bumper year thus far.
Bilbey tells me, "We have great talent within the team around the globe, as well as in Asia, but also a brilliant history in [the Asian] market."
Indeed, he believes the strength of Christie's brand in Asia, alongside the harnessing of close relationships with collectors and buyers alike, has laid the pathway to 2022's success.
Just seven months into his new post as global head of Christie's, he speaks of the house's specialty with immense clarity: "Our primary focus is being able to curate and present stories of the world's greatest collections.
"Once we can do this and prove that we know how to sell such fantastic wines, further collections will naturally come to us—that's where the momentum has come from this year, I think."
Chan offers further dimension to the auction giant's accomplishments, highlighting the benefits of its position within a wider group: "There are lots of opportunities in cross-selling. I work with other departments—watches, jewelry, handbags, and accessories—closely and on a regular basis."
She and Bilbey both underline the impressive recent track run of fine wine at large in Asia, and Chan specifies, "While Hong Kong remains the main geographical driver for wine buying here, we have seen growth from mainland China, Taiwan, and Southeast Asian countries—India, Indonesia, Japan, Malaysia, and so on."
Revealing a little of what's to come for Christie's, Bilbey admits the market is poised to see a short lull "after such a long and successful run," while Chan remains optimistic, citing advances made during Covid—digital sales, plus engaging content on WeChat and Weibo—as ballast for Christie's in any choppy water ahead.
Diego Lanza, senior spirits specialist, Bonhams
I spoke to Diego Lanza on his first-year anniversary as senior spirits specialist at Bonhams. The road to where he was sitting during our call, in Bonhams' sleek Hong Kong office, has been long and winding. After leaving a fledgling career as a mechanical engineer in favor of the cocktail scene in Italy, Lanza was drawn by the bright lights of London and the world of whisky.
"I started growing my interest in old and rare spirits on the shop floor at The Whisky Exchange," he tells me, hailing one of his colleagues there as a major source of knowledge ("a genuine whiskipedia").
Spending time with The Whisky Exchange's founder Sukhinder Singh—and his personal whisky collection—deepened Lanza's knowledge.
"He taught me the golden equation for whisky collection: quality plus scarcity equals value."
While this rule might apply just as well in wine, Lanza is specific in its pertinence for spirits: "Single cask quite literally means there is only one, so this can translate into a maximum of 500 bottles. Once those bottles are gone, they are gone."
I ask him for an explanation of the increase in rare-whisky prices over the past decade or so, my knowledge of the subject limited to the existence of the phenomenon.
"There are old-school collectors who have been buying to keep a selection of bottles for many years, and there is a much younger generation (20- to 30-year-olds) coming into the market, hungry for the intricate knowledge that comes with understanding a single-cask lot, an independent bottling, and so on," he offers.
And while he concedes that price speculation continues to trend upward, he emphasizes that many younger collectors are buying with pure passion, to open and drink the bottles.
Citing his experience of Hong Kong thus far, he tells me, "These guys are obsessed with snatching the finest and rarest bottles, and they know how to appreciate them."
As for the value of those left unopened, his rationale is simple: "We are lucky in the spirits world. Unlike wine, our bottles don't really have a shelf life. As long as they are stored upright and away from direct sunlight, they can last for eternity. Imagine the value created for people who do that until they own the last bottle of something in the world."
Wine purists: Zachys, Baghera
Charles Antin, global head of auction sales, Zachys
Charles Antin got "bitten by the bug of wine" in 2005. While running through a series of different jobs, wine was Antin's outlet to engage with culture, which quickly became a career on joining Christie's as an administrator in 2006.
As his thirst for wine knowledge grew, he sought a move to "a place where wine was the sole focus," and he has been at Zachys ever since.
"I've come up through two different auction houses from the very beginning"—an experience that has a clear advantage in terms of his intricate understanding of how the business has worked and how it could work better in the future: "I was once the guy filing the paperwork, I was once the guy looking at every single bottle and lugging every case, so I have the ability to see what might go wrong before it does," he tells me.
This benefit extends to Zachys at large, which has seven decades of pure wine specialism in the auction space and is now a triple-threat powerhouse. "We've got personal touch, a huge client base, and a global team that breathes wine."
Global is certainly the operative word for the house, which started in America but has expanded sales into Hong Kong, London, and online over the past few years.
It is nonetheless the charitable side of the company that Antin chooses to emphasize. "We were lucky during Covid: The auction business genuinely boomed, while our friends and colleagues in the restaurant and travel businesses were not so lucky."
In response to this, and taking advantage of consumers drinking more at home, Zachys launched several charity sales during the pandemic, raising funds in large part for hospitality. ("The next big one in the calendar is for the United Sommelier Foundation," he mentions.)
I ask what his plans are for the near future, if there are any more changes to come, but Antin's response remains faithful to Zachys' steady and familial attitude for gaining ground in business: "I don't think there is going to be a huge sea change in the near future now—we sort of just did that!"
Julie Carpentier and Michael Ganne, co-founders, Baghera
Swiss auction house Baghera has soared to success since it was established in 2015 by dynamic duo Julie Carpentier and Michael Ganne. The two ex-Christie's executives sought to tread their own path, applying what they knew—how to curate great auctions of great wines—to a more focused, wine-pure audience.
"The most important thing was to center everything around the wines and people, and let them share moments. If you like wine, you like people," explains Carpentier.
The personal relationships, both with clients and producers, shine through in some of the outstanding sales Baghera has staged during its mere seven-year history. Beyond the numbers, human interactions appear intrinsic to the company's identity.
Both Carpentier and Ganne emphasize the importance of maintaining auctions at midsize—no more than 250 lots: "It's already vast, and we want to do justice to the wines, the people selling them, and those buying with every sale," Ganne tells me. Carpentier adds, "It's a method more suited to our kind of client—private collectors rather than trade buyers."
Expanding outward from the auction activity, Baghera's members club opened in September 2020 (in central Geneva), and its wine community continues to grow. The club even has a small boutique. (This "was never in the plans," Ganne explains. "We just tried it when we took over the space, and it seemed to work. Not everyone has the time to buy their wines at auction.")
Following some brilliant results generated online and in live sales that were broadcast to other markets (Hong Kong, for example, where live sales were accompanied by a dinner and a tasting when Covid restrictions in Asia would allow), Baghera is set for a new phase of development: A second club in Nuits-St-Georges and an office in Singapore are opening before the end of the year.
Ganne touches on the benefits of doing all of this off his and Carpentier's own backs, rather than within the walls of a larger auction-house structure.
"A sailboat is easier to direct than a big ship with an engine," he muses, "so I feel we'll always be able to work with more agility, and ultimately more quality: more respect toward the wines, their makers, and the people who love to drink them."
Digital disruptors: Hart Davis Hart, iDealwine, Crurated
Marc Smoler, senior vice president, Hart Davis Hart
Hart Davis Hart was established in 2004—a relative adolescent compared with some of the more traditional auction houses. Its senior vice president, Marc Smoler, joined in 2006 "when it was basically a startup."
After 16 years working his way up through the house, Smoler maintains focus on what he considers Hart Davis Hart's purpose: "Our goal has never been to be the biggest but to offer the best service and, particularly, to do our due diligence when it comes to wine provenance."
Indeed, while such efforts still take up a lot of team time ("essentially it means that we review and reject quite a lot of wine"), Hart Davis Hart has clearly reaped the reward of these endeavors. The Chicago house has grown from revenues of between $1 million and $2 million, when Smoler joined, to $92 million in 2021, making it the fourth-largest auction house in the world by value.
These strong numbers result not only from continued efforts in service but also thanks to innovative technology ahead of its time. Hart Davis Hart invested early and heavily in online bidding functionality and live-streaming—a bet that paid off in 2020, when much of the wine world scrambled to digitize against the global pandemic.
"We were lucky, in that business didn't have to change that much for us," notes Smoler, though he concedes, "We did, of course, confront the same issues of physical inspection and stock shipments as everyone else."
Hart Davis Hart has enjoyed another record-breaking year in 2022 to date. Reflecting on his near two-decade journey at the house, Smoler tells me, "It's extremely rewarding to see. We've gone from organizing one or two sales per year to now handling almost that number per month".
Even at that pace, Hart Davis Hart is perhaps proof that slow and steady wins the race; its deep and detailed auctions—fewer in number than at some other auction hoses but fine-combed for only the best lots—continue to maintain an unbroken 100-percent-sold record.
Angélique de Lencquesaing, co-founder and deputy CEO, iDealwine
iDealwine was founded in 2000 by three friends and wine enthusiasts (CEO Cyrille Jomand and deputy CEOs Angélique de Lencquesaing and Lionel Cuenca) who met while working at the Paris Stock Exchange (Euronext).
"It was at the time when the electronic stock exchange replaced the traditional trading floor. We realized that we could replicate this on the Internet, a place where wine lovers could bid on and buy wine in just a few clicks," de Lencquesaing tells me, adding, "Our dream was to build a platform where the variety and vastness of fine-wine auctions was accessible to people all over the world."
The dream became reality with the help of her aunt, May-Eliane, whom de Lencquesaing cites as a source of inspiration in wine and the person she first went to with her "grand idea": software that could estimate the price of a wine and a platform to bid remotely on hard-to-find bottles.
Since its foundation at the turn of the century—when iDealwine was far ahead of its time ("Even the Internet was in its infancy," de Lencquesaing comments) and the first online-only auctioneer in Europe—the company has grown to providing price estimates on approximately 190,000 bottles under the hammer per annum, consulted by 550,000 people each month in more than 100 countries.
De Lencquesaing reflects on the two decades of iDealwine's success thus: "In 20 years, we've witnessed shifting hierarchies, wavering confidence, evolving tastes, and with the help of our ever-expanding database, a push for us all to grow our [wine] knowledge."
Looking forward, de Lencquesaing maintains her keen digital eye: "NFT—the phrase on everyone's lips," she says, explaining that digital blockchain tokens might offer solutions to tricky questions, such as how to set prices at estate level and allowing the producer to benefit as much as resellers from the increased value of their bottles over time.
"At iDealwine, we're following this trend closely, since each and every bottle worth more than €500 sold on our site is equipped with WineDex technology, linking the bottle to a unique NFT."
Alfonso de Gaetano, founder and CEO, Crurated
I was keen to discover more about Crurated from the inside, having seen the name crop up countless times on social media, in fine-wine circles, and in association with some of the hottest ticket producers of late.
Founder and CEO Alfonso de Gaetano has spent the past decade working for Google—an unsurprising fact when one understands the technology and methodology behind his new wine-purchasing platform.
"I wanted to create something that would solve problems for collectors and producers," he explains. "I've previously worked on multi-pricing advertising models, so this was a source of inspiration for me in creating Crurated." The platform hosts auction-style transactions, as well as fixed-price sales, depending on the rarity of the allocation in question and the objectives of its producer.
"My thought process for Crurated started during Covid. I spent a lot of time reflecting on the frustrations of collectors not having access to wines they wanted, and also of producers, not knowing where their wines end up or if they were being opened and enjoyed."
De Gaetano's proposition was therefore to create value for producers and connect them directly with their followers—an offer that certainly seems to have struck a chord with some of today's vinous elite. Crurated has recently signed an exclusive distribution deal with Charles Lachaux for his négociant wines.
As for what is next, de Gaetano is candid about the platform's heavy up-front investment in tech: "It is what helps us create such flexibility for buyers and sellers," he says. Up next is a concept inspired by fractional NFTs used for the purchase of artworks by multiple buyers.
"From September, we will be launching the sale of wines from barrel only. Several customers can buy into one barrel, and the web app will show how many equivalent bottles are left to purchase. Collectors will be able to choose their formats for the quantities they purchase and, in some instances, commission custom labels."
Adding an element of auctioneer excitement to the concept, most large formats will be available only to those purchasing from barrel.
World of Fine Wine is hosting the World's Best Wine List Awards on September 12. Sign up for the event here