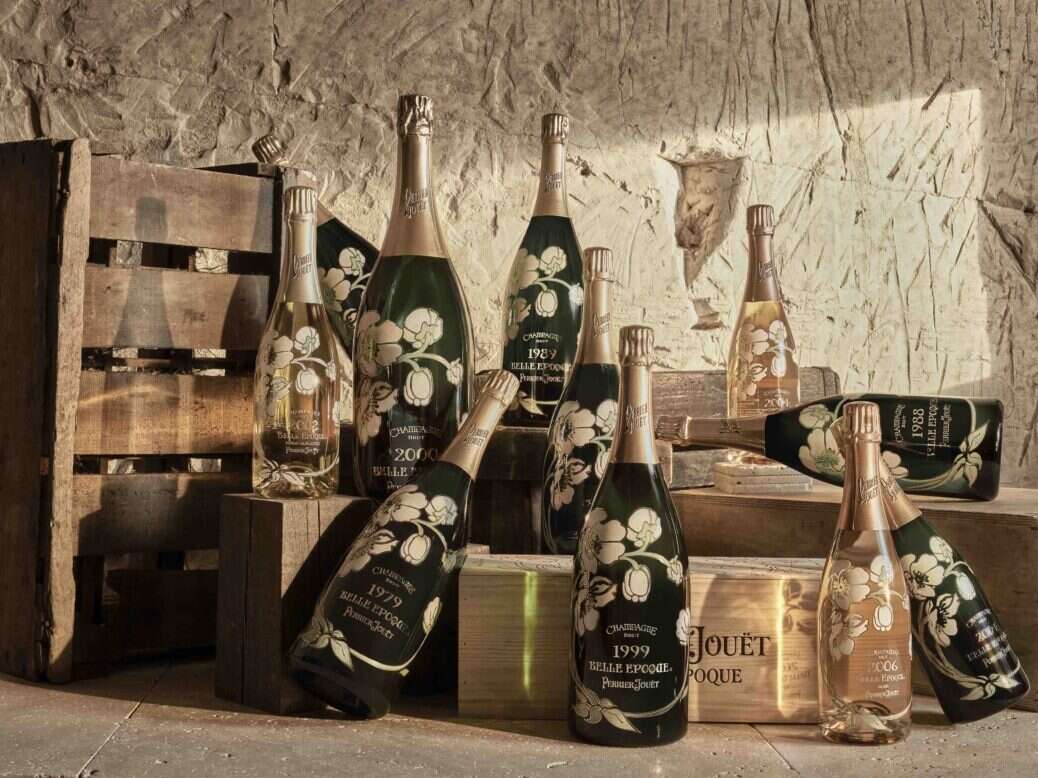 Chloe Ashton presents all the latest data from the thriving auction and fine-wine market, where both demand and prices have continued on their dramatic upward curve.
Wine prices have never been higher. Following an initial stumble at the beginning of the coronavirus pandemic (March 2020), Liv-ex indices have risen continually over the two years since, as demand for fine wine seems only to grow. Global uncertainty and, to an extent, simple consumer boredom from tiresome restrictions may have been the initial catalyst for this latest surge of interest (and thus prices), but both have advanced beyond expectations since. Stephen Browett, chairman of leading UK merchant Farr Vintners, reiterates that "wine was one of the few luxury pleasures not affected [by the pandemic], unlike holidays, restaurants, parties, and so on." If this kickstarted a new era of wine buying and selling, it is riches built up over several years prior that sustain it. Erik Portanger, head of strategy for private wine-collection curator 1275 Collections, explains: "We are at the tail end of a decade-long bull market, which has created a huge amount of wealth and increased the pool of people who have the means to indulge their passion for fine wine."
Sky's the limit for the fine-wine market
The Liv-ex 100—the staple fine-wine measure comprising the top most traded wines on Liv-ex's exchange platform—saw an increase of 22 percent between January and December 2021 (fig.1). Now filled approximately halfway by Bordeaux—and otherwise including important wines from Burgundy, Champagne, the Rhône, Italy, Spain, Australia, and the US—it attests to a fervent interest in fine wines of all shapes and styles. The broader Liv-ex 1,000 index increased by 19 percent in 2021, while the Liv-ex 50, comprising Bordeaux first growths of the past ten vintages, rose by 13 percent. Though the latter sports the least impressive increase of Liv-ex's three major price measures, its performance relative to previous years is positive: The Bordeaux price indicator achieved its best annual performance since 2016 last year.
Collective price increases may have environmental causes, muses Portanger; he cites climate change as an important factor in wine pricing today, explaining that "adverse weather events are reducing supply just as demand is increasing. This has also drawn attention to the fact that many iconic wines are changing and might not even exist in years to come, which is creating a sense of urgency." Thibaut Mathieu, managing director of Corney & Barrow's Hong Kong office, concurs, highlighting consumer awareness of "the prospect of upcoming smaller vintages." Liv-ex results certainly support this at a more granular level; regional indices ended 2021 on record-breaking highs, growing 10–40 percent between January and December 2021. The last quarter of the year saw a particularly fast upturn for the Champagne, Burgundy, and Rest of the World indices, which, in the case of UK buyers at least, Browett puts down to a "weaker supply of drivers," magnifying relative demand between October and Christmas 2021.
Champagne on a high
The Champagne 50 index was by far the strongest performer in 2021, rising a remarkable 40 percent over the course of the year. Peter Crawford, Champagne collector and founder of online retailer and grower specialist Sip Champagnes, admits to me that price increases have, in some cases, been "frightening for someone who sells and buys Champagnes designed for drinking enjoyment." He explains the region's recent price growth through a culmination of factors. First, Champagne has benefited from a succession of strong vintage releases—2008, 2012, and 2013, which have all garnered unprecedented levels of interest. Second, these successful vintages have perhaps had more of a mainstream voice, thanks to high scores from globally recognized wine critics. Finally, the perverse advantage of lockdown boredom causing traditional fine-wine buyers to move beyond their Bordeaux- and Burgundy-based comfort zones has contributed to Champagne's impressive ascension. Crawford nonetheless hints that fine wine's new Everest could be reaching its peak, believing that price hikes adopted by some Champagne producers will simply be unsustainable. He foresees a potential growth deceleration with subsequent declared Champagne vintages. He says, "2014 was good for some Chardonnay-dominant areas, [while] 2015 was struck by disease in some areas." But he adds that while good (if perhaps not great) vintages across the board are to follow, "we'll understand fully within the next decade why our great-great-grandfathers planted grapes in certain areas." Referring to the specific vineyard sites that still perform, be it in lesser vintages and/or under pressure posed by climate change, the near future of Champagne's price performance may hang in the balance of the specific micro-site, rather than in the region's traditional tendency for blending and consistency.
Burgundy balloon
Now second in command, the Burgundy 150 index grew by 29 percent throughout 2021, similarly experiencing an uptick in the year's fourth quarter, which boosted the index beyond its first peak back in 2018. At the time of writing, the campaign for Burgundy's latest vintage (2020) has already been and gone. David Roberts MW, buying director of Goedhuis, tells me that most wines "sold out incredibly quickly." Indeed, whispers at the resumed set of Burgundy week tastings (Goedhuis, Flint Wines, Justerini & Brooks, Charles Taylor Wines) indicated that a majority of the wines were already "pre-sold," while Roberts even muses that he and the Goedhuis team must consider "what further Burgundy we can offer during the rest of the year," since recent vintages have seen the same pattern of being snapped up so quickly on release. With this in mind, and considering the lower volumes available (particularly for reds) in 2020, Burgundy prices are poised to continue their ascent. Mathieu offers that recent price hikes have not all been entirely market driven: "Producers are putting their prices up in preparation for a small 2021 [vintage]." This nevertheless seems to have done little to assuage demand. Portanger confirms that "appetite for top Burgundies is insatiable" but suggests there exists an alternative route for the insatiate, in "other regions with similar characteristics—most notably Barolo." He admits the knowledge base of Piedmont throughout the market remains limited, which could present an opportunity for growth.
The Rest is yet to come
Liv-ex's Rest of the World 50 index achieves third place for price performance in 2021, its 22 percent rise driven primarily by increased interest in wines from California. Meanwhile, Liv-ex's Bordeaux 500 and Bordeaux Legends 50 indices still trail behind, growing by 10 and 12 percent respectively throughout last year. The Liv-ex exchange reported a record low of Bordeaux's market share as a portion of platform trades by value. Mathieu admits this pinch is somewhat reflected in Corney & Barrow sales, a phenomenon he attributes to en primeur release prices exceeding the cost of available mature stock. "As long as this is the case, Bordeaux will be a tricky sell," he says. Other merchant data differ. Browett tells me, "Bordeaux remains king for us [Farr Vintners] in terms of value and quantity sold." He adds, "Our [Bordeaux] sales remain two to three times stronger than those of any other region." Roberts echoes the importance of Bordeaux for Goedhuis, similarly noting that the region is still the merchant's biggest seller by both volume and value. He has witnessed a recent resurgence of interest in Bordeaux, likely linked to the global health crisis. "During the 18 months of Covid, clients were withdrawing ten-plus-year-old Bordeaux from their reserves and rediscovering the joy of drinking claret," he notes, explaining that this "served as a reminder that it pays to buy and lay down Bordeaux for later years." Indeed, while last year's release prices of some Bordeaux 2020 en primeur were "expensive," Roberts calls the campaign "successful," adding that it, too, encouraged buyers to revisit further physically available vintages for cellaring: "We sold quite a lot of 2015s during lockdown."
Auction update
Despite ongoing restrictions linked to the global health crisis permeating parts of 2021, the year saw total live auction revenues from major houses reach $582 million (fig.3). Representing an astonishing increase of 53 percent on the Covid-stricken 2020, auction-house sales figures in 2021 were at an all-time high and even surpassed the previous reigning year of 2018 by $110m (or 23 percent). While purely digital auctions have only been measured since 2019, latest figures indicate that online sales are set to stay a permanent feature of the fine-wine world, after solidifying their importance for wine collectors during lockdown periods. Online-only auctions added $51m to sales in 2020 (resulting in a total annual figure of $432m), and this grew to $53m in 2021, pushing the wine-auction annual revenue total over the $600m mark.
Worldwide web
Geographically, the US has remained the number-one auction buyer in the world, responsible for 45 percent of all live auction revenues in 2021 (fig.4). Once the sovereign city of America's gavel, New York has seen its live sales outpaced by those livestreamed from the state of Delaware (by Acker Merrall & Condit and Hart Davis Hart). The two areas together prove the power of the Northeast megalopolis, accounting for 43 percent of all global auction sales. Hong Kong represents Asia with a 38 percent portion of auction revenues, while Europe maintains a web of wine hubs, led by Geneva and London, that generate matching sale shares of 6 percent apiece. While key cities retain the obvious advantage of proximity to collector wealth (and a higher density thereof), strong results for outlier auction locations are made more achievable by consumer willingness to buy from a distance. Louis Krieger, deputy director of Boston auction house Skinner, remarks on increased confidence in buying remotely, saying, "Timed, online auctions continue to attract buyers, and fears of realizing lower prices versus live auctions can be assuaged." Similarly, Pascal Kuzniewski, chairman of Besch auction house, based in Cannes, comments that the positive aspect of "attracting more and more customers from all over the world" outweighs the major disadvantage of remote access to sales; "fewer attendants in the auction room, of course."
Cross-continental
Multi-continent auction outfits naturally still earn most in revenue terms. The three champions of 2021—Acker Merrall & Condit, Zachys, and Sotheby's—all held sales in at least two out of the three "big cities" (New York, Hong Kong, London). Maintaining its position as the highest-earning house, Acker achieved sales of $185m in live, livestreamed, and online auctions between New York, Delaware, and Hong Kong in 2021, growing revenues by $59m (or 46 percent) year on year (fig.5). Second in line, Zachys achieved $147m ($64m higher than in 2020), representing an impressive 77 percent increase. Having expanded geographically through its first sale held in London during 2020, Zachys added another location to the gavel list in June 2021, celebrating California greats in St Helena, Napa Valley. Charles Antin, head of wine-auction sales for Zachys, attributes the house's success in 2021 to being "the first auction house 'back at it' with live, in-person sales," as well as to the variety of sale types on offer ("We had spirits-only, Champagne-only, single-owner live and online auctions"). International auction star Sotheby's ventured into France for the first time last year, holding two sales, in Beaune and Paris respectively. Both featured single-producer lots—the former an auction exclusively of wines from Domaine de la Romanée-Conti, the latter an online auction in partnership with Mouton Rothschild, revealing the new artist label to be featured on the 2019 vintage bottles. Reaching revenues of $93m, Sotheby's grew its wine and spirits department figures by $18m (or 25 percent) compared with 2020.
Specialist success
Looking at the wider set of results covering all major auction houses, the boom of fine wine and spirits compared with other collectibles is more evident. In growth terms, those houses specializing only in the auction of wines and spirits, as opposed to possessing the same department category within a larger set of auction offers, have performed better between 2020 and 2021. Wine- and/or spirit-specific houses achieved an average year-on-year revenue growth of 81 percent, while collectible auctioneers with wine departments gained 35 percent. Wine-auction houses are boosted by two single-city performers: Geneva-based Baghera and Cannes-based Besch each increased their 2020 sales figures by 150 percent. An exception to the specialism rule, Paris auction house Tajan improved its wine department's revenues by an astounding 180 percent in 2021 (fig.6).
One-region wonder
While location and specialism (or lack of) show variable correlation to hammer-price success in 2021, winning-auction subject matter is unanimous: Burgundy continues to hold court in global salerooms. The region accounted for 60 percent of all top lots disclosed in 2021, proportionally flat on the previous year but exhibiting a significant increase in hammer prices. The region's top lots reached an average $159,000 in 2021, 76 percent higher than the previous year. While Domaine de la Romanée-Conti continues to dominate Burgundian gavel wins (earning 57 of the 100 Burgundy top lots disclosed throughout 2021), the two highest-priced lots are from elsewhere. A 12-bottle lot of 1865 La Romanée from Bouchard Père & Fils, sold by Baghera in the second quarter of last year, remains unbeaten, going for $2,142,294. Next in line is a 10-bottle lot of 1991 Musigny from Domaine Leroy, auctioned in Hong Kong by Acker Merrall & Condit in January 2021. Finally, the most expensive top lot of the year from Domaine de la Romanée-Conti was declared by Zachys: A 6-liter bottle of 1998 Romanée-Conti sold for $684,750 in the American house's November Hong Kong auction.
Bordeaux also maintains a similar share of top lots in 2021 compared with 2020 (around 26 percent), though its average hammer prices have not risen nearly as much: High-achieving claret and Sauternes grew top-lot prices by 12 percent. The winning representative of the region in 2021 was a bumper lot of more than 100 bottles of Yquem 1990, auctioned by Christie's at its Geneva sale in November of last year. The sweet lot sold for $295,483, surpassing the hoard earned by Sotheby's Parisian auction of Mouton Rothschild's 2019 new artist label collection (containing six bottles, three magnums, a double-magnum, an Impériale, and a Nebuchadnezzar) by just under $133,000. Reflecting recent trends on the secondary market, top lots from Champagne and California continue to make appearances, while the Rhône saw winning hammer prices for the first time in 2021. Two separate sales, by Zachys in Hong Kong and Heritage in Beverly Hills respectively, generated top lots from the Rhône; the first, a nine-bottle lot of Jean-Louis Chave's Ermitage Cuvée Cathelin 1998, sold for $54,513; the second a much more modest online sale of six bottles of Rayas's Châteauneuf-du-Pape 2000 (going for $4,551).
All aboard
With record prices infiltrating the auction and secondary fine-wine markets, and a revived roster of live, livestreamed, and online-only sales planned, there is a distinct sense of optimism heading into 2022. The year that will hopefully see the back of Covid may well also earn further price increases, as more consumers seek to join the wine-collection club. Portanger tells me, "There is growing awareness of fine wine's unique attraction as an enjoyable yet secure store of alternative wealth, offering the option to either drink or realize profits in the future. The good news is that the fine-wine market has been steadily broadening beyond the most obvious names, which creates a continuous stream of opportunities for collectors." An energy surrounds even the most traditional of regions. Browett foresees "strong sales in 2022 for the great [2019] Bordeaux vintage" now that critics and merchants are tasting it in bottle. Roberts may urge caution to the region for its next en primeur campaign, though mostly relative to strong prior successes for claret. "Clients buying Bordeaux have purchased five out of the past six vintages released," he notes, "so they may not feel the immediate need for 2021 [Bordeaux en primeur]." Whatever region may spark interest, prospective enthusiasts may do well to board the wine train now, before it speeds away without them.