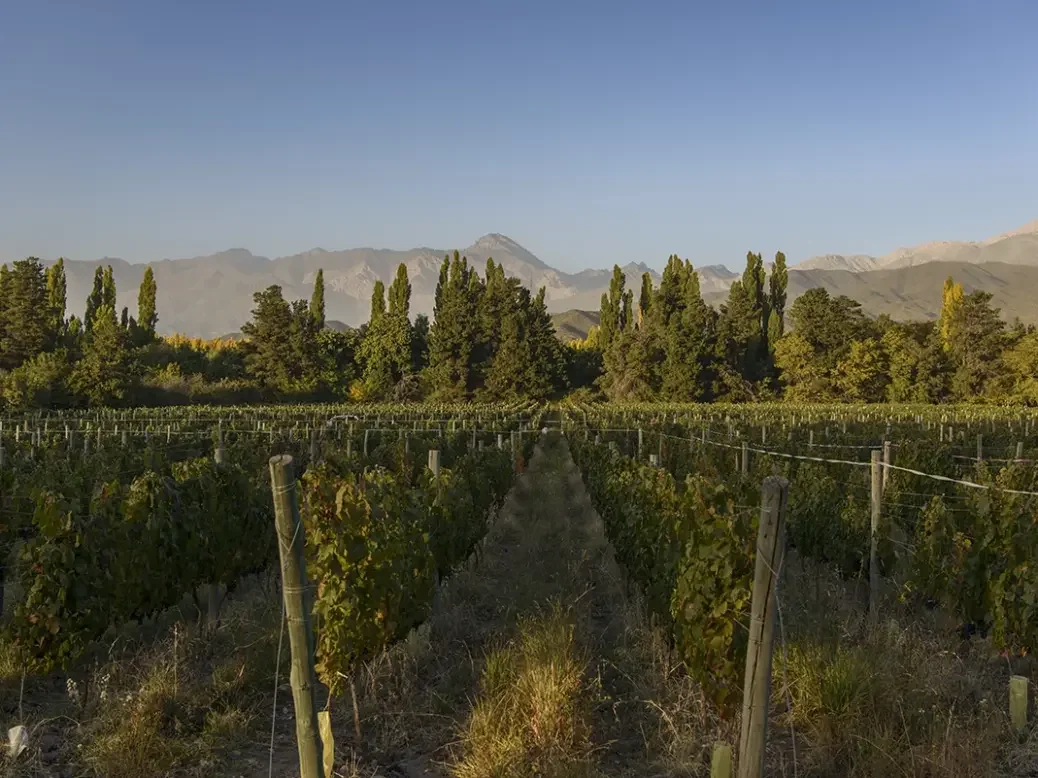 As part of our week-long focus on the wines of South America, Amanda Barnes has picked out some of the special wine places that have emerged in Argentina, Chile, and Uruguay over recent years—the regions and subregions that, as well as showing strong and distinctive identities, are responsible for an increasing number of the continent's finest wines. Here, in the first part of her series, Amanda explains how terroir-driven winemaking has emerged in 21st-century South America.
There has never been a greater focus on the idiosyncrasies and individual identities of South American terroir. The top wines of Argentina, Chile, and Uruguay reflect a growing movement toward showing regionality over variety, and their winemakers are championing the top subregions through ever more focused expressions. 
With this riveting explosion of terroir-driven wines, there are a handful of wine regions that have come to the fore for their supreme quality but also, and perhaps more profoundly, their distinctive regional identity.
Wines of South America: Appellations in evolution 
Being part of the New World can be both a blessing and handicap. While the lack of stringent rules can offer great creative freedom, it also begs the question whether a lack of formal classification impedes chances of global recognition and reaching the upper echelons of the fine-wine market. There is no formality of a cru, growth, or pago system in South America; instead, the wines are free of ranking, labeled only by variety, vintage, and region. Conceptually, however, the wines have gone through a monumental evolution over the past three decades. Until the late 20th century, producers made styles of wines—labeled as "Burdeos," "Borgoña," "Chablis," and "Champagne," for example. These wines were made in a very loosely translated style, similar to the origins the names reflect—homages and recollections of largely immigrant nations to their European ancestry. 
In the early 2000s, during a decade of rapid globalization in the industry, the wines were far more focused on varietal expression. A red sea of Malbec and Cabernet Sauvignon washed over the vineyards of Argentina and Chile respectively. But just two decades later, it is rare to hear winemakers here talk too much about the style or the variety of their wines. Instead, all eyes are on regional expression—or tipicidad. Beyond translating as typicity, the concept of tipicidad embraces an intention to express authenticity. This ambition, focused on representing "a sense of place," has led to detailed geographical studies, as well as an inspiring new sophistication in the wines. 
The fine-tuning of winemaking seems to have come with relative ease, but defining these "places" has been more challenging. The preexisting appellations of Argentina, Chile, and Uruguay have been defined by political boundaries that don't always correlate to the focus on geographical or climatic distinction. As a result, winemakers in Argentina have started to take a firm hand in their appellation system of GIs (geographical indications). Ever since the formation of the Paraje Altamira GI in 2013, the new lines for GIs have been drawn by formidable research into the soils, geology, climate, and wine expression of each region.
It is by no means a quick or easy process. The blueprint for a new GI has to be voluntarily drawn by winemakers and agronomists, with a research backbone ratified by the local university. Subsequent approval by the National Viticulture Institute (INV) can take several years. But this new offspring of GIs, which often overlap existing GIs, offers one of the most sophisticated advances of an appellation system in the New World. Creative freedom is enshrined without limit on grape varieties or vineyard management, yet each GI does need to prove what unites it in vinous character as contributed by the climate and soil.
In Chile, the DOs (denominations of origin) were offered an additional layer of topographical and climate designations in 2012. Wines can now be labeled with the DO in addition to Costa, Andes, and Entre Cordilleras, reflecting the vineyard's respective location by the coast, in the Andean foothills, or between the Andes and coastal mountain ranges. 
Many appellations—such as Aconcagua and Colchagua—span all three climate designations, with vastly different wine styles between them making this an indispensable differentiator. Arguably, though, even this pancake of appellations and topographical designations doesn't go far enough to reflect the intricacies of Chile's complex terrains. Consequently, some smaller DOs that effectively represent single vineyards, such as Lo Abarca DO and Licantén DO, have emerged, in addition to the growing use of informal regional markers and individual vineyard names on wine labels.
Meanwhile, the petite nature of production in Uruguay has long given it an affinity for single-vineyard wines, and producers often label their individual village and vineyard to differentiate them from their neighbors. The very vineyards can, in fact, be visualized on the impressive digital map that the national viticulture institute (INAVI) has recently launched, revealing the variety, age of vines, clones, and training system of each vineyard in the country. While it is unlikely that Uruguay will ever have the critical mass to develop crus smaller than their departments (equivalent to counties) and yet larger than single vineyards, some cult vineyards are undoubtedly emerging.
Uruguay is not alone in having iconic vineyards rise to the fore. The vineyards of Otronia in Chubut and Estancia Uspallata in Mendoza, both in Argentina, along with Chile's Viñedos de Alcohuaz in Elqui, Errázuriz Las Pizarras in Aconcagua, and Laberinto in Colbun, Maule, are making some of the continent's most distinctive wines yet. They are standout wines of high caliber. However, with just one producer in each region, it is unlikely that the regions themselves will ever gain recognition beyond the brand. They do, however, represent an exciting foray into the still relatively untapped potential of new wine regions in South America's diverse landscapes.
The wine industry is ever-evolving in South America, but there is no doubt that the hard graft, in-depth research, and patient winemaking focused on very specific terroirs over recent years has led to the emergence of some world-class "crus." There might not be a name for these "crus" yet, but the evidence is already in the glass. The regions and wines I will be profiling over the next couple of days, offer great reward for those willing to venture into this brave new world of South American wine.