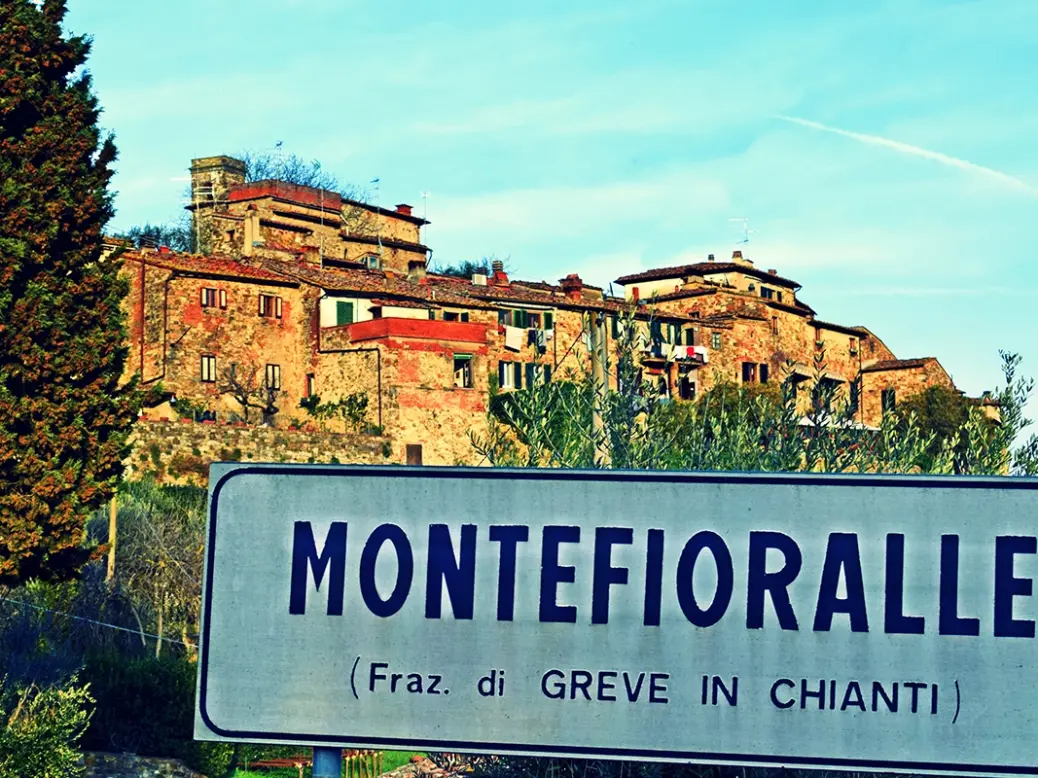 The development of 11 distinct official sub-regions, or Unità Geografiche Aggiuntive (UGA), has been an important step forward in Chianti Classico, says Sarah Marsh MW, who reports from a eye-opening trip investigating the region's many different terroirs and wine styles.
It was a beautiful rock. A chunk of limestone with a broad crystalline vein which glinted in the sunlight. My stone collecting days are well behind me, but I could not resist. It was going home with me.
I was walking in Castello di Ama's vineyard in the south of Chianti Classico in the district of Gaiole, among the 11 newly minted Unità Geografiche Aggiuntive (UGA) which, from July 2023, may be declared on the label of Chianti Classico Gran Selezione. My companion for the morning was Alessandro Masnaghetti who has mapped the geology and topography of Chianti Classico. His detailed study, published in an impressive tome Chianti Classico: The Atlas of Vineyards and UGAs, examines the new UGAs with historical background, in-depth information on soils, and detailed maps for each.
Some of the Chianti Classico UGAs are quite extensive. Gaiole UGA is the largest with 12,900ha (31,900 acres) and Greve has 11,570ha (28,590 acres), dwarfing the MGAs in Piedmont and climats in Burgundy, and unlike these regions the vineyards are not concentrated in village groupings but scattered across the UGAs.
This reflects the fact that, despite its reputation for wine, Chianti Classico is not a region of intensive viticulture. Vineyards are interspersed with olive groves and a surprising 65 percent of the area is covered by forest. This woodland creates cooler microclimates for neighboring vineyards, although the temperature was over 30°C (86°F) in Castello di Ama's vineyard on a July morning and Gaiole is considered to be among the cooler districts. Together with the UGAs on the eastern side of the region, it benefits from the cooling influence of the Monti del Chianti range. Masnaghetti sniffed the air. "Not to be too poetic" he said, "keep the memory of this breeze."
As we looked across the vineyards, Masnaghetti was keen to emphasise that the UGAs were delimited along historical, rather than topographical boundaries. "Most important for de-limitation is local tradition," he told me. Within each region the Chianti Classico soil types mix and merge. I'd hoped it might be possible to distinguish a collective identity for the wines for each UGA, but that was going to be a challenge except perhaps in the smaller Lamole, Montefioralle, and Panzano.
Chianti Classico's identifying attributes
However, since we were destined to spend the morning in Gaiole, I hoped it would be feasible to identify certain attributes in the wines which could be linked to specific soil types. We motored on to a nearby village, whereupon Masnaghetti hopped out and disappeared into a small restaurant. Moments later he appeared with four bottles and waved us over to join him at a table outside for an impromptu tasting to illustrate different terroir.
"The temperature is as important as the soil," Masnaghetti said (quite rightly) as we sat down, and he had selected wine from cooler and warmer microclimates. This would give a spin on the expression of the soil—but what about those soils? Masnaghetti's study is fabulously detailed, but for the purpose of this article it's necessary to simplify things.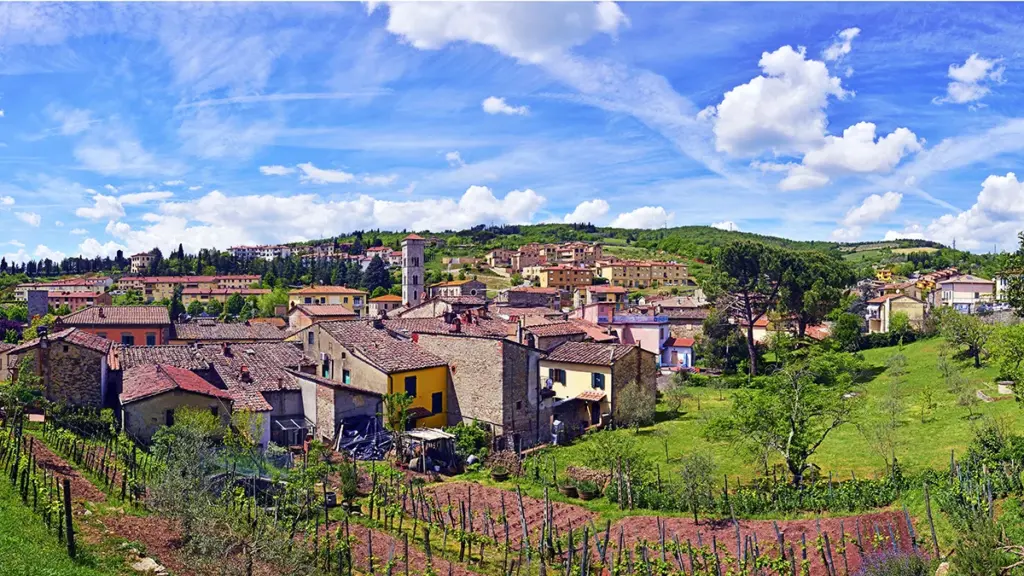 The fabulous rock I was still clutching was a fine example of alberese, a limestone which is mixed with calcareous marls. Typically, a vineyard containing alberese is layered with clay which retains some all-important moisture and supports the vine. Where there is very little clay layered with alberese, only woodland can survive.
The other soil of primary significance is macigno, a sandstone which is mixed with other sandy non-calcareous soils and is widespread along the ridge of Monti del Chianti, so it's generally found at 400m (1,300ft) above sea level or higher.
I will also mention pietraforte, a calcareous sandstone, although this is largely confined to the centre of Chianti Classico in the adjoining UGAs of Panzano and Montefioralle. I'd visited Panzano the previous day and the muscular style of pietraforte wine was fresh in my mind, so I was eager to get to grips with the wines of Gaiole which Masnaghetti describes as "fruity and finely textured."
First up was Castello di Ama Chianti Classico Ama 2020. This is a blend of younger vines on alberese soils from various parcels in the Lecchi in Chianti area, which has cooler microclimate created by the 500m (1,640ft) altitude and the effect of surrounding woodland. The wine was zesty and high-toned with fresh redcurrant fruit and light textured tannins, which have an attractive snap—presumably the influence of the limestone. This is the style of wine I like, albeit a light and restrained example. Other wines from alberese properly cracked the whip with a more austere tannic bite and sapid stony finish. I'll be returning to these later.
Next out of the gates was Riecine Chianti Classico 2021, a wine largely from macigno, the non-calcareous sandy soils, which gave it less acidity and vibrancy than the Ama wine, but with a texture that was fine and silky and an attractive lucidity. This wine comes from the north of Gaiole UGA at 500m near the village of the same name. Masnaghetti draws attention to the cooling effect of the Monti de Chianti which keeps the grapes grown within its influence fresh and pure.
Later that day we visited Capannelle, a 16ha (40 acres) estate in Gaiole. In the walls of the cellar, it was possible to see the macigno soil structure that Manuel Verdelli describes as rich in mineral elements including magnesium and zinc. Verdelli helps to manage this estate—which was owned for more than 20 years by the late British-based, US-born businessman James Sherwood (best known for establishing the Sherwood Hotel chain and the eclectically varied Sea Containers business) until his death in 2020. "We have 400m elevation and are surrounded by forest. Gaiole has the highest density of forest in Chianti Classico. The wines tend to be very fine and elegant with lighter structure than Greve and Panzano," Verdelli explained.
Capannelle do indeed make rather elegant wines. I liked the slim and flowing 2018 Gran Selezione which comes from a single vineyard. Generally, the 2018s were showing very well. In comparison with 2019, which most producers prefer, and the sumptuous 2020, 2018 is lighter structured, forward, quite fresh, and rather accessible, despite its youth.
From further tastings it became apparent that macigno soils deliver a lighter-bodied, fluid structure with silky to light, even chiffon-textured tannins and fine salty minerality which, on the best examples, lingers on the finish. The purity and light-bodied structure may also be attributed to a cool microclimate since macigno soils are generally found in the vicinity of Monti del Chianti and a second smaller ridge to the west.
To return to the tasting with Masnaghetti. The third wine was San Giusto a Rentennano Chianti Classico 2020 from the southern tip of Gaiole which is furthest from the mountains and at 300m (980ft) has the lowest elevation. Here the soil is a sandstone mixed with clay, which Masnaghetti describes as "very different from the lighter-textured macigno sandstone soils." The warmer mesoclimate was evident in this fuller bodied, dark, and more savory wine which has liquorice notes and 14.5% alcohol. The tannins were plentiful and chewier. Writing this a day or two later while consulting the Masnaghetti maps, this area has marine sands and conglomerates, but it seems here the mesoclimate was of greater influence than the soil.
The fourth and final wine was Podere il Palazzino Argenina Chianti Classico Gran Selezione 2019 from alluvial terraces also in the south of Gaiole, at 400m not quite as low as the previous vineyards and from a different soil. This was probably the softest, as well as the most easygoing of the four wines; succulent with smooth tannins. Masnaghetti describes the area as very pebbly and most like the soils of the large UGA of San Casciano in the north of Chianti Classico.
I visited the estate of Le Corti Corsini in San Casciano the following day. Masnaghetti had briefed in advance that the mesoclimate is warmer here, reflecting the proximity to Florence. It is largely an alluvial plateau with rolling hills, which reach no higher than 300m. "It's not an extreme soil. The layers of clay between the pebbles hold moisture and it makes ripe fruity elegant wines," he explained.
Le Corti Corsini Cortevecchia Chianti Classico Riserva 2019 caught my eye for its silky talcy texture, juicy cherry fruit, and glimmering mineral finish. Owner Duccio Corsini speaks of the river stones and ancient fluvial deposits. He mentions cooling breezes from the sea, some 70km (45 miles) west of here, although he also refers to their struggle with hot summers and escalating alcohol levels. The hot 2017 produced wines so far from his preferred style that he disposed of the estate's entire production in bulk. It's more difficult to pinpoint the style from these fluvial and alluvial soils, which have softness, smooth textures, and ripe fruit. Since these seemed to be located in lower and warmer places, the mesoclimate will clearly contribute to this style.
Sangiovese in many shapes and sizes
From the impromptu tasting of four wines with Masnaghetti it was clear that across a broad UGA—and it doesn't get larger than Gaiole—wines come in many shapes and sizes. But it was fascinating to consider the effects of specific soils, microclimate, and topography on the wines we tasted for these are reflected on a wider scale across the whole Chianti Classico region. As Masnaghetti says, "What's important is that we've received the first subdivision of the territory to describe the soils of the region."
I find this so fascinating, that I haven't yet mentioned grape varieties. But I should briefly touch on Sangiovese, a variety that can easily deliver rustic tannins which are exacerbated by its naturally high acidity. This was an issue in the past, but firm acidity is no bad thing in these hotter summers and the producers in Chianti Classico have come a long way in managing tannin extraction and oak ageing. You may be surprised with the textural refinement of Chianti Classico.
It's good to see a shift in oak aging too. I don't recall any of the straight Chianti Classico (otherwise known as Annata), which I tasted having any new oak, while the proportion in Riserva and Gran Selezione may be as much as a third, but is often less, and there is widespread use of 500-liter (132 US gallon) barrels or larger foudres, with a shift away from French barrique.
It's worth pointing out that many of the vines are quite young. Manuel Verdelli says 70 percent of the region has been replanted in the past 20 years—a figure that Caterina Mori of the Consorzio Chianti Classico describes as "plausible." Extensive research into Sangiovese clones began back in the late 1980s, which resulted in the Chianti Classico 2000 project. This brought seven high-quality certified clones to the market which have since been used for wide scale replanting. (Although there are more than 100 clones of Sangiovese in the national registry.)
When I asked Duccio Corsini about massale selection, he explained that it was not permitted until recently. It seems the authorities preferred to control the selection of vine material, although Paolo di Marche made a painstakingly long and thorough selection from his best vines with great success. According to the Consorzio, massale selection is allowed if public funding is involved.
In any case, don't dismiss a young-vine cuvée: They can turn out some pretty smart wine, as was demonstrated by Dievole in the UGA of Vagliagli. After Argentinian billionaire Pedro Bulgheroni bought the estate a decade ago, the soils were carefully analyzed before new planting began. Two new single vineyards stood out in the tasting here, and both are on alberese soils with limestone, clay, and marl.
Catignano Chianti Classico 2020, which comes from ten-year-old vines on a sunny plateau with a good diurnal temperature shift, is an upright wine with abundant ripe red fruit. Attractively snappy with crisp tannins and a slightly salty finish. Petrignano Chianti Classico 2020 is produced from just eight-year-old vines in a 6ha (15 acres) vineyard wrapped around a hillside giving exposures from northeast to southwest. This is fuller and smoother upfront, ripe but with a cool compact mid-palate and plenty of sapidity to finish. A good example of a wine which shows structure from the clay and sappy salinity from limestone. Two very promising young vineyards.
The pinnacle of the Chianti Classico pyramid
At present the name of the UGA may only be used for Gran Selezione, although it seems more logical that all levels should be included. Gran Selezione was legally defined in 2014, designed to be the pinnacle of the DOCG pyramid, requiring 30 months' cellaring including three months' bottle ageing, but quite as often I preferred the Riserva wine, which must be aged for 24 months, and of course the straight Chianti Classico was usually the most fetching for immediate drinking.
The vines must be estate grown to qualify for UGA. Pretty much everyone I visited makes all their wine from their own vineyards, but many estates buy in fruit particularly for straight Chianti Classico. Perhaps this makes it difficult to include Riserva and straight Chianti Classico in the UGA classification, for it would effectively advertise estate-grown wine on the front label, whereas at present a negociant approach is confined to the small print on the back.
The fruit needn't come from a single vineyard for UGA, although many do. The wine can include 10 percent indigenous grape varieties, although those who have been using international varieties (which have been permitted in Gran Selezione) have until 2027 to change this. But enough of grape variety: this article is primarily about the terroir. As Masnaghetti says, "The UGAs are a game changer. A breakthrough in the history of Chianti. Finally, we can turn our attention from wood and grape variety to the territory."
A final word on the regulations. The UGA will appear on the current releases of Gran Selezione, 2020 and 2021, but don't be surprised if you find it on older vintages since the classification can be used retrospectively from any unreleased Gran Selezione in a producer's cellar, provided it can be traced to estate-owned vines in the relevant UGA.
Paolo de Marchi of Isole e Olena (sold last year to EPI, which owns Montalcino's Biondi-Santi and Champagne Piper-Heidsieck), who has been so instrumental in pushing forward the quality and reputation of Chianti Classico since the 1970s, would like to have seen IGTs included in Gran Selezione, but says "I love the idea of UGAs. The more specific the better. It's difficult to define the differences with communes, but I can't think of a better solution. Every commune has many different expressions with different altitudes and soils, but the huge success of the UGAs is that the producers started talking to each other. Now we are more colleagues than competitors."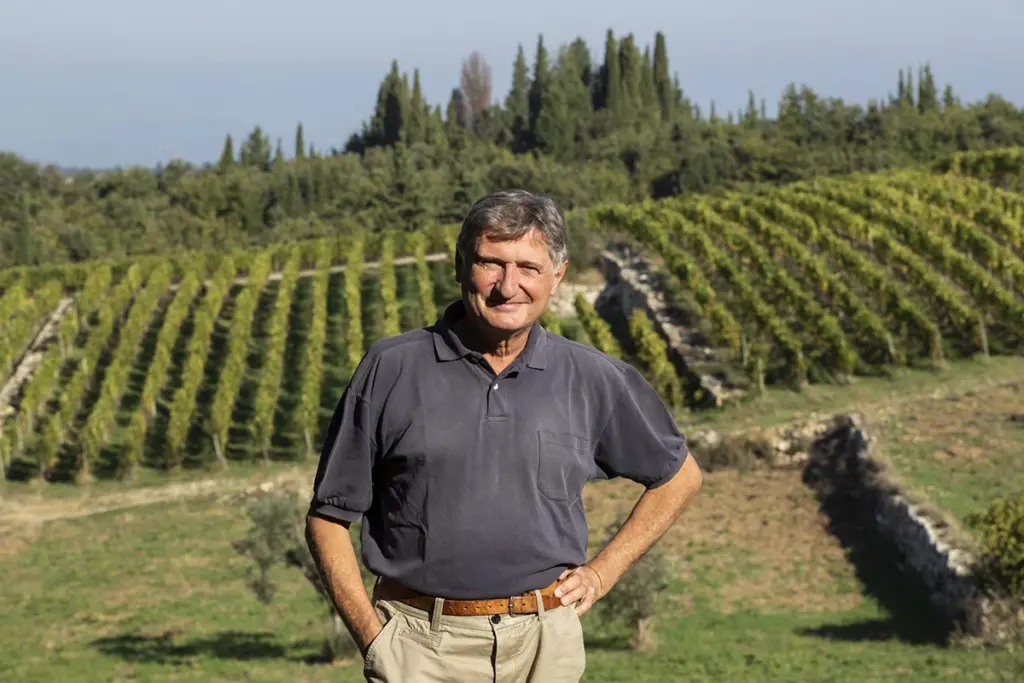 In 2006 de Marchi produced a barrel selection for the family, which retrospectively became a Gran Selezione. Subsequently he has only produced a Gran Selezione in 2010 (tasted in June this was pure, crystalline, and streamlined), 2013, 2015, and 2016. The latter includes 10% of a blend of four Bordeaux varieties and Syrah. It is a complex wine of floral nuances, velvet depths, and smooth mineral persistency. The next release will be 2021. It will have the UGA San Donato in Poggio on the label and will include 10% of Canaiolo to comply with the new regulations.
In a twist to the regulations, you will not find the UGAs of Lamole, Panzano, or Montefioralle on the label until 2027, at which point they too can be applied retrospectively. Nevertheless the Consorzio are full tilt in publicizing them. They are traditionally part of the Greve in Chianti commune, but the terroir differs from the heart of Greve. The new UGA structure gives the winemakers in the Lamole, Panzano, and Montefioralle UGAs an opportunity to express their distinctive terroir. A visit to Fontodi in Panzano on the first day was enlightening with tastings from both Panzano and Lamole.
The power of Panzano and pietraforte
Since the purpose of my visit was to glean some understanding of the UGAs—and more specifically the terroir of Chianti—with an emphasis on the soils, it is important to include pietraforte which Giovanni Manetti, owner of Fontodi, describes as "hard and heavy, belonging to the sandstone group and quite rare in Chianti Classico. All the monumental buildings in Florence are made of it." He had a large chunk to illustrate his point, and indeed it was hard, heavy, and grainy on the surface, although in the vineyard it is decomposed to a sandy texture. Manetti says it has a higher calcareous content than alberese soils in Panzano and "makes rich, firm and structural wines."
Pietraforte is largely confined to Panzano. There's some in the southern section of Montefioralle which adjoins Panzano, but the majority of vineyards in Montefioralle are planted on alberese soils, so it's a bit of a Panzano speciality.
The climate of Panzano, in the centre of Chianti Classico, is continental. The days are hot, but the cool evenings help retain acidity. Fontodi, which was founded by Manetti's father in 1968, has grown to 107ha (264 acres) of contiguous vineyard within the 260ha (640 acres) estate. It lies on the hotter, western side of the UGA where the majority of vineyards are situated. It centers on the Conca d'Oro, a warm amphitheater, which accounts for the concentration and richness of the fruit grown here.
Fontodi Chianti Classico 2020 is muscular, sooty, and quite strict, requiring time to soften the austerity. It comes from vineyards on pietraforte, schist, and alberese. The IGT Flaccianello della Pieve 2019, meanwhile, is a selection of the best bunches from vines largely grown in pietraforte and is a full-bodied, intense, and muscular wine with chewy texture. The fruit is dark in both wines, more savory than fruity. Certainly ripe, but with robust freshness. This style I'm told is typical of wine from pietraforte soils and since the majority of Panzano's vineyards are planted on pietraforte might be said to broadly define the profile of Panzano UGA. I'd like to taste from more producers in Panzano, but Manetti is pretty clear: "Panzano wines are bigger, concentrated, muscular wines with lots of freshness and acidity."
He's very happy with the new delimitation of Chianti Classico: "The UGA system is really helpful to reinforce regional identity."
There are a few spots in Panzano where vineyards are planted on alberese. Fontodi make a Gran Selezione from a parcel on a terraced hill on the eastern border of the valley, a place that used to be quite marginal, but where, in recent hot summers, it is no longer difficult to achieve full ripeness. Terrazze San Leolino Chianti Classico Gran Selezione 2019 is much higher toned, straight, edgy, with lithe muscularity and a touch of austerity. It is more precise and refined than the previous wine which includes vines on pietraforte. Terrazze San Leolino is a lovely example of an "alberese" style. This is the first vintage, for this parcel was separated to coincide with UGA classification. "We and many colleagues are moving to making single-vineyard wines to further explore the micro-differences," remarks Manetti. What an excellent consequence of the UGAs.
It's great to taste such diverse, terroir-led wines from the same estate and we weren't finished. Fontodi has bought some land in neighboring Lamole, where there appears to have been a bit of a scramble for land. At 500–625m (1,640–2,050ft) above sea level, it's the coolest region (on Masnaghetti's graphic of average annual temperatures it stands out in strong blue denting 55.4°F [13°C]) and the last place where fruit ripens in Chianti Classico. The vines, trained in the traditional bush style, are planted on west-facing terraced slopes and the soils are macigno, the non-calcareous sandstone soil.
Fontodi's Filetta di Lamole Chianti Classico 2020 comes from steep vineyards just 7km (4.5 miles) from Panzano, yet two weeks separate the harvest dates of the two sites. It is a gentle, elegant, floral wine of wafting texture and light structure. Just nicely crisp, it's well balanced, but without marked acidity.
Gathering impressions from other wines from macigno soils, I found the style generally has lower acidity than alberese-driven wine, despite the higher altitude where macigno soils tend to be found. However, because of their lighter structure, they appear nicely crisp. The pretty, light-bodied, fine-textured, and crisp wines from Lamole seem to be the most extreme example of the macigno style.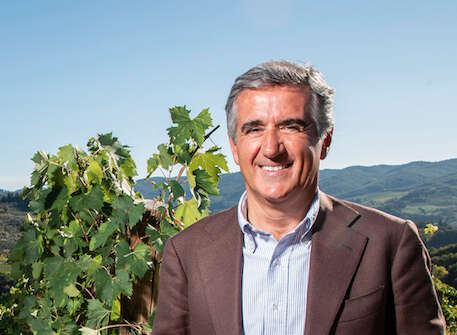 Lamole is a small enough area to have some consistency of soil, altitude, and aspect. In turn this produces a consistency of wine style. Maybe there is an argument to go a bit further with the UGAs, making them more specific, more like Burgundy villages, albeit Lamole's 985ha (2,430 acres) is twice as many as Gevrey's.
Masnaghetti hopes the UGAs will increase in number from 11 to 15, maybe twenty, but believes there is "no need to have stricter definitions like Barolo MGAs or we will end up with 2,000 UGAs which would be crazy to describe and have no relation with local tradition."
My visit gave me a brief glimpse into the UGAs of Chianti Classico and that snapshot was compelling. It seems the creation of the relatively wide-reaching UGAs has stimulated a flurry of interest in understanding and expressing the terroir on a more microscopic level. Whether this eventually leads to tighter demarcation on a village, or even vineyard basis is irrelevant for the moment. It's quite enough that Chianti Classico has reached such a pivotal and intriguing point in its evolution. And as Paolo de Marchi remarks, "The long-term result of the UGAs will be shining."
Incidentally, my beautiful rock; that glorious chunk of alberese limestone; it didn't make it home. It was confiscated at the airport. Shame!