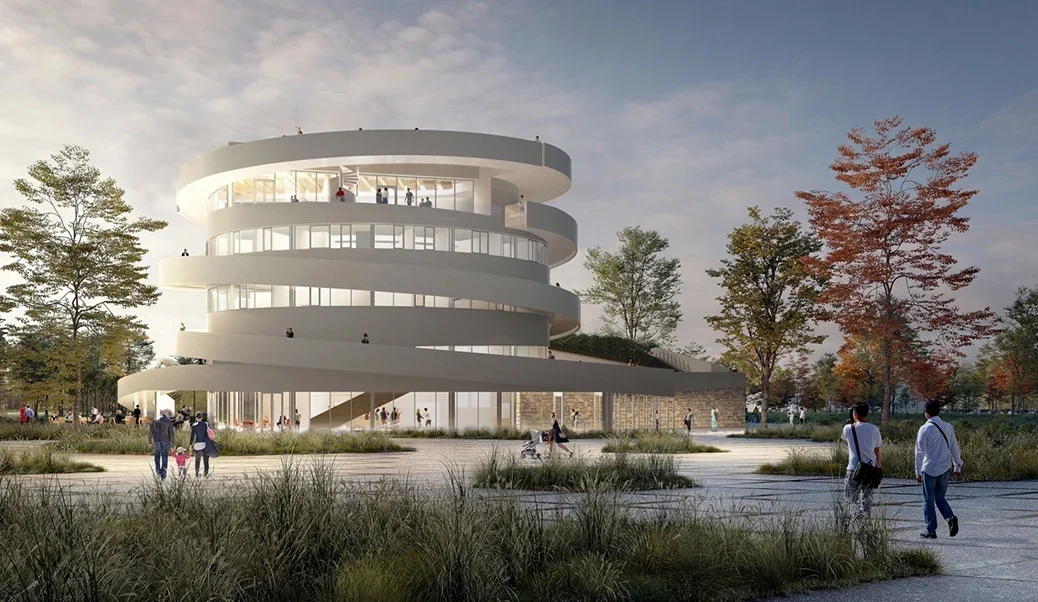 Raymond Blake takes a tour of the Cité des Climats et Vins de Bourgogne, Burgundy's awkwardly named but impressively constructed new trio of visitor centers in Chablis, Beaune, and Mâcon as they prepare to open their doors for the first time this spring.
First time around, the hairnet had me fooled. Compressed into a slim, limp sausage of white fabric that was handed to all visitors, it looked like a draft excluder in miniature. Only when I saw some other visitors tugging it apart and pulling it into something resembling a head shape did I cop on and quickly follow suit. Second time, I could joke at my previous discomfiture, as I opened it up and put it on before donning the obligatory hard hat for a follow-up visit to the Cité des Climats et Vins de Bourgogne in Beaune. That name…
The French have a penchant for elongated names that cover all bases but that are otherwise heavy-hooved. Cité du Vin would appear to be the obvious solution, and it rolls easily off the tongue, but it is already taken by Bordeaux. In time, perhaps the cumbrous name could be topped and tailed, leaving Climats et Vins. This makes sense but throws up another difficulty in the shape of climat. First up, it does not mean "climate"; and second, it is pronounced klee-mah, with a lift on the second syllable. Native Burgundians have an intense love affair with the word, and prolonged exposure to its use has engendered in me a reasonable degree of understanding, but I can still appreciate the struggle the first-time visitor endures when grappling with it. It underpins everything that Burgundians hold special about their beloved vineyards, so it is worth quoting in full from the Cité brochure (retaining the capitals and italics used there), to avoid confusion: 
"The word 'Climat' is the Bourgogne term attributed to the winegrowing terroir. In Bourgogne, a climat designates a parcel of vines delimited, named, and cultivated by man, often for a very long time. Each Climat has specific geological, hydrometric, and exposure characteristics. On a given parcel of vines, the winegrower only cultivates a single variety of grape. It is harvested and vinified separately, giving birth to a wine that naturally takes the name of the Climat from which it is made and gives it its unique personality. Each Climat is the singular expression of a living terroir, vintage after vintage, the fruit of the winegrower's know-how. If the historical cradle of the Climats is located in the Côte d'Or, its model is the heartbeat of the entire Bourgogne wine region, constituting the culmination of terroir-based viticulture so typical of Bourgogne."
Any who have grappled with this might well ask, "Why no mention of lieu-dit?" which can best be called a "named place." The two can be used almost interchangeably, though climat is seen as the senior term, with greater historical gravitas. (If the Cité does no more than get a clear understanding of this term and its wide use across to non-French-speaking visitors, then they will have achieved something.)
A bold move
This year, Burgundy opens the three new visitor centers that make up the Cité des Climats et Vins de Bourgogne—in Chablis, Beaune, and Mâcon—adding to an already impressive roster of attractions that includes such gems as the Ducal Palace in Dijon, the Château du Clos de Vougeot, and the Hospices de Beaune. The Cité's genesis dates back more than a decade and was given real impetus when Burgundy was awarded UNESCO World Heritage status in 2015. Having three sites is a bold move, which may run the risk of dissipating the message, but has the great virtue of acknowledging a truth about Burgundy that many seldom grasp, particularly those who have yet to visit: It is a geographically scattered region, not a cluster of vineyards radiating out from a central capital, à la Bordeaux. The single word "Burgundy" suggests centrality—unlike, for example, "the Loire" or "the Rhône," which suggest length, with bankside vineyards tracing the course of a river for perhaps a couple of hundred miles. Burgundy lovers also tend to use the word specifically with reference to the Côte d'Or. For many, their conception of the region barely extends beyond those fabled slopes; it is not often you hear Chablis being referred to as Burgundy, plain and simple, without elaboration.
This is more than a superficial point, and it needs emphasizing today more than ever. Recent years have seen a laser-like focus from around the globe on the top wines from the Côte d'Or. Headline after headline blazons the prices being paid for the most highly regarded grands crus—and for tiny vineyard plots also. The dazzle of attention does more to obscure than to illuminate. Thus, the authorities have done well to establish three sites, to give physical emphasis to the message that there is more to Burgundy than Chambertin, Musigny, and the like.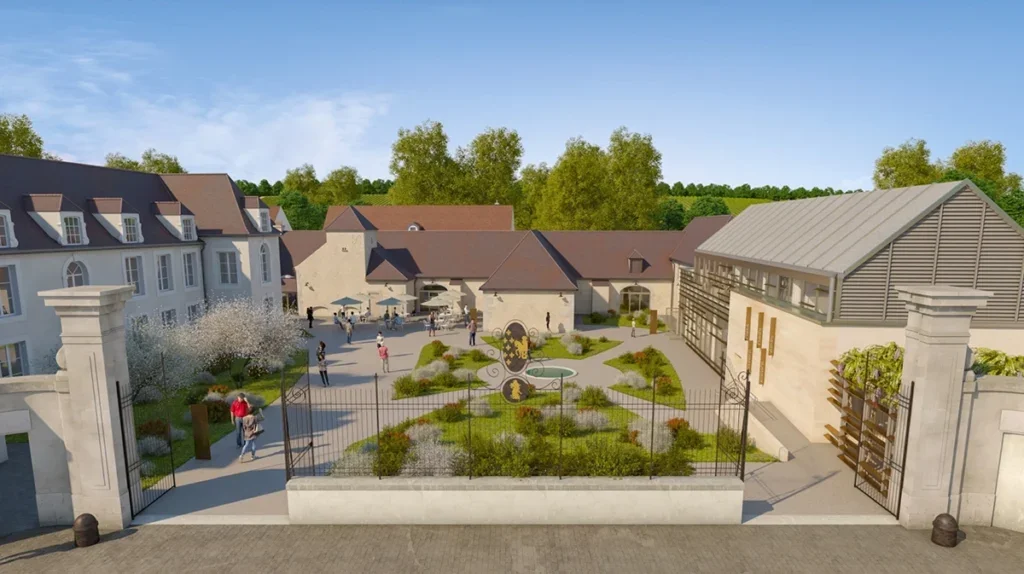 Pointing our compass southeast out of Paris on the A6, the Autoroute du Soleil, about 90 minutes later we come to Chablis, famed for wines of stone and savor that may be made from Chardonnay the grape but are far removed from Chardonnay the wine. The name itself is one of the best known in the wine world, bandied about with not much thought given to where it comes from or what makes it unique. Might the new Cité help to change that? Its central location in the town, only a couple of hundred yards from the mairie (the town hall), and its housing in a former Cistercian cellar, Petit Pontigny, answer an emphatic yes to that question.
The building itself speaks history, even allowing for the new extension. And by not being an entirely new build, it has an uncatchable head-start on the mother ship in Beaune and the southern satellite in Mâcon. Even during construction, it was the most satisfying venue to visit, with vaulted stone arching overhead—a structural embodiment of the Burgundy story.
By contrast, the Beaune Cité, another hour or so along the autoroute, makes use of the newest building techniques and materials and, unlike Chablis, is situated on the outskirts of the town. The location cuts both ways, since the space has allowed for landscaping and parking, as well as the development of an adjacent hotel, restaurant, and retail space. Perhaps in time it will come to be known as the Climat Campus. The Cité is a magnificent construction, given an almost weightless appearance by the sweeping external ramp that spirals upward and that can be accessed without having to pay an entry fee. Inside, there is an impressive exhibition space, a wine school, and a top-floor wine bar, with views back toward Beaune and the vineyards beyond. The lack of an in-house restaurant or wine shop is surprising, though the latter is hardly necessary, given the proximity of two excellent merchants, the well-established La Grande Boutique du Vin (which was previously Perardel) and the much newer Prestige Cellar.
From the center of Beaune, the Cité is about a 20-minute walk out past the Palais des Congrès, a distance that will necessitate transport for many people. With so many attractions in Beaune itself, the Cité will need to be imaginatively promoted and marketed in order to draw people away from the casual wander from one's hotel that can be enjoyed at the drop of a hat.
About another hour south on the A6 motorway takes us to Mâcon, flagged as "the cradle of Chardonnay" in the publicity material. There, the Cité is sited right beside the River Saône and is housed in the current Bureau Interprofessionnel des Vins de Bourgogne building, extended to create extra space and now crowned by a new tower modeled to represent the great wooden screw of a vis de pressoir, the original wooden wine presses, some monumental examples of which can be seen in the Château du Clos de Vougeot. Here, the focus is "on the vineyards of southern Bourgogne: Côte Chalonnaise, Côte du Couchois and Mâconnais," with nary a mention of Beaujolais. Though it is a distinct and largely autonomous region, Beaujolais still falls under the greater Burgundy umbrella, and it is perplexing that it is not included in the Mâcon Cité. This seems especially so when one considers the ever-strengthening ties between noted Côte d'Or producers (Jadot, Thibaut Liger-Belair, Lafarge…) and Beaujolais.
A beginning, not an end
All three locations, but most especially Beaune, should form a starting point to further exploration—a beginning, not an end. Start your visit there, then bring it to life by going for a drive through the vineyards or, better still, a cycle ride or, best of all, a walk. Let the Cité be the door opener, then close the circle by visiting the vineyards. Otherwise, it will be a sterile experience, little better than watching a documentary on television. Plant your feet on the ground. Nothing beats that. I have learned more from quiet reflection while walking through or standing in the vineyards than could ever be gleaned from the most sophisticated displays or interactive experiences. The primacy of vineyard visits is sometimes lost as a schedule comprising multiple cellar visits is put together. Much as these can be enlightening and entertaining, it is worth remembering that you can taste the wine at home. You can't visit the vineyard other than by going there.
As an example, it is easy to explain how Puligny became Puligny-Montrachet and Chassagne became Chassagne-Montrachet, each village adding the name of its most prestigious vineyard and both able to claim Montrachet because it straddles the boundary between them. "So, Chevalier is also a village?" asks an attentive interlocutor. I can think of no better way of clarifying this confusion than to walk up the short incline to the Chevalier-Montrachet vineyard, where understanding will come as if by osmosis. Crystal-clear understanding of another sort comes by way of a stroll past premier cru Les Suchots in Vosne-Romanée. On the map, it sits sandwiched between grands crus Echézeaux to the north and Richebourg and Romanée-St-Vivant to the south, so why only premier cru? The pat answer is that Suchots sits in a slight declivity, only perceived by walking the terrain. No matter how many times I do this type of visit, I always spot something new, another pixel of information to be added to an ever-evolving tapestry. The Cité should be an adjunct to, not a substitute for, this type of exploration.
Wine visitor centers have a checkered history. I well remember attending the opening of Vinopolis in London back in what now seems a bygone age. The mocked-up Boeing 747 to take attendees virtually to far distant wine regions (was virtual even a thing back then?) and the Lambretta scooters were eye-catching, but they failed to woo the punters, and the ambitious project is now barely remembered. Ditto Copia in Napa, where ambition exceeded commercial reality. Robert Mondavi backed it with considerable funds. It was artistic and tasteful but perhaps ever so slightly ho-hum, and it failed to ignite real interest. Whisper it: Wine is only truly interesting and engaging when you are drinking it. For all but a tiny minority of people like myself—and I'll happily answer to the charge of wine nut—it's not quite as engaging as we like to think.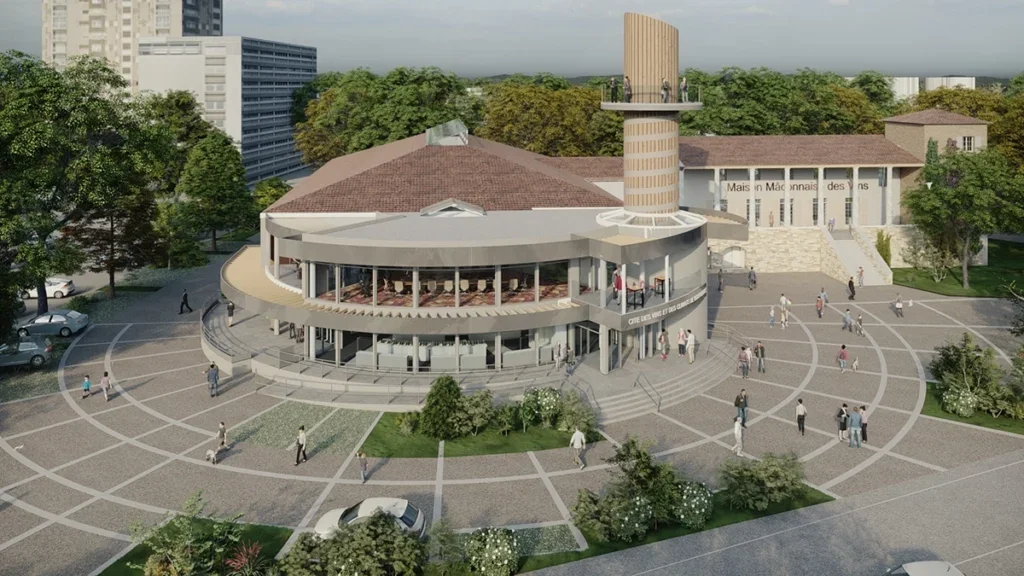 If the Cité can offer an experience that is connected to the region and not dislocated from its roots, then it will succeed. It should be promoted as a portal to Burgundy, the region, the people, and the wines, with the aim not just of imparting knowledge, facts, and figures, but doing so in a way that leads to greater understanding. It must excite interest and stimulate inquiry. Any vaunting ambition to be a one- (or three-) stop shop should be kept well under wraps, no matter how impressive the centers may be. Burgundy cannot be captured so easily. Care must be taken with the backstory, too, for it is massive, stretching back over two millennia, the envy of many other regions. Presented correctly, it can be an inspiration, but if done clumsily, it becomes an impediment. Let it be foundation, not superstructure.
Yes, the region and its wines are complex—but that is what gives them enduring attraction. And as long as they are properly presented, they should not lead to confusion. If people leave Chablis, Beaune, or Mâcon saying, "Now, let's explore those vineyards," then the Cité des Climats et Vins de Bourgogne will be marked down as a success.