An outstanding tasting marking the 60th anniversary of the first release of Henschke Hill of Grace showed why the historic Eden Valley single-vineyard Shiraz is ranked at the very top of Australia's vinous hierarchy, says Ken Gargett.
Some wines evoke instant memories. One of them, for me, is the 1978 Henschke Hill of Grace. As a budding wine geek at university, I was asked by a friend if I wanted to share in a couple of cases of Hill of Grace he was buying from the local wine club—yes. Back then, in the early 1980s, it was easier to acquire such wines as a mere student than it is today. I thought about it and decided I would take only two bottles. After all, as I told the friend, $5.50 for an Aussie red was simply too much. I still wonder how I could have been so stupid.
The 1978 has always drunk beautifully on the very rare occasions I have been fortunate enough to encounter it, and so it proved again when the Henschkes included a bottle in the vertical to celebrate 60 years of Australia's most famous single-vineyard wine, their legendary Hill of Grace. It all coincided neatly with the anniversary of some 160 years, or thereabouts, of the vineyard itself and the release of the 2018 single-vineyard wines, including Mount Edelstone and the much-anticipated Hill of Grace.
To grandfather vines and beyond
The Hill of Grace vineyard is wonderfully picturesque, even if hidden away in the backblocks of the Eden Valley. No doubt, many a wine tourist has tried to find it; don't look for signs, because you won't find any, the only indication being the neighboring Gnadenberg Lutheran Church overlooking the rows of ancient vines (pictured below). On our latest visit, a couple of locals, kangaroos, lazily hopped out from between the rows of netted vines to find out just who was disturbing the peace. The old vines, many of them 160 years of age or perhaps even a little more, are extraordinary to behold. Gnarled and twisted, they look more like they should be hidden away in the depths of Middle Earth than still providing grapes for one of the world's great wines. 
The Henschke—and Hill of Grace—story begins on the far side of the globe with Johann Christian Henschke, born in Kutschlau, Prussia, in 1803. To escape religious persecution, he fled with his wife and four children on the Skjold, in 1841. It arrived at Port Adelaide on October 27, but it had been a tough voyage. Johann Christian's wife Appolonia had died after a month at sea, as had their two younger children. Under the guidance of pastor Gotthard Fritzsche, Johann Christian settled at Lobethal. A year later, he married Dorothea Elisabeth Schmidt and had a further eight children.
By 1862, he was able to purchase land in the North Rhine district (it would become Keyneton). His son, Paul Gotthard, planted a vineyard, looking to emulate the wines of their homeland. Johann Christian was a mason and built a small cellar in the side of a hill. Their first vintage was 1868. But this was not Hill of Grace. In 1858, a piece of land on the corner of the vineyard that would become Hill of Grace was allocated as the site of the church, Gnadenberg, around which community life revolved.
That vineyard-to-be was a 20-acre (8ha) part of an 80-acre (32ha) block at Parrot Hill, which had been purchased by Charles Flaxman in 1838 for £1 an acre. In the late 1850s, it was leased to Nicolaus Stanitzki, another early settler from Silesia, who purchased it in 1873. Prior to that, in the early 1860s, Stanitski had planted vines on the property. One may wonder why he was so fortunate or far-sighted as to choose Shiraz—he actually planted a range of grape varieties, and even today, the vineyard is not all Shiraz. The wine we know as Hill of Grace comes partly from the section of the vineyard where Shiraz was first planted back in the 1860s: the grandfather vines.
The altitude is 1,300ft (400m) above sea level, and the annual rainfall is 20in (520mm). The Henschkes are convinced that the diurnal difference in temperature is what gives not only the vineyard but the whole Eden Valley region its quality. They believe that this accounts for the "beautiful acidity and natural elegance." On our visit, the temperature overnight dropped to 48°F (9°C), rising to high 70s F (mid- to high 20s C) during the day.
When Stanitzki died in 1879, the property went to his son Carl August. In 1891, Paul Gotthard Henschke was able to buy the vineyard. After his death, it went to his son Julius Philip Henschke, and on his death in 1928 to his widow Ida. In 1951, Louis Alfred Henschke, a son of Paul Alfred Henschke, the fourth child of Paul Gotthard, purchased the property. Louis was a brother to Cyril, the youngest of Paul Alfred's 12 children.
Cyril, born in 1924, left school at 15 and joined Hardy's Siegersdorf Winery. This was a time when winemaking was not at the forefront of agriculture. Economic conditions meant operations like the Henschkes needed to focus on mixed farming. Cyril married Doris Elvira Klemm in 1947 and had three children, Paul, Stephen, and Christine. Stephen, the middle child, took up the winemaking mantle on Cyril's passing. He and wife Prue had studied at Geisenheim in Germany. They are now two of the most famous winemakers on the planet. But we are getting ahead of ourselves. 
Cyril had access to the fruit from the Hill of Grace vineyard, as well as that from Mount Edelstone. Mt Edelstone, a 40-acre (16ha) vineyard of Shiraz, was established in 1912 by George Fife Angas, a founder of South Australia. His descendant Colin Angas offered the fruit to Cyril in the early 1950s, on condition that he look after the vineyard, which Cyril eventually purchased in 1974. The Australian wine industry was still focused on fortifieds, but that didn't really interest Cyril—he wanted to make fine table wines. He also made what was an extraordinary decision for that time: to bottle the fruit from Mt Edelstone—Shiraz—as a single-vineyard wine. It is believed to be the first in the country, or certainly Australia's longest continually produced single-vineyard wine.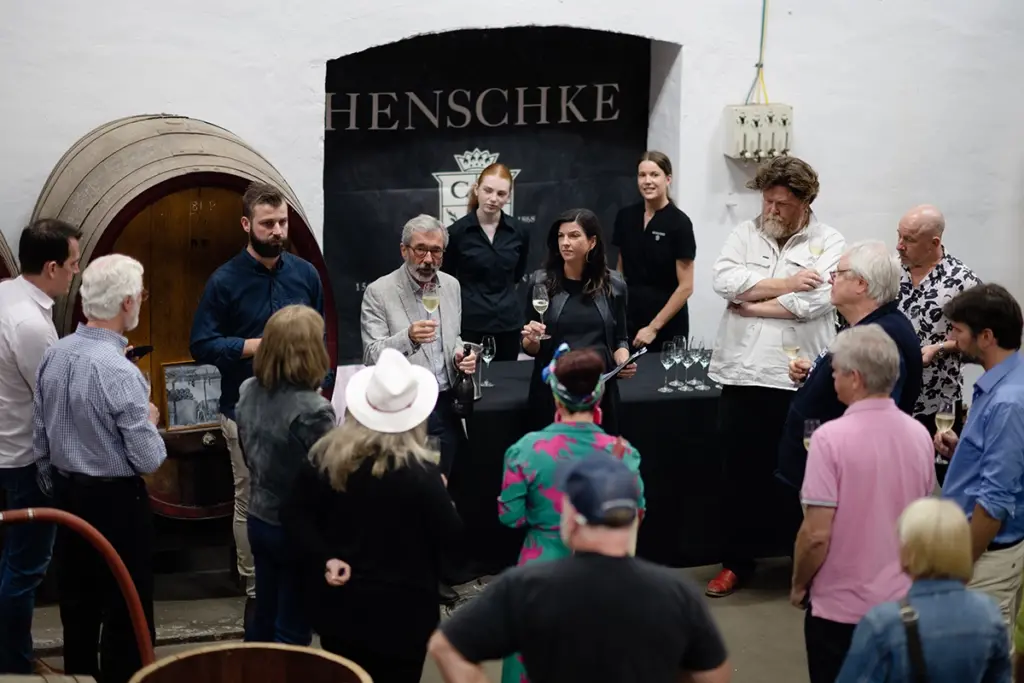 Securing the future
This helped to provide Cyril with the confidence, after a century of the fruit simply being blended into whatever wine or style was the current flavor of the month, to turn Hill of Grace into another single-vineyard wine. Cyril was keen to name the wines after the vineyards, but at that stage the vineyard was still called Gnadenberg, and there was anxiety as to how that might work in the market in what was then an extremely conservative country. Translating it to "Hill of Grace" was a marketing masterstroke. The first vintage was 1958. It has been produced every year since, except for four years when drought or rain made it impossible to produce a wine of requisite quality: 1960, 1974, 2000, and 2011.
It would be fair to say that the two reds did not receive instant fame, though the 1956 Mt Edelstone won first prize at the Sydney, Melbourne, and Adelaide wine shows, which certainly boosted its profile. (Hill of Grace has never been entered in the show system.) In his Classic Wines of Australia (1966), Max Lake devotes far more attention to the Henschke Rieslings, describing them as "superbly delicate wines […] of amazingly true Rhine style." Anyone who has enjoyed their spectacular 2022 Julius Riesling would understand the fuss. On the other hand, the two reds barely get a mention from Lake.
While Louis was in charge of the vineyard, he added grape varieties such as Riesling, Semillon, Mataro, and Sercial (since replaced), as well as more Shiraz. Shiraz must, however, reach an age and quality before it will be considered for Hill of Grace. In the meantime, it can qualify for the Hill of Roses label, itself a highly sought-after red. Louis died in 1990, and Stephen and Prue have cared for the vineyard ever since. 
The grandfather vines now exceed 160 years of age, making them some of the oldest on the planet. They predate phylloxera and are planted on their own rootstocks—yet another reason why the vineyard does not advertise its existence. The last thing anyone wants is an enthusiastic visitor accidently trekking phylloxera into the vineyard. The vines are dry-grown and, not surprisingly, low-yielding. Trellising is vertical shoot positioned.
Prue and Stephen have divided the vineyard into blocks. There are eight of Shiraz, six of which qualify for Hill of Grace. The other blocks contain Mataro, Riesling, and Semillon. The first Hill of Roses was made in 2001, the first Hill of Faith Mataro in 2008, and the first Hill of Peace Semillon (a stunning wine) in 2012.
The blocks of grandfather vines are picked separately, depending on ripeness. Organic and biodynamic practices have been used for many years. Native grasses grow between rows, and there is organic compost, while a wheat/straw mulch retains moisture in the soil, inhibits weeds, and promotes microbial life.
One aspect of the harvest that is perhaps yet to be fully explained, or perhaps fully understood, is that despite the timing of Easter varying by up to 35 days annually, the grapes usually reach perfect ripeness at the time of the full moon after the autumn equinox—namely Easter. This has been the case for decades and is extraordinarily reliable.
Looking specifically at the various blocks that contribute to Hill of Grace: Grandfathers is 1.4 acres (0.56ha), planted by Nicolaus Stanitzki around 1860. The Post Office Block 1, 0.8 acres (0.33ha), was planted in 1910 by Paul Gotthard Henschke. The House Block, 2.7 acres (1.08ha), was planted in 1951 by Louis Henschke, who also planted Church Block (1.73 acres [0.7ha], 1952), the Windmill Block (2.2 acres [0.88ha], 1956), and the Post Office Block 2 ([0.57ha], 1967).
Hill of Roses is sourced from Post Office Block 3 (2.3 acres [0.94ha]), planted in 1989 by Stephen and Prue. In 1997, Church Block 2 (0.8 acre [0.32ha]), saw its Sercial replaced by a special selection of Shiraz identified by Prue. The remaining blocks are Semillon (1.3 acres [0.53ha], 1952), Riesling (1.2 acres [0.48ha], 1954), another Riesling block (1.6 acres [0.64ha], also 1954), bush-vine Mataro (0.7 acre [0.28ha], 1956), and finally, a third block of Riesling (0.9 acre [0.35ha], 1961).
Of course, not even vines in the Hill of Grace vineyard will live forever. The Henschkes have been working toward the future for many years. The program began in 1986, when Prue and her team evaluated more than 13,000 Shiraz vines, starting with the Mt Edelstone vineyard and subsequently Hill of Grace. Eventually, they identified 154 vines from Mt Edelstone and 390 from Hill of Grace as the pick of the crop, so to speak. Cuttings were planted in a nursery, and after 30 years, the final selection was four vines from Hill of Grace and 17 from Mt Edelstone. These were planted in a specific vineyard in 2017 and will supply replacement vines in the future.
Plus ça change
While the vineyards are Prue's domain, Stephen rules the winery. Over the years, the emphasis on American oak has changed. French now dominates. He ensures all oak staves are aged outside for at least three years before coopering. There has also been a drift to smaller oak formats. That said, much of the winemaking, where there is as little intervention as is practical is very much along the lines of previous generations, especially Cyril. Stephen noted that they have operated with a submerged cap since the 1860s. They do use more pressings than was the case in the 1970s. Fermentation is finished in oak. After around three weeks, the wine is racked off gross lees but remains in those barrels for two years. There is no other racking, and the wine is not fined. The final blend is created just before bottling. 
The sixth generation—Johann, Justine, and Andreas—is working with the business, and the seventh generation has certainly been established and continues to expand, but it is perhaps a little soon to see who will be involved.
The most recent tasting encompassed a 28-vintage vertical of Hill of Grace, beginning with the inaugural 1958. There followed a look at the latest single-vineyard releases, then the celebration dinner. The 2018 Hill of Grace featured at all three, but then too much Hill of Grace is never enough, especially when it is such a scintillating release.
Afterward, I dug out my records from around a quarter-century of tasting with Stephen and Prue, which confirmed just how incredibly consistent these wines are. Even with intervals of a decade or more, and even if my notes inevitably changed, my scores rarely varied by more than one or two points.
All the wines were from the Henschke museum and had been standing upright for a week. Needless to say, an occasion like this may lead to a little overexuberance in the notes, and one must be careful not to toss around high scores like confetti. On the other hand, this was a display of quality very rarely seen. 
Tasting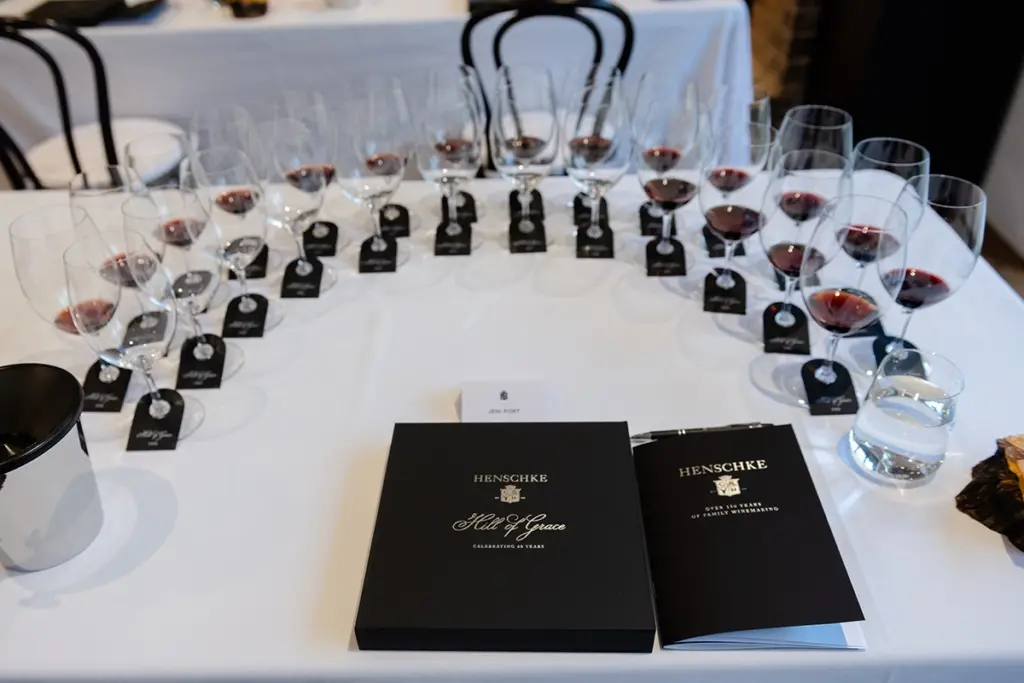 1958 Henschke Hill of Grace
This was the third occasion on which I had seen this wine, and while it has always impressed, this one was rather extraordinary. 1959 (not shown) is seen as the superior vintage, but the '58 really does exceed expectations. Stephen Henschke suggested that this was the best example of the '58 he had ever seen. He also made the interesting observation that this wine had far more in common with the wines of the '80s and '90s than it did with others of that earlier era. An amazing color, deep red/mahogany but still vibrant. Fragrant and perfumed, with herbs, spices, and florals, along with notes of dried meats, truffles, and animal hides. Still wonderfully alive. Seamless and supple on the palate, with a lingering finish. Wonderfully complex; it is certainly mature, but there is no sign of it falling over any time soon. Cashmere tannins. An exquisitely beautiful, mature wine, with such a long finish and still such life. What was especially interesting was that every time I returned to the wine in the glass, rather than starting to look tired, the perfumes had blossomed further and there was a stunningly sweet fragrance. It kept looking better and better. 98
1961 Henschke Hill of Grace
A much more mature color, more browns. The nose had warm earth tones, meaty notes, and dried herbs. There was some good intensity here, and a lingering, mid-length finish. Focused, with decent balance, this was still in good condition, though one suspects that it has seen better days. 91
1962 Henschke Hill of Grace
A famous vintage in Australia (witness the legendary 1962 Penfolds Bin 60A). Stephen Henschke thought so highly of this wine that when the MWs made their famous trip down under in the 1980s, this was the wine he selected to show them. (John Duval, winemaker of Penfolds at the time, chose the 1962 Grange.) A deep teak color, this is completely mature, but it does seem to be in a holding pattern. Spices, mushrooms, earth, cloves, and leather; this is complex, concentrated, layered, and focused. Excellent length. A lovely mature wine but still in fine condition. 96
1966 Henschke Hill of Grace
Another highly regarded vintage this decade. Stephen refers to the '60s as the "decade of natural expression." There was no real understanding of new oak, temperature control, or yeast, but they still made great wines. An orange rim here, the color of an old fortified. There is a pleasing floral note, with gentle mushroom/fungal touches and a faint hint of coffee beans. Stunning stuff. Such an alluring nose. The palate is seamless and balanced, with finesse and complexity. Very fine tannins and serious length. 96
1968 Henschke Hill of Grace
Mahogany/orange in color, this is clearly very mature in every way. Earthy, hints of an old campfire site, some spices. The kind reading would be that this is perhaps a touch past its absolute peak. Some coffee grinds and more earthy notes on the palate. Mid-length at best, and perhaps the age has seen it fall out of perfect balance. More for academic interest than appeal at this stage. 85
1972 Henschke Hill of Grace
The 1970s saw a move to more elegant styles. The wines were seen as more European than traditionally Australian. This was partly because the show system suddenly went mad for leaner, even green, reds of low alcohol, thinking that this made for Australian claret. It normally just made for thin, herbaceous, and rather unappealing wines. Fortunately, the Henschkes did not go as far down that rabbit hole as many. Part of achieving this involved holding back pressings and sending them to other regions to bolster lesser wines. There was a move to mechanization, irrigation, and higher yields, while cultured yeasts were suddenly available, at least toward the end of the decade. Refrigeration was finally used by the Henschkes, too. Aging was mostly in large older hogsheads, with some American oak included. Alcohol levels in the 1950s and '60s were not insubstantial, largely because this was still the era of fortified wines. The 1970s and '80s saw lower levels, with a return to more normal alcohol in the '90s. This was never a stellar vintage. The wine is an orange/teak color. Warm earth, cowhides, mushrooms and dusty notes on the nose. Not unattractive but fully mature and nowhere to go (well, nowhere positive). Some old coffee-grind hints meld with the earthiness on the palate, which is grippy and of mid-length. One to drink up. 89.
1973 Henschke Hill of Grace
Another not overly exciting vintage, but a wine that exceeds the reputation of the conditions. Hints of red with a pale rim. Deeper and more chocolatey on the nose than some. Animal skins, mushrooms, warm earth, dried herbs, spice and floral notes. A mature, complex red, with a supple texture, it is very much still with us. Some meaty and biscuity notes on the palate, which offers excellent length and maintains intensity for the full journey. Fine drinking now, though on the evidence of this bottle, still has time ahead of it. 93
1978 Henschke Hill of Grace
If someone would be so kind as to cue the soundtrack to Cats, specifically "Memories"… Well, $5.50 really was the greatest bargain since the Yankees nabbed Babe Ruth. Pale ruby red in color, with an aroma of red fruits (cherries especially), florals, spices, dried herbs, bergamot, and more. Mature, complex, and very much alive. Still exhibits freshness. The texture is seductive and seamless. Coffee beans, truffles, and a hint of milk chocolate merge on the palate. Fine balance, silky tannins, and a very long finish. A cracker! 97
1982 Henschke Hill of Grace
The first really good vintage of the '80s, a period Stephen calls the era of the young Turks. A new generation was taking the lead and fresh ideas were the order of the day. This was also when the influence of Prue in the vineyard really started to take hold. Environmental issues were also to the fore. A brilliant vintage for the Henschkes. It's been a while since I tasted the 1982 Mt Edelstone, but it was a wine that stunned for years. This was pale red with a hint of orange on the rim. Fragrant and layered, this is elegant, supple, and gentle. All class. The flavors move into truffles, a hint of delicatessen meats, florals, red cherries, and a touch of the highest quality chocolate. A hint of sour plums right at the finish. Finely balanced, this is certainly mature, but it still has years ahead of it. Great length, with serious intensity. So much to love. 97
1984 Henschke Hill of Grace
This vintage was notable for the Indian summer. It came at a period when Stephen was realigning the focus to aim for purity. He joked about making Shiraz like Riesling, after his time in Germany, but he was certainly striving for clarity and focus. With this in mind, during this period the old barrels were removed and the move away from American oak was instigated, although they struggled to afford new French oak at the time—Stephen was not a great fan of new oak, in any case. The new French oak that they were able to source was being used for the Cyril Henschke Cabernet. He also established a ten-year program for better seasoning of the oak. A bad experience with oak importation saw Stephen move more toward barrels constructed locally. Trials for barrel fermentation were also conducted. Stephen also noted that while the move toward a greater use of French oak was important, the move to silicon bungs was at least equally so. They were infinitely superior to oak and hessian, crucial in managing issues like volatile acidity. There has never been any tannin addition. Pale red, the nose exhibiting a hint of a mild chocolate, spices, and herbs—five-spice is a character that is often associated with Hill of Grace—truffles, warm earth, and a slight touch of a biscuity note. There is also a meaty nuance. Seamless and nicely balanced, the palate seems fresher than the nose might indicate. Good complexity, with slightly chewy tannins. Impressive length. 93
1986 Henschke Hill of Grace
A famous vintage for Hill of Grace, still drinking exquisitely. This was the first Hill of Grace exported to the UK, with Australia riding on a wave of popularity from the MW visit, the America's Cup result, and Crocodile Dundee. Soft pale red. This is vibrant and yet elegant, gentle throughout. The nose offers hints of rose petals, gentle coffee beans, red fruits, and animal fur. Seamless in structure, the balance is impeccable; some bright acidity and a lingering finish with fine tannins. This is really good. Complex and mature, certainly, but years ahead of it yet. 97
1988 Henschke Hill of Grace
A pale but vibrant red, with smoked meats, dried herbs, handfuls of fresh earth, animal hides, and red fruits. A pleasing mushroom note lingered. Has balance and very good intensity on the palate. A lingering finish, too. A beautiful wine, quite mature, and though it surely has time ahead of it, I am not certain that there is much benefit in keeping it. 92
1990 Henschke Hill of Grace
Much heralded as the vintage of the century at the time (at least until 1991 arrived), this is a famous Hill of Grace and kicked off a superb decade for the wine. Stephen sees the '90s as the decade of the viticulturist. Prue's work involved the move to organics, as well as trellis management. Scott Henry trials were implemented at Mt Edelstone in 1989 and Stephen noted that the "effect was incredible." This was also the period they purchased the Lenswood vineyard, endured the Ash Wednesday bushfires, and planted Pinot Noir, Riesling, Chardonnay, and Merlot at the new site. The rewards started to flow, with Henschke named Winery of the Year in the UK, in both 1994 and 1995. With the return to riper wines, the alcohol returned to earlier levels. This wine was a mature color, a deeper red than those which had preceded it. Appealingly fragrant, with redcurrants, truffles, spices, a hint of woodsmoke, animal hides, and even a touch of stone fruit. The texture is supple and the wine finely balanced. There are chewy tannins with decent length. Good complexity. A wine that still has time and potential improvement ahead. The longer it sat in the glass, the more it seemed to lift. 96
1991 Henschke Hill of Grace
It did not take long for the next "vintage of the decade" to roll around. Darkening red here. The typical Hill of Grace spices that seem so prevalent throughout the entire range. Red fruits, hints of plums and currants, and warm earth. Weight and length, but also balance and finesse. Truffle notes emerge on the palate. There are slightly firmer tannins here than are to be found in some. Complex and certainly some maturity, but it has both time and improvement ahead of it. Already 30 years of development here, but the impression is very much that the journey is not over. 97
1992 Henschke Hill of Grace
One suspects that you could have got long odds on this wine sitting alongside the previous pair. No one was claiming this as the vintage of the decade, let alone the century, but over time, it has enhanced its reputation considerably. Mature red, the aromas weaving through red cherries, florals, a hint of leather and cloves, and the inevitable spices. Most alluring. A wine that is balanced and focused, with elegance and finesse, yet not at the expense of power. Immaculately structured, with a flick of acidity, fine tannins, and impressive length. Still has years ahead of it. 95
1996 Henschke Hill of Grace
Another "vintage of the century." (Such tags are not from the Henschkes but were thrown around at the time.) Just where it sits in comparison with the other 99 years of the 20th century, who knows, but I'd venture that there are not many better. Lovely deep red here, the five-spice notes to the fore, with hints of chocolate, cherries, woodsmoke, cranberries, cloves, leather, black olives, and a slight note of oak. Finishes with a hint of orange rind. Seamless, intense, and superbly balanced, with very fine tannins. Great length here. This is not only a star of the decade, it was also one of the very best wines of the entire tasting. Stunning. 98
2002 Henschke Hill of Grace
This was the vintage with which they moved away from cork to glass stopper. Safe to say that there are no current plans for a return. 2002 was a cold year, the best of the early vintages from this century. Stephen calls the 2000s a decade of refined style. Maroon/red, moving to darker notes here. Black cherries, dried herbs, and chocolate. A hint of undergrowth. Mature yet fresh and fabulous. The palate reveals truffles, cloves, and leather, along with a slightly meaty note. Serious concentration is evident, the balance remains first class, and the intensity does not waiver. Seductive texture. The length on many of these wines has impressed, but few can match this. A cracking Hill of Grace, still with many years ahead of it. 98
2004 Henschke Hill of Grace
By this stage, Stephen had been able to increase the size of his winery team, enabling more consistency across the wines. Another legendary vintage, this is a darker maroon. Along with the dried herbs and warm earth, there are notes of coffee beans, fungal touches, woodsmoke, and grilled mushrooms. There is a real plushness here, extremely enticing. Soft, seamless, and with serious length, there are ever-so-fine tannins and appealing complexity. Still has many years of providing pleasure ahead of it. Such a lovely wine. 97
2005 Henschke Hill of Grace
Vibrant maroon in hue, with a slightly paler rim. Smoked meats, leather, florals, and a hint of stone fruit here. Real intensity runs the full length of this wine. A slight red-apple character emerges on the palate. With balance and length, this is still vitally fresh. Such a long future ahead of it, though more than drinkable today. 95
2006 Henschke Hill of Grace
If five-spice is a regular feature when it comes to the spice notes sensed so regularly in these wines, sage is very much another. And that is especially apparent with this vintage. It almost seems superfluous to suggest that this was another legendary vintage for Hill of Grace—it has always been extremely highly regarded. Dark magenta, this is rich, ripe, powerful, and yet elegant. Sheer class. A star from the very first sniff. Spices, black fruits, sage, cassis, and cloves. Fresh, complex, seamless, this is a magical wine. The finest of cashmere-like tannins and such length. Decades to go for this wonderful Hill of Grace. Imposing and yet welcoming. 99
2008 Henschke Hill of Grace
For decades, apart from very occasional exceptions, even (as distinct from odd) years have stood out as the stars. Why? I have no idea. (It will be some years before we have the evidence, but I expect 2021 to break that run.) The 2002, 2004, and 2006 vintages were all superb. Would it continue? More than continue: I'd suggest that with this wine—
as well as the 2010, 2012, 2016, and 2018—even greater heights have been reached. This is not just a great Hill of Grace; it's a world-class wine of supreme quality. Very dark maroon, this is fresh and bright, with black-cherry notes, florals, coffee beans, rose petals, truffles, blackberries, bergamot, spices, the finest dark chocolate, and cassis. Wonderfully complex, immaculate balance, incredible length, and abundant but ever-so-cushiony tannins. A glorious wine with decades ahead of it. The only reason it does not get the perfect score is where would that leave what is to come? 99–100
2010 HHenschke Hill of Grace
If there were a single wine that was still singing to me days later, this would be it. For me, the best wine of the tasting. If I drink anything else this stupendous this year, I'll consider myself very fortunate indeed. My last note on this wine was simply, "100 every day." The Henschkes are very keen on music, often involving weird and rare instruments. With that in mind, this wine is, for me, orchestral. This wine ushered in what Stephen calls the decade of purity and regenerative viticulture. (Okay, one suspects that Prue may have had a hand in that title.) Possibly not the most Shakespearean characterization, but this was the decade leading to biodynamics. Considerable work was done with compost (again, hardly evokes the Bard, but important nonetheless). Dark magenta. What was immediately noticeable was that, as good as the 2008 was, this was a step up. It also seemed so much younger. Indeed, all prior wines were seemingly mature and ready to drink at the very least, even if they have decades ahead. Now we move to wines that really would benefit from more time. Real intensity here. Blackberries, cassis, dried herbs (sage), florals, and chocolate. Bright, fresh, vibrant, and yet ever so seductive. Already immensely complex, the tannins are so cashmere-like that they seem to melt. So long, it simply would not go away before we were moving on. Glorious. Simply one of the greatest Australian reds I've ever tasted. 100
2012 Henschke Hill of Grace
Youthful garnet-red. At this stage, this wine is perhaps just a little closed. Dried herbs, the five-spice and sage are evident, with dark berries, cherries, delicatessen meats, cloves, leather, and cassis. More of a chocolate note emerges on the palate. Very impressive length, soft tannins, and with at least 10 to 20 years ahead of it. Really good, just a little reserved still. 97.
2015 Henschke Hill of Grace
Maroon/purple in hue, the aromas include a hint of tobacco leaves, animal hides, dried herbs, blackberries, tomato-bush notes, and a hint of stone fruit. Good intensity throughout. The palate is delicious, with cassis, chocolate, and dark berries all emerging. Well-integrated oak here. The length is impressive and there are many years of pleasure ahead for anyone with this wine in their cellar. 96
2016 Henschke Hill of Grace
Another wine that leaves us wondering about degrees of 100. To continue to throw around perfect scores makes me feel a bit like the vinous version of the boy who cried wolf. But as the fable showed us, occasionally there really is a wolf. This is simply a beautifully crafted, classic wine. Magenta/purple; it is concentrated and yet still dances. Black fruits, plums, chocolate, five-spice, cassis, plums, and coffee beans. A supple, glorious palate, seamless in structure, and with incredible length. The tannins are almost invisible, though they are certainly abundant. Balance and class. Far be it from me to scare those suffering from lupophobia… 99
2018 Henschke Hill of Grace
This is the latest release, which was one of the main reasons for the whole celebration. 2018 is already cemented in Aussie wine lore as one of the truly great years (witness Penfolds Grange and many others). Put simply, I think everyone expected this to be a 100-point wine and anything less might almost be considered a failure—so no pressure, then. Stephen had dubbed 2018 the vintage of wonder. As it turned out, no one needed to have worried. A stunning wine. If there is something that is slightly different about this wine compared to other great vintages, it is that it is immediately approachable and drinkable today. Gorgeous. That said, well-cellared bottles will easily see out 40 or 50 years and blossom over that time. Today, it is inky purple. Still quite tight, but the notes of plums, cassis, bergamot, blueberries, and aniseed are riding a wave of flavor. There is immaculately integrated oak, and the complexity in the wine is already evident. Five-spice and chocolate emerge on the palate. The finish is of a length more often associated with great old fortifieds. The tannins are abundant but soft, cashmere-like and ever-so-fine. The focus and structure will see the wine sail into the future. A profound wine of finesse and ethereal class. 100
Other 2018 single-vineyard Shiraz
Henschke Mount Edelstone Shiraz 2018 (A$245)
If one looked at the Henschke wines more analytically and without emotion (and good luck with that), maybe no one would buy Hill of Grace. You would opt for the Mt Edelstone Shiraz, vintage after vintage. It makes so much more sense. Compare the cost, and then look at the levels of quality. Sure, Hill of Grace may sit just that wafer-thin degree higher, but surely nowhere near enough to justify the price differential. And surely, 2018 is the perfect vintage in which to see this. Yes, the Hill of Grace is a magical wine, but the Mt Edelstone sits so close. Such is life. Inky opaque black in color, with a dark-purple rim. The emphasis is immediately on the focus and purity of the wine. Chocolate, licorice, beef stock, leather, sage, black olives, cloves, blackberries, and black jellybeans. Seamless, with cushiony, lush tannins, soft as duck down. Fine acidity, knife-edge balance, and extraordinary length. A beautiful wine that should impress over the next 40 years. As Stephen says, "It screams Eden Valley." Love it. 99
Henschke Hill of Roses Shiraz 2018 (A$455)
Prue has noted that the five-spice character found in Hill of Grace itself is now becoming evident in the Hill of Roses vineyard but notes that it took between 25 and 30 years before it became apparent. Deep, dark magenta, fragrant and exciting. There is an appealing purity here. Chocolate, black fruits, and tobacco leaves—and it does indeed have that spice note. The length is impressive, the acidity fresh, and the length is very good, too. A superb wine, with 20 years ahead of it. 97