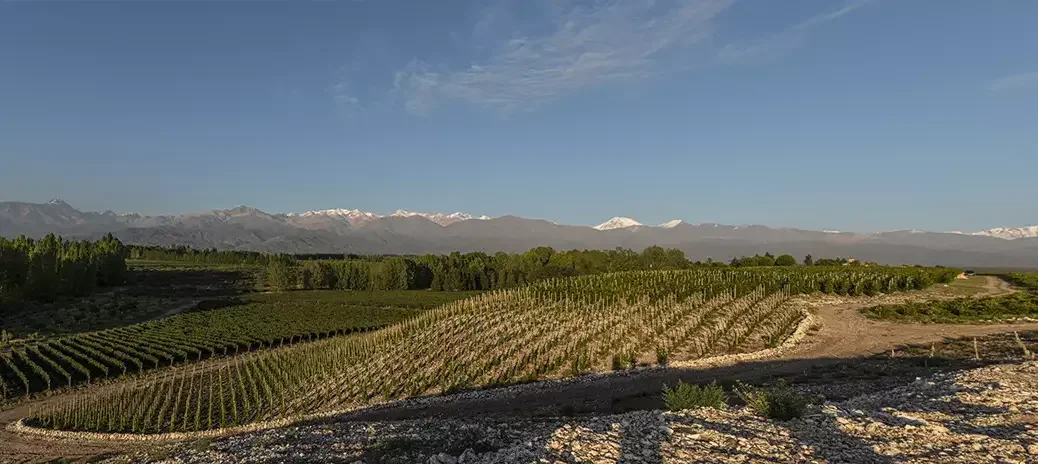 If there is only one region in Argentina that fine-wine lovers need on their radar, it is Gualtallary. Pioneered by Chandon in 1992 in the search for cooler climates to produce sparkling wine, the early plantings here—which soon included those by Catena Zapata, Doña Paula, and Sophenia—were timid at first.
When those first vines began not only to ripen but to give excellent-quality fruit, however, the region exploded, and today more than 5,600 acres (2,300ha) are planted. Gualtallary is deservedly the region on every sommelier's lips, renowned not only for top-drawer Malbec but also stellar Cabernet Franc and some of the most elegant Chardonnay in the New World.
It is perhaps ironic, and sadly so, that the region that has caused the greatest stir in terms of quality in Argentina has been the one for which it has been hardest to establish a GI. A combination of trademark issues with the name and the sheer number of producers now based in Gualtallary has made it almost impossible to get a GI through the INV. That extra time, however, has led to producers beginning to define five different subzones in Gualtallary.
The subzone plans are well founded, because Gualtallary ranges from Winkler III to Winkler I, with sometimes up to a month of difference in ripening times. The soil is also very diverse, with river gravels and sandy soils in the southern subzones, and a mix of caliche and sand in central Gualtallary.
It is upper Gualtallary, known as Alto Gualtallary, though, that is really considered home to the "grand crus"—more specifically the emerging subzones of Gualtallary Monasterio and Gualtallary Albo. The appeal is both above ground—with the cooler temperatures at high altitude—and below ground. Pockets of white calcium-covered stones are typical, and some vineyard soils here have up to 40 percent limestone.
"When you reach Monasterio, you get these completely white stones—this is the last finger of the Sierras de Jaboncillo, which have a major concentration of chalk," explains Edy del Popolo, who makes wines under his PerSe label in Monasterio. "I planted bush vines in Gualtallary because the soil was so shallow that you were basically planting in the bedrock, and yields are incredibly low. The relationship between the vines and the chalky soil is very intimate, so these are wines with great personality."
The wines of Alto Gualtallary have grip and tension, always with great acidity. A blind tasting of the best Malbec wines from here would be far more akin to a top Burgundy from a powerful cru, rather than any Bordeaux. The approach in the cellar with these top wines from Gualtallary also reflects a far more delicate touch, as exemplified by PerSe, Catena Zapata, Michelini i Mufatto, Altos las Hormigas, and El Enemigo.
Although the wines are already extremely exciting, I think that we are only just beginning to see the heights of which Alto Gualtallary is capable. There's a small but fascinating new movement toward planting on the slopes rather than the plains, which I think will proffer the most compelling results. Recent vintages of PerSe are already a great testimony, and they should soon be joined by the wines from vineyards planted on terraces and slopes owned by Raquis, Zuccardi, and Matias Riccitelli, among others.
Gualtallary has already set the bar for top crus of South America, but what is most exciting of all is that Gualtallary still has so much more to give.
The emerging grand crus of South America