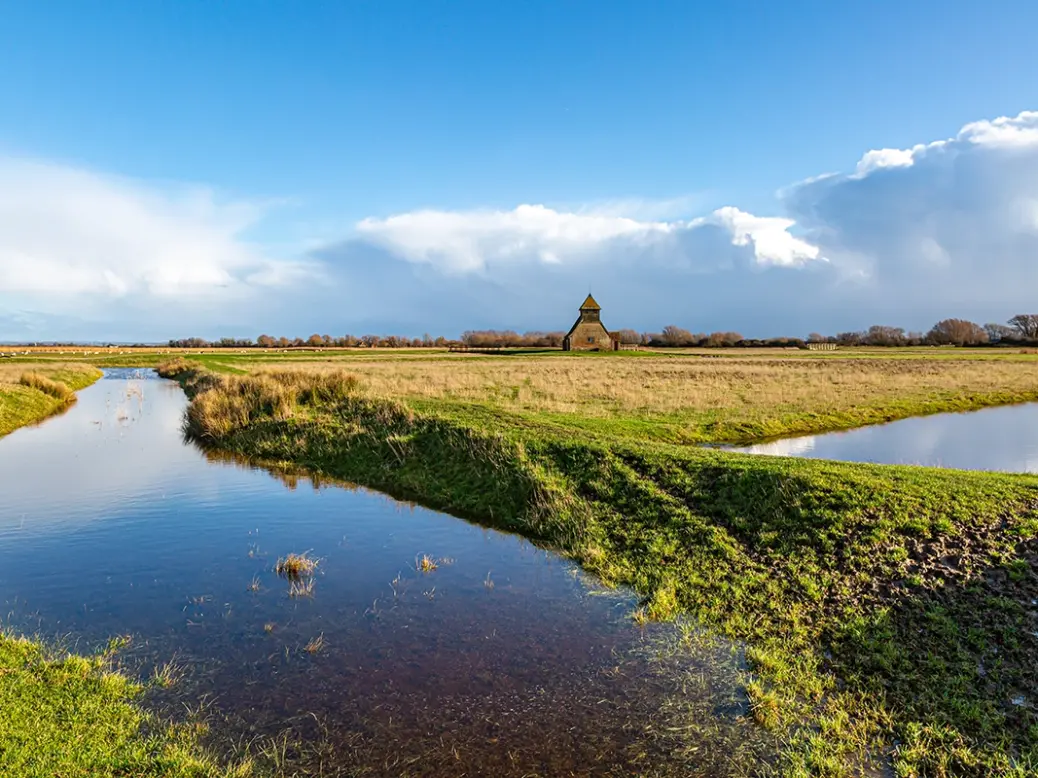 With the incorporation of fruit from a Sussex vineyard, and the release of a long-awaited deluxe cuvée, Kent-based Gusbourne Estate has made serious progress in recent years, moving from good to very good indeed, says Margaret Rand.
If you wanted a quick précis of English history (and you did, didn't you?), you could do worse than to go to Kent. Stand overlooking Romney Marsh from where the land rises slightly, close to where in the year 892 ce, about 250 Viking longships parked themselves uninvited over a winter before their defeat by the incumbent Saxons. What you see now is the flat, eerily empty, sheep-grazed expanse of the marsh, stretching toward a gray English Channel; back then it was the winding, wandering estuary of the River Rother. The village of Appledore was a port until the river changed its course and the sea receded. In 1380, the French sailed up the river and burned the village. In 1410, John de Goosebourne acquired the estate here. In 1804, the Royal Military Canal was built on the edge of the marsh as part of the country's defense against Napoleon; pillboxes were added in World War II, when German paratroopers planned to cross it on the first day of a Nazi invasion. "They could have just thrown some planks over it," says winemaker Charlie Holland of this crucial national defense: "It's only about 5 meters [16 ft] across."
The Goosebournes gave their name to the estate, and their symbol—three geese argent, to be seen on a shield in Appledore church—has been co-opted by the modern Gusbourne Estate for its labels and just about anything else it fancies. And why not? Splendid birds, geese. They are part of the history of the land, just as much as the pillboxes and the canal and the rebuilt 14th-century village and the Saxon place names and the apple trees that gave rise to them and that are still everywhere.
But having a history doesn't make you historic. Is Gusbourne Old World or New World, Charlie? "Totally New World. It has no history." And he's right. It's all brand new. The vines—Chardonnay, Pinot Noir, Meunier—are Champagne or Burgundy clones. If wine was grown here in the Medieval Warm Period (it probably was), it has left no traces. Gusbourne's founder, Andrew Weeber, was South African. The know-how is French. The present principal shareholder, Lord Ashcroft, has dual British and Belizean nationality, and the company is a PLC, listed on AIM. The whole thing is a blow-in, and just like its predecessor Saxons and the Norman de Goosbournes, it's busy putting down roots.
Always room at the top
The first vines were planted in 2004 on a south-facing slope—the first escarpment that rises off Romney Marsh. It's not very steep and it's not very high: 150ft (45m) is the highest point, and the steepest slope is 20 percent. The soil is Wealden clay over Tunbridge Wells sand. The clay can be heavy and can compact and drain poorly, "but if you can manage that," says Charlie, "it can outweigh chalk in England." Some is calcinite clay, quite friable: "If you kick it, it's dusty," says Charlie. At the top of the hill there's more clay, and more silt at the bottom, and drainage is the main problem. And just as you're thinking, Ah, another English vineyard with no chalk claiming it doesn't need chalk anyway, thank you, Charlie says that actually they do have chalk. They have some land in Sussex, 6ha (15 acres) to begin with, and another 25ha (62 acres) bought in 2013 and 2015, between Halnaker and Earthem on the South Downs. The first vintage from Sussex with proper maturity and proper production was 2016, and in that vintage it formed 37 percent of the blend, though Sussex fruit also went into the new deluxe cuvée, 51°N, in 2014.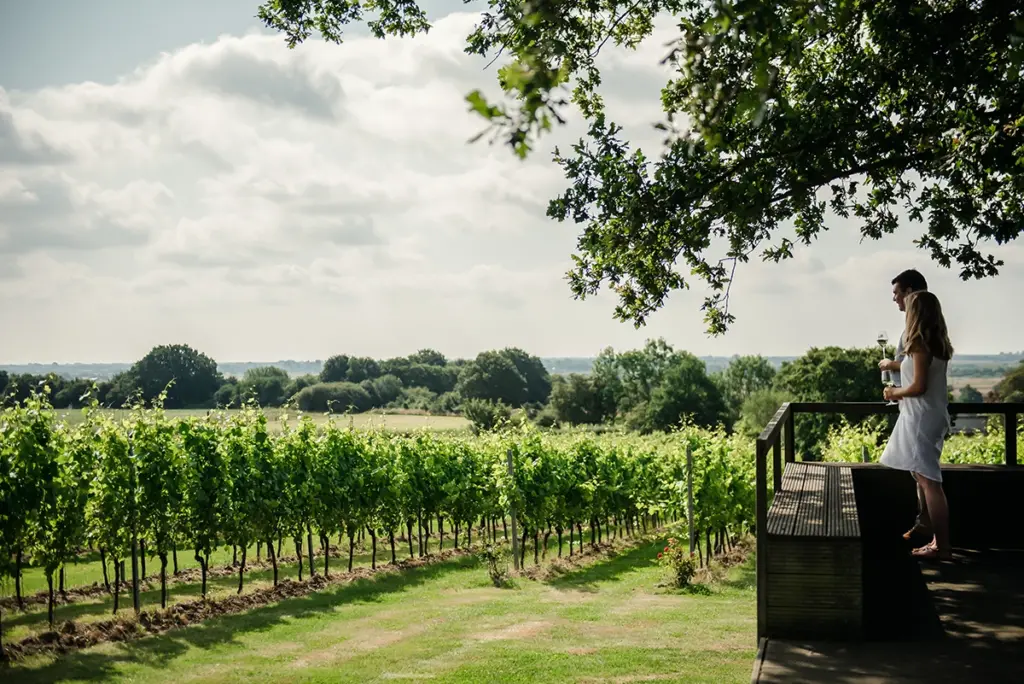 Is it the inclusion of that Sussex fruit that has lifted Gusbourne from being good to being very good indeed? Is it greater vine maturity, or ever-greater detail in vineyard and winery? Whatever it is, Gusbourne has made that jump. I used to think it good but a bit short on the finish. Not now. 51°N 2016 has quite a bit of oak balanced by complex red fruit; tense and very long; and the single vineyards, Boot Hill and Commanders, are not far behind—and arguably better value, given the difference in price.
Anyway, it all began with Andrew Weeber, who was an orthopedic surgeon from Stellenbosch who came to live in Yorkshire. He was the go-to man if you were a soccer player, apparently; according to Charlie, he "fixed Gazza's knee in the 1980s"—referring to legendary British attacking midfielder Paul Gascoigne. Before his move, he had bought a 50 percent stake in a wine estate in Robertson; he sold that in 1991. But wine remained a fascination. His daughter, in the fullness of time, bought Gusbourne House, the main house on what is now the estate, and when he visited her there he looked at the climate data and liked what he saw. So, he did what anybody would do, and in 2003 bought the 196ha (490-acre) Gusbourne Estate and planted 20ha (50 acres) with vines.
This was a time when English sparkling was not yet taken completely seriously by outsiders and certainly wasn't seen as a good investment. He has been quoted as saying that "it's a very capital-intensive business—basically a big hole that you pour money into." But he wanted his wine to be the best. "There is always room at the top; the bottom is a crowded space," he has said.
Charlie quotes Weeber as saying that when you do something, it's only ten years later that you see if you were right or not. "He would say, 'If you're not stuffing up 5,000 bottles a year, you're not doing your job properly, because you're not experimenting. It was all about creativity and focus and how we can improve." The first vintage was released in 2010.
Then, in 2013, Weeber sold the business. Lord Ashcroft paid £7 million for 141ha (350 acres), including the 20ha of vines, via his winery investment vehicle Shellproof, which also owned some vineyard land in West Sussex. Weeber retained a 13 percent holding and became non-executive chairman; he also kept back 55ha (136 acres), which did not form part of the sale. Gusbourne PLC was listed on AIM. Mike Paul is deputy chairman and in charge of sales and marketing. Jon Pollard is COO and vineyard manager. Charlie was both CEO and winemaker when we met, but he has since been headhunted by Jackson Family Wines for its new venture in England, and by the time you read this he will have left Gusbourne.
An additional 41ha (100 acres) were planted at Gusbourne between 2013 and 2015, and in 2022 Gusbourne bought Weeber's remaining 55ha. The land in Sussex was acquired piecemeal: 5ha (12 acres), of which 3ha (7.5 acres) was planted, in 2013; then a 50-year lease on 38ha (94 acres) of land, of which 29ha (71.5 acres) were planted between 2013 and 2015. I hope you're keeping up. In 2019, a lease on another 30ha (75 acres) in West Sussex was added, but this hasn't been planted so far, so you don't need to think too much about that yet. But in the fullness of time, Charlie expects Gusbourne to plant another 59ha (146 acres) in both places, which would give them 152ha (375 acres) in all.
When Ashcroft described it as "a big hole that you pour money into," he was not joking. The hole has got bigger, and there have been subsequent share issues to bring in more money, because if you're going to do it seriously, you need, among other things, a winery. In the early years, the wine was made at Ridgeview: Fine to begin with, but in the end everyone needs their own winery tailored to their own vineyards. Charlie, who had been working at Ridgeview, jumped ship and arrived in 2013. And the question everybody asked became, What can we do now to make it really, really good?
From good to very good indeed
The answer was to do everything separately. Pick everything separately, press it all separately, ferment it all separately—all the things you can do with your own winery. The first year of this produced 100 different components on the blending table. "It was eye-opening in terms of potential," says Charlie. New plantings were going in, and they started the process of understanding what they had.
What they had initially was Butness vineyard; this was the first to be planted, because it looked the most promising site. It has all three varieties and several clones, some Burgundian, some Champenois—a few rows of this, a few rows of that. When Charlie arrived, it had grown into sulky adolescence and didn't seem very expressive. "But over the past three or four years, it has grown up and gained good balance," and they've fallen back in love with it.
After that, Cherry Garden was planted, though Charlie says he has only found out recently what to do with it. It's undulating and ripens unevenly; he describes it as a helter-skelter. "So, we made still rosé, and we've never looked back." However, in a moment of enthusiasm, Charlie did suggest to the vineyard manager that they might pick every other row for rosé. The answer was no.
Then came Boot Hill, named for its shape. Boot Hill didn't seem very promising—it was really a case, says Charlie, of, "Well, we might as well plant it. And now it's the best site, with the most expressive grapes. The Chardonnay there has salinity, and we really prize that. Every year when we taste everything, all blind, we taste Boot Hill Chardonnay and say wow. It's mineral, sea salt, oyster shells…" There is also Commanders—the house nearby was owned by a naval commander—which is sheltered and planted only with Chardonnay, in 2014, by which time they'd had time to learn from the other sites and so planted Burgundy clones, and Heartbreak where the rows are so long that Weeber thought that a pruner's courage would fail at the sight of the task ahead. Mill Hill runs down toward the Royal Military Canal. Bottom Camp, at the bottom of the estate, once housed a military camp. Pond vineyard, being small, is where they're trying out organics.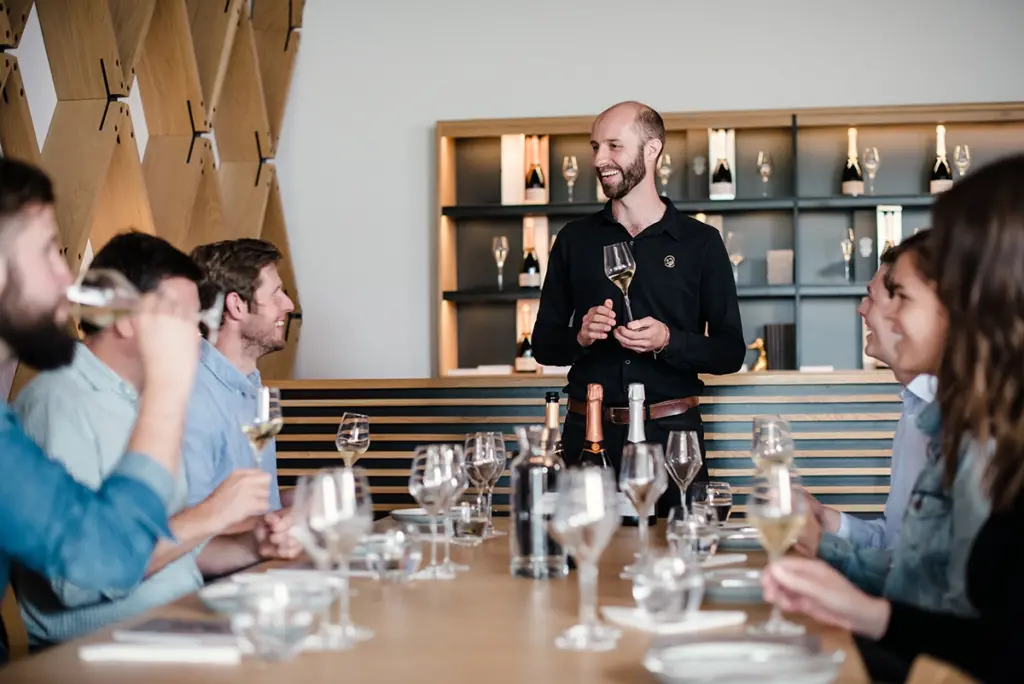 In all, they have about 40 clones of Chardonnay and the same of Pinot, with permanent grass between the rows; they will sow cover crops as well—clover and legumes for nitrogen, and daikon radish for drainage. There is also, I'm told, a shepherd, with sheep let loose in the vineyards at appropriate times: This sounds so perfectly bucolic that you wonder why they don't complete the picture with a proper ornamental hermit. They are available, I'm told, at very reasonable rates.
Anyway, there are now 300 components with which to blend, and 2016 was the first vintage with full maturity and full production. The quick answer to the question of how they went from good to very good indeed probably lies in those two facts. And to learn more about how these components age, they're tucking away stocks of the four most expressive components each year. Chalk gives the skeleton; Kent clay gives the flesh and weight. But this is not a simple equation of chalk = Chardonnay = linearity = the ideal. Chardonnay can be better on clay, Charlie reckons, with weight and richness, and Pinot on chalk, with red-fruit flavors, and indeed these are the components that go into 51°N, the long-awaited deluxe cuvée, now on its second vintage.
They benchmark against Krug for price, marketing, and branding because, well, that's where they want to be. They're the most widely traded wine on Liv-ex, and "when you're traded, you've arrived on the luxury fine-wine market," says Charlie. Where they'd like to go next is the collector market, and they've started via Laura Rhys, Master Sommelier, now global brand ambassador. At the moment, 49 percent by revenue of their sales are through the UK trade, of which half are in restaurants; another 27 percent is via the website or at the cellar door. Exports account for 22 percent, to 32 markets, which leaves 2 percent of income that is "not related to wine sales." They're big on tourism; there's no actual restaurant, but they do a lot of tours and events in which food plays a part.
The estate, apart from the views over Romney Marsh, is surrounded by ancient woodland; they have to do coppicing every year. That, of course, gave them an idea: Why not make our own barrels? It turned out that there were several reasons, including the simple fact that while French forests grow tall and straight, English woodland oaks tend to be less orderly in shape. The French tonnelier they lured over took two days to find enough trees without knots. But in 2019, back came Gusbourne's first Gusbourne barrel, and it held its first ferment in 2020. "It's a ten-year project," says Charlie. "The oak has a different profile. It was dried in Champagne, and it has a tight grain and a green apple-skin character, which is interesting for Chardonnay. It has a high-toned, lifted character, which suits English wine."
And Gusbourne couldn't be more English, could it?