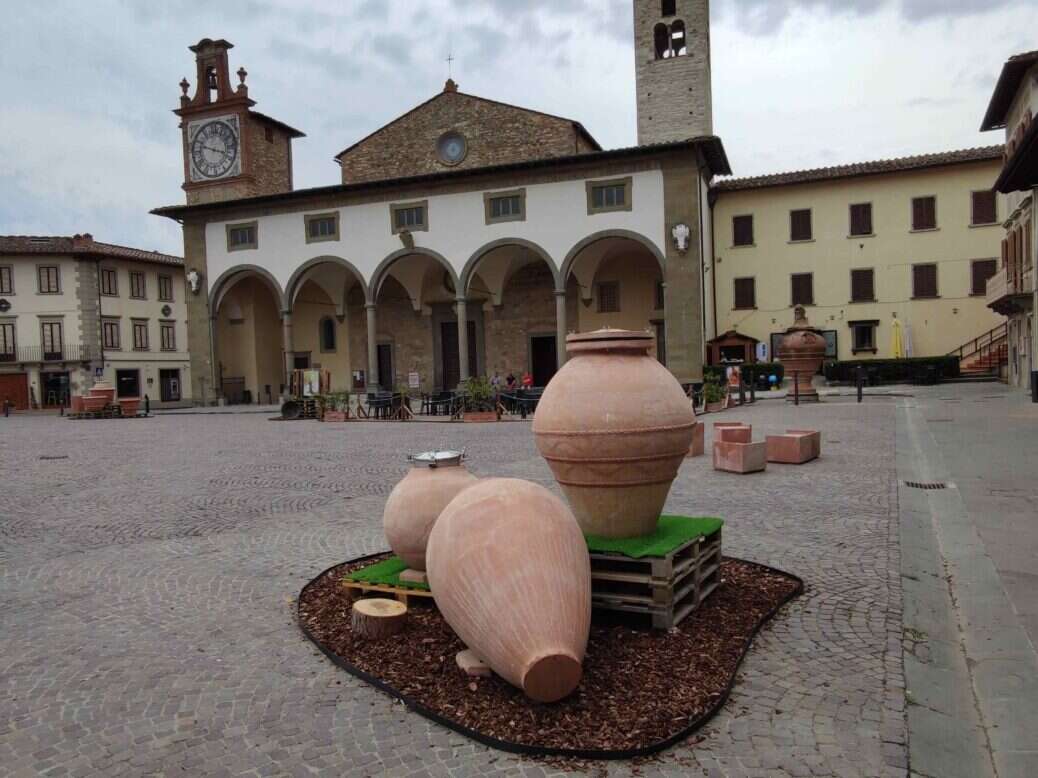 The 2022 edition of La Terracotta e il Vino / Terracotta & Wine once again brought amphora wine producers together from all over the world to Tuscany to share both experiences and wines. In the second part of his coverage of the event, Paul White picks out some of the clay-made wines that impressed him the most.
Italian amphora wines: Tuscany
Chianti producer Castello Vicchiomaggio's owner/winemaker, John Matta shifted his Maremma grown Petit Verdot into amphora with the specific intention of taming its predominantly harsh, drying tannins.
It worked and Verdot's tannins developed much faster than in barrel. Consequently, he recast his equal parts, Super Tuscan blend as Castello Vicchiomaggio Amphiarao. Cabernet Sauvignon, Petit Verdot, and Sangiovese are fermented separately in stainless steel, then matured for a year in amphora.
 The 2018 is full of big, ripe remarkably integrated aromas. Cabernet or Verdot can easily dominate a Sangiovese blend, but this wine sang like a really talented, tightly balanced choir, with clear, clean flavors and a minerally undercurrent. 89 points.
Following on in a similar vein, the 2020 added more concentration and nicely balanced, fresher, spikier skin tannins. 90
Rufina-based Famiglia Casadei have been long time followers of biodynamic practices and Artenova pots. Their amphora production draws fruit mostly from Maremma.
Le Anfore di Elena Casadei Syrah 2020 (14% abv) was macerated on skins for 30 days, then transferred to clean amphora for another eight months. Markedly floral for Syrah, mixing violets and roses with red- and black-fruit characters, with intense fruit sweetness, fine powdery mid-mouth tannins, and expansive flavors filling the back palate. 94
Casadei Sangiovese 2019 (13%) is similarly made and more minerally driven rather than fruit-focused. Defined by high acidity and very much tail-end-loaded with red-fruit flavors welling up after swallowing. 94
Another Maremma producer Sassotondo's Poggio Pinzo Ciliegiolo 100% 2019 (13.5%) was a revelation, since I have not tried Ciliegiolo, one of Chianti's neglected traditional-blend grapes, before.
Spending a full year in amphora on skins it offered up lovely crushed strawberry aromas, soft texture, and a fullish texture; it's plush with a fine streak of acidity and tannins underpinning. Good length. Very complete, well-rounded wine with depth and purpose. 90
Near Pisa, Casale Marittimo's Lumeo Toscana Syrah 2019 (14%) leads with a spicy, edgy mix of black and red fruit aromatics and juicy flavors. A great illustration of how amphora elongates Syrah's more typical powdery middle-mouth tannins. Great acidity. 90
Le Verzure near Siena ferments and ages both its white Trebbiano/Malvasia and Sangiovese in amphora for six months. The 2019 white (12%) is quite floral, amplified by long skin contact (87) and the red Silo 2018 (13%) for the same reason is very light and floral with dried herb, cherry-watermelon characters in a finely framed, elegant style with tapered finish. 93
The island of Elba's Agricola Arrighi is legendary for its Neso Aleatico, where grapes are submerged  in the sea for five days, then sun-dried, fermented, and matured in amphora on skins for six months.
Unfortunately, it was all gone by the time I found their table. Regardless, they do lots of other very interesting wines.
Their Valerius 2021 (13.5%) uses amphora to pull bucket loads of honeysuckle, elderflower, and pear characters out of Ansonica's thick skins and then shifts that into a clean amphora for six  months to polish and further integrate textures. 88
Similarly, Hermia 2021 (13.5%) treats Viognier the same way, supercharging it with spicy, floral, pear aromas while maintaining tight acidity. 88
But their superstar was Tresse 2019 (13.5%) macerating Sangiovese 50%, Syrah 30%, Sagrantino 20% on skins for two weeks, then pressed and aged in 800-liter (211-gallon) Artenova pots for 18 months.
The result is packed full of lifted, spicy red fruits and savory characters. Continuous and creamy in the mouth, all that tempered by fine acidity and polymerized tannins. Great wine. 96
Campania, Alto-Adige, Piedmont,
From Campania, Podere Ema specialize in under-known grapes; the nearly extinct, darkly colored Foglia Tonda being their star.
The grape reminded me of Aglianico, but is more darkly fruited and finer. Needing a lot of oxygen to develop, it spends a full year in amphora. I sampled 2017-19 and found the 2019 quite concentrated, full of juicy, savory, black-fruit characters, continuously textured with a long fine finish. An interesting grape variety. 94
I also enjoyed another amphora-made Aglianico, Elena Fucci Titolo Aglianico di Vulture 2019 (14%) offering signature sour red and black cherry aromas and firm, flavor-filled skin tannins. Quite Nebbiolo-like. 88
Alto-Adige's HochKlaus Winery makes direct comparisons between amphora and barrel fermentation.
Pressed into fermentation vessels with no skin-contact, the wines expose the real naked truth of how grapes are behaving in each vessel.
Comparing the two 2020 Weissburgunder (both 14%), I found that both share pear/apple fruit aromas and flavors, but the amphora is fuller and fleshier, while the old-barrel ferment is less fruity and slightly spicier with sharper, harder-edged acidity.
Similarly, in the case of the two 2020 Rieslings (both 14.5%), the barrel version had less clarity and fewer distinctive Riesling characters than the version made in amphora.
Piedmont's Alessandro Barosi sees "amphora creating a more lateral texture in the mouth." Barosi's Nebbiolo 2019 offers up fantastic floral aromas, roses and violets and savory red fruits.
Clearly still a baby, 11 months in amphora has taken the edge off youthful tannins, transforming them into something more powdery than cutting. 89
Barosi's  2021 white is made from Nascetta (13.5%), a difficult grape to grow that's been greatly reduced in numbers after WWII. It sits in the mineral realm with aniseed high tones, fleshed-out and lengthened by amphora, with light acidity. It an interesting 87.
His 2020 Barbera (14.5%) is a minerally mixture of red-fruit aromas and black fruits in the mouth. Great depth, length, and fruitiness. 90
Another of Piedmont's terracotta vigneri, Daniele Favaro, produces unexpectedly elegant and exceptionally well balanced wines from extreme skin contact.
Her Daniele Favaro Muscat 2020 (12.5%) spent four months on skins in amphora and then aged another two months without skins. It shows lovely delicate, ultra-pure aromas, a creamy smooth, full body, and finely structured skin tannins. 89
The Barbera 2021 is on skins for seven months, juicy, freshly fruited, and surprisingly easy to drink. 88
Beyond Italy: Croatia, Georgia, Portugal, Armenia
Croatia's Ghira Malvasia 2019 (14.5%) spent 15 days on skins in Artenova 450-liter (119-gallon) eggs resulting in sweetly ripe citrus, herbal characters, and a big, slick, full body. Relatively elegant, it displays excellent acid balance and fine skin-tannins. 89 
Georgia's Marani has produced an outstandingly refined and elegant Saparavi in 2018 (14.5%).
Following a traditional six-month maceration on skins in qvevri, it brims with dried black fruit, licorice, and mineral characters, beautifully integrated textures and a long, tapered, slippery finish. 96
Carrying the flag for Alentejo this year, Herdade do Rocim's David Rego feels, "Talha de-emphasizes varietal notes, and increases salinity." He also notes, 'It can vinify Touriga Nacional at low alcohol and tame it into a blend without it dominating."
As usual Rocim showed up with a crackerjack lineup of really well made, low alcohol (11-12%), 2021 DOC Vinhos da Talha wines that consistently over-deliver.
Both the red and the white Fresh from Amphora 2021 are as brightly lit, crisp, and fresh as ever; the red and white from the line Talha DOC 2021 are both more concentrated, tightly knit, and lazer-focused; and two reserve-level 2020 Bojadors are refined, elegant, and bound for long-term drinking.
The 2020 Clay Aged Branco hints at spearmint and green olives and is Chablis-like in its relentless lemony acidity.
The 2019 Clay Aged, newly bottled, is a brawler, big and chunky and full of fruit concentration. 90-96
Zorah are longstanding champions of Armenia's autochthonous grapes and winemaking traditions, and their two newly released pure karasi-created wines take Armenian wine to a new level.
Zorah Heritage Chilar 2019 is made from near-extinct Chilar grapes grown at 1,400-1,500m (4,590-4,920ft) on own roots.
Kept on skins for 60 days in karas followed by another nine months in karasses. Quite minerally and somewhat Chardonnay-like, it barely hints of green flower stems and fresh-baked biscuits.
Elegantly structured and finely textured, with a viscosity similar to almond oil, it's so subtle and understated, I almost missed its considerable persistence. 94
Similarly Zorah Heritage Sireni 2019 is a blend of autochthonous red Sireni (80%) with another near-extinct white named Ararati, the latter grown at 1,300m (4,265ft) is fermented on skins.
Both are fermented separately in 3⁄4-buried karases, then blended and aged for two years in a mixture of karases and concrete tanks.
This is quite a wild wine and like nothing I've had before.
Initially it was very closed, minerally, and ungiving with slight hints of mushrooms and slighter hints of red and black fruit aromas.
Then it suddenly shifts gears in the mouth, with explosive, savory-edged, brambly, berry notes and big, chunky, dusty, nervous tannins. All of this really punching back after swallowing.
Quite a complex mix of tannins, somewhat like Nebbiolo or Aglianico's extension into the finish, but also lip-smacking like Cabernet can sometimes be. 93
Whereas previously Zorah's wines were quite refined and Italianate, these have been let off the leash to be purely Armenian.