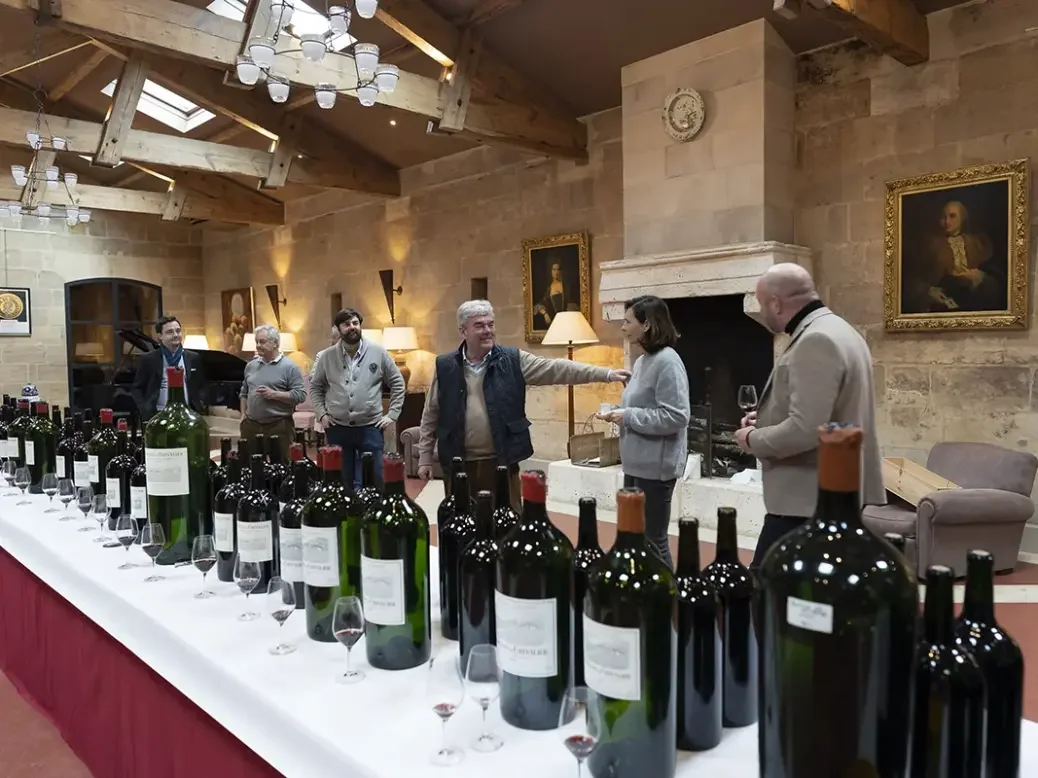 Simon Field MW was privileged to attend the meticulous recorking preparations for a landmark auction at Christie's London, on November 30 to mark Olivier Bernard's four decades at Domaine de Chevalier and to taste the 40 wines that will be offered then in a unique double-magnum superlot.
Domaine de Chevalier is located in the forest to the south of Pessac in the Graves—an oasis of calm, interrupted only by the hunter's rifle or the call of the goshawk. Far, therefore, from the illustrious peers that are to be found in the conurbation of greater Bordeaux itself. There are neither Carmelites nor Lazarite missionaries here, only Hansel-and-Gretel silence, with no clues at all as to the identity of the eponymous Chevalier. Noble rather than aristocratic rusticity; Mauriac rather than Montesquieu; the voices of the provinces. And of course, one of the most brilliant of all the wines of the Graves, its reputation built on humility, maybe—on a very specific microclimate, certainly—and on the industry of one man, Olivier Bernard, who has been the chevalier d'honneur here for more than 40 years.
Good reason, then, to celebrate an anniversary. The Bernards acquired the property in 1983, with the paterfamilias Jean immediately ceding authority to his son Olivier, fifth of six children, but clearly the one with the interest and the aptitude, qualities that have billowed out over the years and that took him all the way to the presidency of the Union des Grands Crus de Bordeaux. The Oliviers had made their money as sugar traders in Lille, then as eau de vie distillers in Bordeaux (their company Lucian Bernard survives), and finally as vignerons. Olivier was at one point destined to be, of all things, an estate agent. A period in the navy ensued (where he met long-standing friend and amanuensis Rémi Edange) and finally the calling of the vines. He learned a lot from the previous owner, Claude Ricard, whom he describes as his "second father" (see WFW 80, pp.162–65).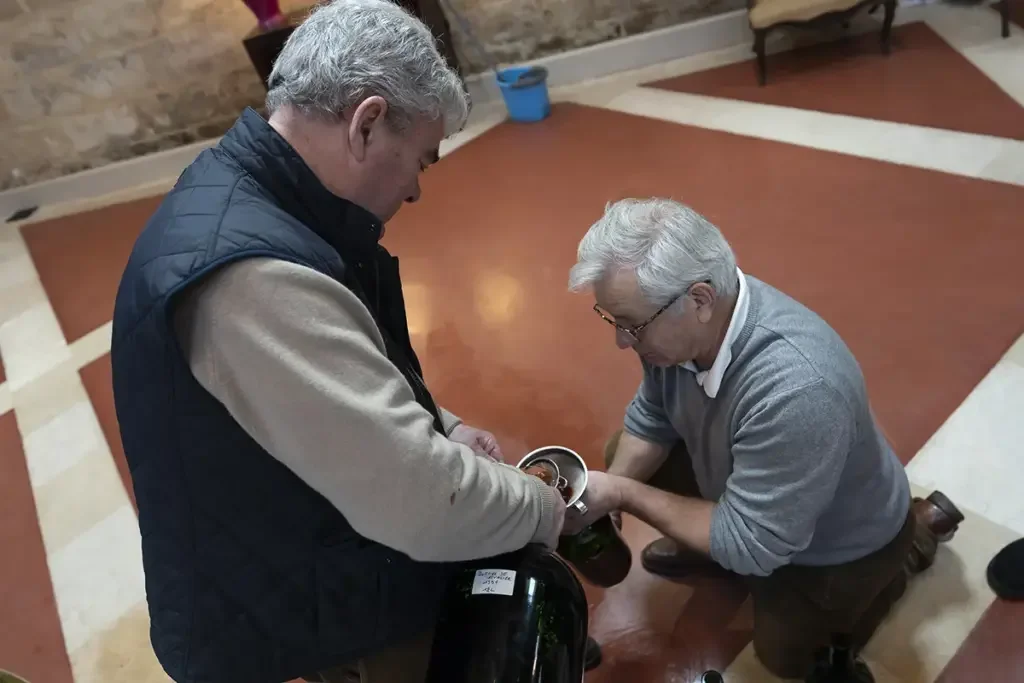 Now the property has 65ha (160 acres) under vine, the majority devoted to red, the majority (and increasing) of that planted with Cabernet Sauvignon. Dark sand and gravel dominate this single sheltered block, with clay beneath; good drainage and prominent acidity are valued more and more as the soils get warmer. Olivier, Bordeaux ambassador par excellence, discerns positive progress over his tenure: "In Bordeaux, a warm vintage is a good vintage, and a warm terroir is a good terroir." He contrasts the damp mediocrity of some of the wines of the '60s with the recent sequence of excellence, citing 2015, '16, '18, '19, '20, and '22 by way of proof. Frost, he concedes, can be a problem (he has 17 anti-frost machines, especially useful, appropriately enough, in 2017), and generally the impetus has been toward organic certification. The health of the soils is weaned from non-intervention primarily. The accreditation was achieved for the whites in 2022 and will be concluded for the reds in 2024. "I signed a pact with the terroir 40 years ago," he says, and "we are both keeping our respective sides of the bargain." Well said! These are subtle, nuanced wines, far from demonstrative but built to last, as the tasting notes here confirm. And let us, in passing, not forget the supremely brilliant white wine, not under the hammer in today's analysis but legendary in its own right, and it will also be offered in magnums and double magnums at the auction held by Christie's London on November 30.
From Melchior to double magnum
So, it's a good time to celebrate, with a double magnum of the red wine from each of the 40 years to be auctioned at Christie's London. In some years, it transpires, there are no double magnums in the cellar. One misty day in late March is therefore set aside to decant, rebottle, recork, and capsule from (even) larger formats to ensure that each year is now represented by two double magnums, one for the auction, one for library stock. I am privileged to witness what turns out to be (as is so often the case chez Bernard) a family affair, with wife Anne and son Adrien both assisting, along with winemaker Louis de Bouglon and, of course, honorary family member Rémi. A symphony of cork, wax, and cascading wine ensues, with small samples of each wine poured for me to taste before the addition of protective sulfur dioxide and the recorking. In the great hall of the hunting lodge, with thick stone walls, a massive fireplace, oak beams, 19th-century oil portraits, and (rather surprisingly) chinoiserie, the bottles are gradually lined up on a long trellis table. The work takes the whole day, and demands great attention to detail in terms of sediment, levels, and the like. Rémi needs to hold the double magnum as Olivier carefully stands over him to decant from the larger format—a vinous pietà, silence as it takes place.
It is quite an exercise all in all, especially given the scale of the operation and the large formats in play. They are, if you will pardon the list: 18 liter (Melchior) for 1987, 1988, 1989, 1990; 15 liter (Nebuchadnezzar) for 2000; 12 liter (Balthazar) for 1991, and 6 liter (Impériale) for 1992, 1993, 1995, 1996, 2003, 2006, 2007, and 2015. The other vintages are already available in the double-magnum format. Olivier has decided that, for many reasons, this format is the optimum size for this purpose; he seeks consistency and longevity in every vintage. New Diam closures have been bought, and the cellar master is on hand with his pipette to add a little liquid sulfur dioxide. Olivier then tops up from carafe with a modest drop of 2006 or 2008. "This carafe is usually for le service," he jokes; this time the gratification is to be deferred for posterity. "Before 2005, there were very few larger formats anywhere in Bordeaux," he advises. Domaine de Chevalier, fortunately, has maintained a relatively healthy library for days such as these. And a very special day it is, too. There is a wonderful atmosphere—familial, dignified, respectful, and proud. Forty years of excellence from one of Bordeaux's greatest ambassadors. Bravo!
Tasting Domaine de Chevalier
Domaine de Chevalier; March 26, 2023. Because of the informal and necessarily rather rapid nature of the tasting, I have not scored the wines. The 2016–21 vintages were tasted over lunch, while the 2022 was a barrel sample.
1983 (65% CS, 30% M, 5% CF)
Holding color admirably. Refined, with a seductive nose redolent of truffles spiked with incense, the sacred and the profane. Just a touch stalky, peaty almost, something elemental. Fine acidity inspires a lively peroration and a graceful, evocative finish.
1984 (85% CS, 10% M, 5% CF)
Minty and lively on the attack. Graves stone fruit, with a hint of wild strawberry and white chocolate for good measure. A touch of caramel, however, on the palate, telling tales from the old school (chaptalization?). A little short but bearing up well. A higher quota of Cabernet Sauvignon than usual.
1985 (65% CS, 30% M, 5% CF)
Fantastically allusive; black tea and gunpowder come to mind. An imperious tannic grip, velvety and plush, the acidity bearing up well. Quintessential Chevalier, built to last, with Palladian elegance and careful understatement juxtaposed.
1986 (65% CS, 30% M, 5% CF)
A minor key compared to the '85, but with vestigial charm and a robust temperament. Black fruits to the fore, a touch of soot and licorice, too. Composure and elegance, pashmina tannins, a wrap of acidity that does not overwhelm, and a firm, black-cherry finish. Food friendly.
1987 (65% CS, 30% M, 5% CF)
An aromatic of tobacco and ancient evenings; hints of white chocolate and forest floor. The palate is more delicate and restrained than its two forebears, the sinews starting to relax, but the spirit is still there. A gentle ferrous lift on the finish.
1988 (65% CS, 30% M, 5% CF)
A child of its vintage; reticent, subtle, and ultimately beguiling. A very fine linear character, with firm acidity, discreet tannins, and a gentle crescendo on the palate. Cigar box and cèpes, with hints of bacon rind and eucalypt, all finely rendered and composed. Perfect now.
1989 (65% CS, 30% M, 5% CF)
Warmer and riper than the '88, with a deeper color and a touch of VA behind the plums and Provençal herbs. Still generous after all these years, structurally poised and quietly powerful; à point now and for at least the next five years.
1990 (65% CS, 30% M, 5% CF)
An excellent 1990, holding color well, with a deep core of red and black fruit. Violets and Assam tea leaf, striking chiaroscuro definition, and a backbone of acidity that does not overwhelm the structure. Velvet tannins, tight-grained and petrified over time. Classicism writ large, almost ageless.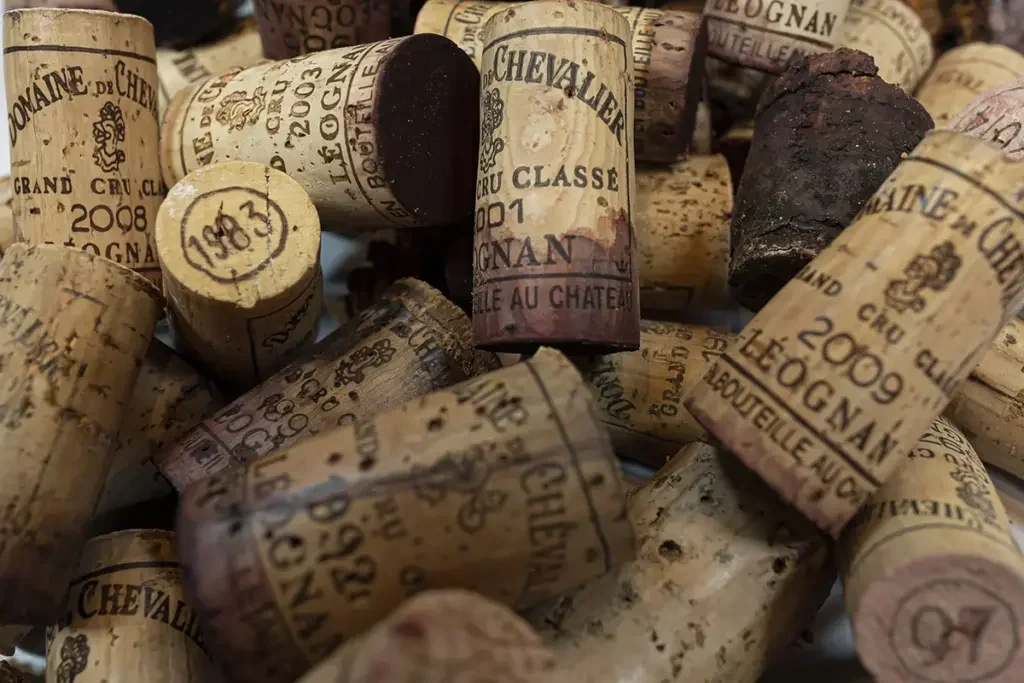 1991 (65% CS, 30% M, 5% CF)
Chevalier often performs well in apparently lesser vintages. The '91 is more open than the '90, its aromatics with more lift; cassis and peonies, with petrichor and cigar box in the background. A medium intensity on the mid-palate, everything in proportion, the tannins finely corseted, and then, most striking, a glorious, uplifting, floral finish. Freshness rewarded.
1992 (65% CS, 30% M, 5% CF)
More evolved than some of its peers in color, with a terra-cotta rim and miasma at the core. Chewy and still muscular, maybe less composed than an archetype might be on the finish, which is, by comparison, a little abrupt.
1993 (65% CS, 30% M, 5% CF)
A lifted aroma: autumn bonfires in the next village; cèpes and dried rose petals. The palate is firm and foursquare; hints of tapenade and spirit to finish.
1994 (65% CS, 30% M, 5% CF)
A big-boned, stentorian example, each of the constituent elements vying for attention in a competition of ascending grace. The fruit has a pastille character, with hints of balsam and fig; black olives and sous-bois. The mid-1990s have bequeathed powerful wines, masculine of temperament and somewhat orotund. Food-friendly and baroque.
1995 (65% CS, 30% M, 5% CF)
Dark chocolate, crème de cassis, and dried fruit; a velvety texture, a Bacchanalian temperament; pebbly, too, with a certain sapidity behind the power. An archetype of the pre-Derenoncourt era, this will not want for followers. Muscular and hedonistic, but the cheekbones do not lack definition on closest inspection.
1996 (65% CS, 30% M, 5% CF)
An ethereal nose: rose petals, peonies, and Victoria plums. The mid-palate is a cadenza of taut stealth, the acidity marked but not overbearing, the fruit running an encyclopedic gamut. Somewhat atypical after a sequence of more powerful examples. A pleasing contrast and more than holding its own.
1997 (65% CS, 30% M, 5% CF)
Delicate, with a definite fade on the rim. An ode to autumnal characteristics, with gorse, thyme, and blood orange bolstering the usual descriptors; a billowing, slightly loose-leafed character, attractive, ephemeral, a touch mournful.
1998 (65% CS, 30% M, 5% CF)
An odd year in Pessac, very wet and then very hot; it is the latter feature that has left its mark here. Ripeness held in a tight tannic grip; Chevalier restraint tempered by a core of dark fruit; morello cherry and mulberry are announced behind the pebble-dash façade. A little foursquare, but with plenty of latent power.
1999 (65% CS, 30% M, 5% CF)
TCA on the first attempt; the replacement still lacks for focus. Maybe a little overextraction evidenced. Dark color, very firm tannins.
2000 (63% CS, 37% M)
A magnificent gift from this warm and generous vintage. The gradation of color, flavor, and texture alike are finely meshed into a definitive statement of Pessac power. Sweet fruit and gunpowder, dried cèpes and potpourri, a confident and uplifting finish. An excellent 2000.
2001 (65% CS, 30% M, 5% CF)
A more delicate missive. Finely etched linear acidity and a floral elegance: violets and peony; a hint of the pines of the surrounding forests. Medium intensity, with a refreshing finish.
2002 (65% CS, 30% M, 5% CF)
A deep color, onyx at the core, with a firm rim. Aromatics dominated by graphite and vegetable sap, with cassis and bitter chocolate in support. The palate has an almost syrupy texture, yet with a distinctive almost medicinal character, resinous maybe. A touch of overextraction here, seemingly; the finish is monochrome, lacking nuance. Atypical.
2003 (65% CS, 30% M, 5% CF)
A generous floral nose, careless of the reputation of this scorching year. Structured, powerful, and authoritative; plenty of ripe fruit and matière, but no hint of surmaturité. The acidity is holding its own, with only the slightest astringency on the back.
2004 (53% CS, 35% M, 6% PV, 6% CF)
A pleasing statement from a sometimes-forgotten year—a year of plenty, in terms of both quality and quantity. A little reserved, thereafter upstanding, well bred, and with classic Graves pebbles and moist coal leavening the generous cassis and blueberry fruit. A hint of jasmine on the nose and eucalypt on the back, combining to add a charismatic flourish. The first year in which Petit Verdot staked a claim in the blend, usually repeated thereafter.
2005 (65% CS, 30% M, 3% PV, 2% CF)
Boasting all the complexity and potential that one would hope for from this fantastic year. An intense inky core and equally intense aromatics of forest floor, blue and red fruit, then hints of cardamom, fig, and laurel. Power patient in the wings; the tannins silky yet authoritative, the acidity suitably linear. On the up (and up). One of the most impressive wines of the tasting.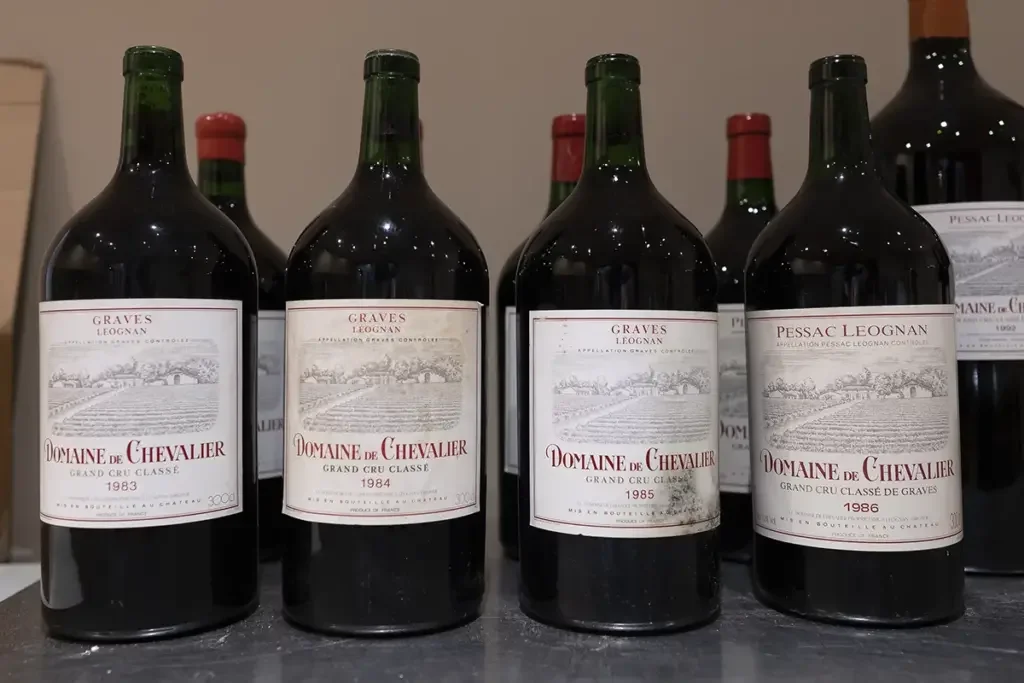 2006 (63% CS, 30% M, 4% PV, 3% CF)
A fascinating 2006, child of a gentle, but finely etched vintage, with nothing to disturb the golden mean that marries linear acidity and generous fruit. The tannins are especially rigorous; pinpoint focus and an embracing sinew. Very impressive and beautifully composed.
2007 (63% CS, 30% M, 4% PV, 3% CF)
Youthful and coiled, a little hard to read as it contemplates the transition from secondary to tertiary expressionism. Tea and gum cistus stand out today. Medium weight, with hints of crushed pepper and bitter chocolate on the back.
2008 (66% CS, 25% M, 9% PV)
The cooler years with later harvests inspire the more poetic side of Domaine de Chevalier; 2008 is not an exception. There is a generous color but, beyond that, a subtle floral aromatic, with hints of verbena and cinnamon and a palate texture that is marked by a lifted elegance. Not a long-term wine, perhaps, but very pretty.
2009 (65% CS, 30% M, 3% PV, 2% CF)
A complete contrast to the 2008: a powerful wine bursting with potential. Complete and intense, yet with lovely acidity running through its gastronomic heart. Smoky, lifted, long, and rich. Dark fruit dominates (blackberry, blackcurrant, and plum), with bitter chocolate and Havana cigar in support.
2010 (55% CS, 35% M, 5% PV, 5% CF)
A magnificent Chevalier combining all the best features hitherto encountered, viz a distinct Pessac gravelly texture, robust fruit, power, and an ethereal floral lift (its acidity appreciably higher than in the 2009). Everything marries harmoniously in this terrific example, which is just getting into its stride.
2011 (62% CS, 32% M, 6% PV)
Reticent on the day, the 2011 has a rich color and narrow rim, powerful smoky aromas, plenty of ripe fruit, and a firm, slight, muscular structure. A little austere on the finish.
2012 (64% CS, 31% M, 5% PV)
Not dissimilar to the 2011 structurally but maybe a little more expressive on the nose; gravel and dried rose petals to the fore. It closes down quite quickly at the moment, but the mid-palate is accomplished. A very worthy effort from a tricky year.
2013 (85% CS, 15% M)
From the powerful end of the Chevalier spectrum, this is a subtle and nicely balanced example. The long, late harvest has underwritten complexity here, and there is significant weight behind the perfume. Atypical, given the high proportion of Cabernet Sauvignon, but composed and slowly emerging (in the manner of the year itself).
2014 (65% CS, 30% M, 5% PV)
A touch dilute in the middle, perhaps; articulate but not grandiloquent.
2015 (65% CS, 30% M, 5% PV)
Precise and detailed, pointillist; everything, per Olivier, comme il faut (as it should be). To say the least. A classic Pessac nose, tobacco and pebbles, coal dust and mature plums; even a hint of sandalwood. Composed and elegant, perfumed and seductive. On the march.
2016 (55% CS, 35% M, 5% PV, 5% CF)
A dry vintage, with the old-vine Cabernets really coming into their own. A suitably intense color and distinctive sense of crème de cassis and eucalypt; a hint of licorice thereafter and a rich balsamic texture.
2017 (70% CS, 25% M, 5% PV)
A tricky year marked by frost and above-average rainfall. As anticipated, the wines majors on perfume and floral elegance, linear acidity, and a poised, silky structure.
2018 (65% CS, 30% M, 5% PV)
Benchmark Chevalier, a more-than-worthy vindication of Olivier's dictum that equates the warmth of the vintage with the quality of the wine (even if one wonders for how much longer). Certainly apposite here; a magisterial color and encyclopedic nose, with the sweet and savory neatly entwined. Firm natural acidity, almost miraculously, embalms the ensemble in a haunting web of potential.
2019 (65% CS, 30% M, 5% PV)
More in the vein of the 2016, another classic from Monsieur Bernard. The attractive dark-fruit aromatic is tempered by a gravely subtext; this is echoed on the palate, which is elegantly coiled, everything in proportion, acidity in support of the robust tannins, discreetly powerful—all very Chevalier, therefore. Great potential here.
2020 (55% CS, 35% M, 5% PV, 5% CF)
A little more reticent than the 2019, but maybe with riper fruit, awaiting its moment. Pepper and clove behind the cassis; tree bark and a hint of clove. Fascinating on the day, yet hard to read with great precision, such is its innate complexity. One can discern brilliance, that's for sure.
2021 (80% CS, 10% M, 5% PV, 5% CF)
A classic, gravelly Chevalier; one of the stars of a tricky vintage, once again automatically profound and with prefect balance. Tobacco and sous-bois support the dark fruit as the acidity, linear and confident, buttresses (and in no way undermines) the pashmina tannins. A very successful 2021—one of the wines of the vintage, in my view. The decision to up the ante with the Cabernet Sauvignon was clearly a good one.
2022 (65% CS, 30% M, 3% PV, 2% CF)
Adrien advises that the combination of the coming of age of the replantings of the '80s and '90s and the tilt toward biodynamic viticulture are the keys to the success of the 2022 here. The intensity of the vintage was thus tempered by the depth of the root structure, bestowing balance and complexity. Cabernet Franc and Petit Verdot add, respectively, a leafy blue-fruit elegance and a lick of spice. An upstanding young Chevalier.