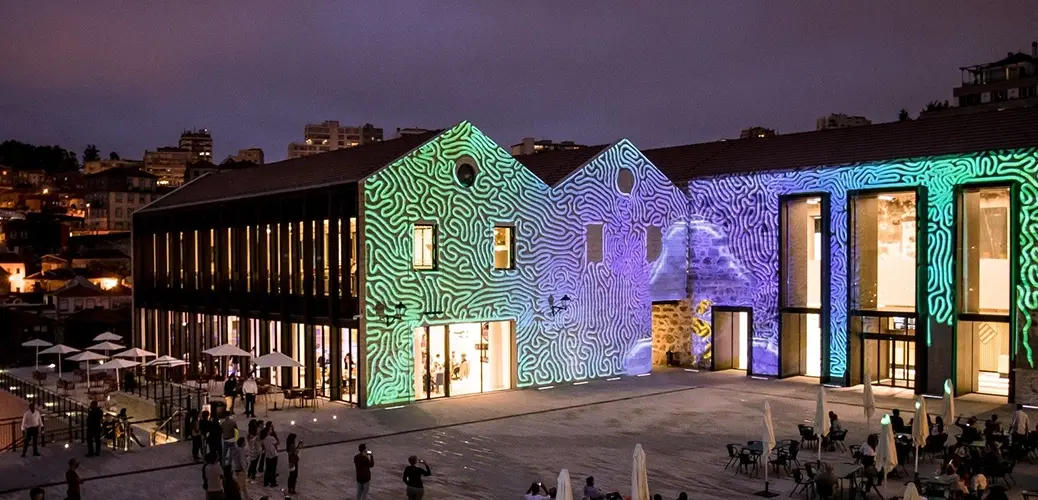 Raymond Blake marvels at the latest additions to World of Wine, Porto's vast new complex of museums, restaurants, and bars, paying tribute to the visionary behind it.
How Porto has changed. On my first visit, toward the end of the past century, the city presented a drab, down-at-heel face to the world, leavened only by the excellence of a multiplicity of Ports. Back then, I actively counseled non-wine-trade people to avoid Porto (and, by extension, the Douro Valley), whereas today I do precisely the opposite. Previously, I wrote about visiting the region, "Doing so was once a chore, a trial to be endured by hardy wine merchants and others of that ilk. The beds were lumpy, and so was the food. Today, it is open to visitors like never before, beds are welcoming, and food is satisfying, though masochists can still find relics of the past." On that latter note, with each passing year, masochists are having to search harder and harder for dodgy board and fare to meet their needs.
Few cities have undergone such a positive transformation in a relatively short space of time as Porto. On my most recent visit in May 2023, the city teemed with life, an exuberant mood held sway, fostered by the warm sun and the cocktail that has yet to take the world by storm—the "Port-tonic." It's a magical combination of white Port and tonic, leavened by a slice of lemon and a sprig of mint. Its great attraction is that, at a stroke, it elevates white Port —which can be a rather humdrum drink, though there are, of course, some great exceptions—into something special, fresh, and energizing. Sun and cocktail encourage languid lazing and people watching, but to indulge solely in that would be to miss one of the world's most ambitious wine visitor attractions: World of Wine, or WOW.
Living up to the acronym
First, though, a word about words. Strictly speaking, the city of Porto lies on the northern bank of the Douro River, and Vila Nova de Gaia, which might be termed the Port-wine capital, lies on the southern bank. I, and many others, tend to use "Porto" loosely to encompass both cities, to avoid endless qualification. But WOW is in Vila Nova de Gaia, and given its size and footprint, it could never have been constructed in Porto. That it could be accommodated in Vila Nova de Gaia is down to clever repurposing of the expansive Port lodges, the traditional wine warehouses used to store and mature vast volumes of Port. As Porto's popularity as a tourist destination surged, they came to occupy prime real estate that could be repurposed to take full advantage of the increase in visitor numbers. The lodges had been built originally to store the Port in less torrid conditions than those found in the Douro Valley—which led to the wines tasting of "Douro bake"—not a problem today, when the wines can be safely stored in the valley in temperature- and humidity-controlled conditions. With the lodges cleared of their contents, work could begin on transforming them into World of Wine (which was first covered here in WFW 70, pp.90–92).
WOW is the brainchild of Adrian Bridge, CEO of The Fladgate Partnership (Taylor's, Fonseca, Croft…), and it stands as testament to his energy and vision for, in conception and construction, it was a vast project that came to fruition at the height of Covid yet managed to open successfully barely one month behind schedule. How to describe it? It sounds clichéd to say that, in scale and scope, WOW is mind-boggling, but that is exactly what it is, and in that respect it fully lives up to its acronym. In brief, it encompasses seven separate but related museums and as many as a dozen restaurants and bars, including T&C (traditional Portuguese cuisine); 1828 ("The best steakhouse in Portugal"); Golden Catch (seafood); and Mira Mira by Ricardo Costa, who has won two Michelin stars at The Yeatman. The museums include The Wine Experience, which "peels back the onion of winemaking enough for a layman to learn something, and for a more knowledgeable person to dive into more detail, if they wish. It is an experience for anybody who has enjoyed a glass of wine and wondered why they prefer one taste to another."
A whole book could be written about WOW; indeed, one has (World of Wine: A Guide, by Neill Lochery; Bloomsbury Caravel, 2020), and it is the source of the above quote. Other museums include Pink Palace—"An exaggerated, flamboyant, and sensory experience that immerses visitors in the world of rosé"—and Planet Cork, "an interactive museum that invites the exploration of the cork oak forests of Portugal."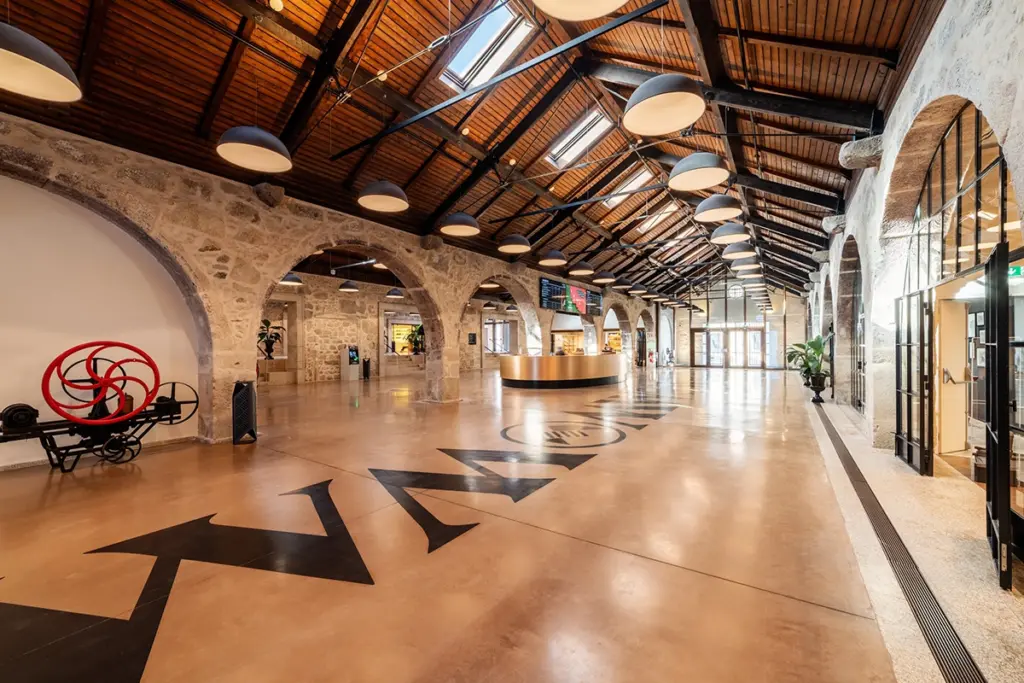 Nine millennia of drinking vessels
Despite the appeal of these myriad attractions, one of the museums stands primus inter pares among its neighbors: The Bridge Collection. As the name suggests, this extraordinary collection of drinking vessels that spans nine millennia is the personal collection of Adrian Bridge and has been assembled over a span approaching 20 years. It is important to stress that it includes thousands of drinking vessels and is not only confined to glasses. More than 2,000 pieces are on display, the earliest of which dates from 7,000 bce. In Bridge's own words, "I started collecting after a suggestion by James Ede (Charles Ede Ltd), from whom I had bought a few antiquities. He put it in my mind to have a collection of Roman drinking vessels that I could use to serve Port in. It seemed a great idea, and I started. I have used some of them a number of times to serve Port, but this requires care[…]. Experience tells me that it is not a great idea to use them, though—not because any have been broken, but just because it tends to kill the dinner party a bit."
Nothing, however, could kill Bridge's enthusiasm for his collection. He is hugely knowledgeable about each piece, and the allotted hour for our visit passed in a trice. Time and again he checked his watch, insisting we press on, before spotting a gem that had to be explained. These are his babies, and he can give seed, breed, and generation on every one of them. Having Bridge as a guide is a great bonus, but mention must also be made of the impressive setting and layout of his collection: It could hardly be bettered, and it greatly enhances and contributes to a proper appreciation and enjoyment of each piece and the collection as a whole.
It sets the bar high for its sibling museums and, mercifully, there are no gimmicky installations of the attention-grabbing-but-ultimately-unengaging stripe. Save perhaps for the "sculpture" that depicts a right hand holding a bottle that continuously pours red wine into a glass in the left hand: It veers dangerously close to tacky—and the floor beneath sports a pattern of splashes. That blip apart, I would wholeheartedly recommend a visit to WOW, with a minor caveat…
Just as a book has been written about World of Wine, so, too, could many days be spent there trying to take it all in. But to do so might be counterproductive, since there is simply so much to see and absorb that it could easily become overwhelming. A better plan is surely to be selective and to visit at least twice—perhaps "top and tail" a week-long visit to Porto and the Douro with a half-day stop in WOW at each end. You won't be disappointed.
For more information, to purchase tickets, and to plan a visit, see wow.pt