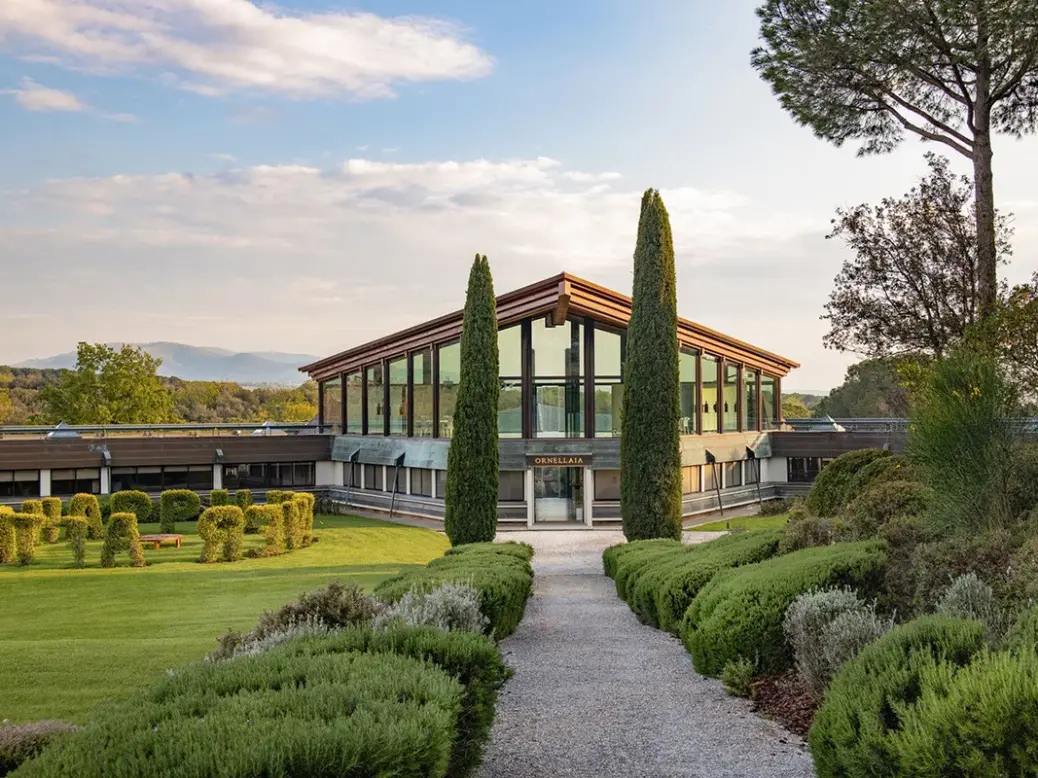 The estate behind one of Italy's finest red wines has worked hard to produce a white wine worthy of the Ornellaia name. Margaret Rand joined chief winemaker Axel Heinz in London for its first-ever vertical tasting, charting the evolution of the wine over its first seven vintages.
Axel Heinz has a neat way of describing a poor summer: it's "absence of drought." Heinz is, of course, the chief winemaker at Ornellaia (or at least he will be until the summer, when he will be moving to Bordeaux to work at Château Lascombes). Bolgheri, on the Tuscan coast, is not a place one normally associates with dreadful summers or any euphemisms for dreadful summers. But the context is that Ornellaia Bianco, which is mostly and sometimes entirely Sauvignon Blanc, needs enough water. "Warm years can be good if there's enough water," he says. In 2014, when there was a great absence of drought, the wine was remarkably good—but let's leave the tasting notes aside for the moment. 
Instead, how do you invent a white wine when you already have Ornellaia? It has to match up. And Bolgheri—even though it's on the coast, and even though it grows some white (mostly Vermentino), and even though the original DOC was for white and rosé rather than red—does not offer many clues as to what such a white might be.
Ornellaia did make a white, in the past. It was called Poggio alle Gazze dell'Ornellaia, and Lodovico Antinori, who founded Ornellaia, always had a soft spot for Sauvignon Blanc, so that's what it was. But it was stopped when the current ownership took over; and when they began to think again about white, they started with a clean slate. Quite a small slate, though, since they envisioned only 4,000–10,000 bottles and without much to refer to as a model.
As a starting point, there are Bordeaux grapes in Ornellaia. Semillon seemed obvious to begin with, but consultant Michel Rolland said, Yes, wonderful idea; you'll have to wait 30 years for the vines to mature. They did plant some in the end but picked the first grapes only in 2022, so it's a bit early to say what it will be like. Heinz thought about Mediterranean grapes for more exuberance: Viognier and, yes, Vermentino. Viognier blended into Sauvignon Blanc at somewhere between 10 and 30 percent might work, he thought. But Viognier, he says, "is not great every year. It's unreliable in yields and in picking dates. 
"I thought we could pick Sauvignon Blanc early and add richness with Viognier, but there's a fine line between opulence and heaviness—just a few days' difference. Sauvignon Blanc can ripen well without losing acidity."
He also thought of Petit Manseng, which they use for their occasional sweet wine, Ornus. There's an experimental plot of Verdicchio, too. But Petit Manseng isn't really suited to dry wine—it's far happier making sweet, and "Verdicchio isn't much of a team player. It's always better on its own."
They could have tried more Italian varieties, perhaps from around Rome; they could have tried Chardonnay, though they felt it wouldn't fit the overall style of Ornellaia.
So, there was a certain inevitability to settling on Sauvignon Blanc as the main grape. "I decided that what I liked most in the wine was Sauvignon Blanc." But the wine looks neither to the Loire nor to New Zealand for inspiration. Nor Pessac-Léognan, since there's not much visible oak. Semillon in the blend might take it further that way, but actually the wine is supposed to be a bit different from all of them, and not quite like anything else. 
Tension, freshness, and richness
The winemaking and aging have evolved over the years, with less new oak and some bigger barrels, particularly for the Sauvignon, from 2019. New oak is now down to between 20 and 25 percent, from between 30 and 40 percent in the early years. Fermentation is all in barrel, and there is no malo.
The wine is all about the tension between texture, richness, and freshness, and it can vary quite dramatically; it has not been an even trajectory over the years. For example, the 2018 is super-ripe, the 2019 much crisper; and the 2020 and 2021 are, says Heinz, in the middle.
"Some regions allow both texture and aromatics," says Heinz, "but the farther south you go, the more you have to choose. It's difficult to have freshness, aromatic quality, and richness. Diversifying grape varieties is one way, but it's difficult to find the exact middle. And there might be no choice—the vintage might force you."
And for all the possibilities for playing around with styles, it has Ornellaia's name on it, so it has a lot to live up to. You have to be careful. "It has to fit into the overall Ornellaia style," says Heinz. Viognier might not be the perfect choice of blending grape, he thinks—but ask him a really stupid question, like when it will be what he wants it to be, and he quotes conductor Nikolaus Harnoncourt to the effect that if he were satisfied, he might as well be dead. And on that note, let's look at the offerings.
Ask Heinz which is his favorite wine, and he picks quite a lot of them. "I like 2019, because I like the direction in which we could push the wine in a fairly warm year, which was not early ripening. I like 2015, because there's an element of surprise; and 2013, because it's the first vintage and at an interesting stage. And 2017, because it's one thing to be successful when conditions allow success, and another when conditions are less favorable." 
Tasting Ornellaia Bianco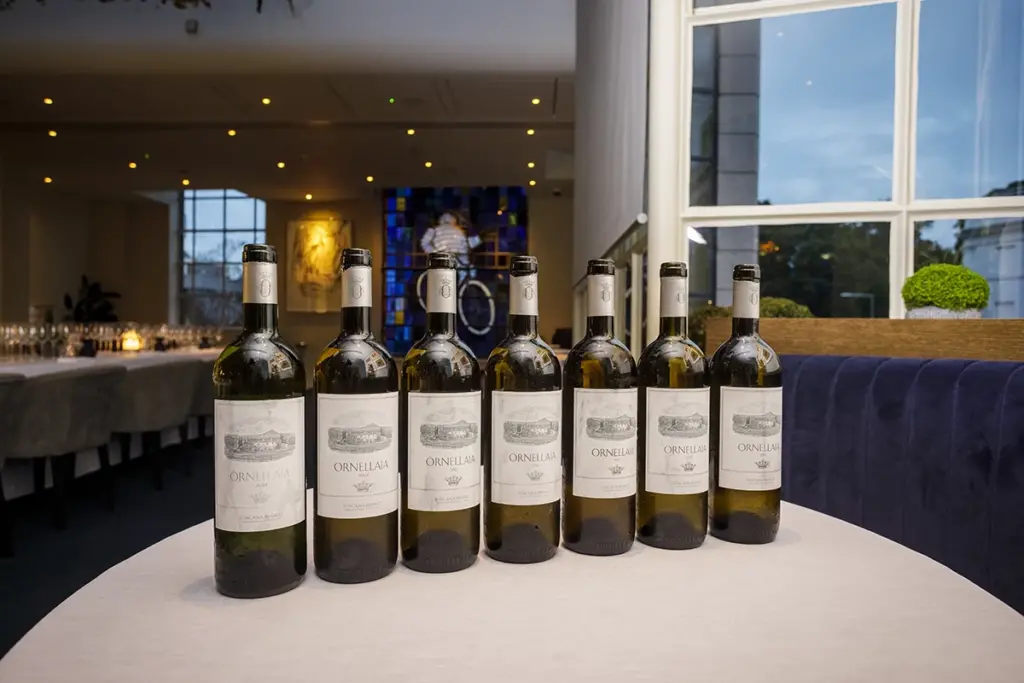 2013 (70% Sauvignon Blanc, 30% Viognier)
The first vintage. Heinz describes 2013 as "a fake cool year." The wines have a lot of freshness because the growing cycle started late—a couple of weeks late. Summer was hot and dry, and the grapes ripened quite late. The oak is present, and the nose is creamy and rich, with tropical notes. But all this is cut through with high acidity; the palate has confit lemons and nuts. Good weight and a long finish. | 90
2014 (74% Sauvignon Blanc, 13% Viognier, 13% Petit Manseng)
This is the year with "absence of drought"—indeed, says Heinz, absence of summer. "I'd like to see a year like it again—but not for the reds," he continues. "We were trying out a lot of things this year." The nose is leaner than on the 2013, and there's a touch of honey and some salt on the palate. Taut and concentrated. Less fat and flesh than 2013. | 93
2015 (100% Sauvignon Blanc)
A warm and dry summer, slightly challenging for whites. The Sauvignon became rich, concentrated, and powerful, so that adding Viognier would clearly have been a bad idea. A lean nose, with some pineapple. The palate drives forward, structured and sleek. Salted lemons, ripe and pure; some herbal notes; steely structure, very long and muscular. | 94
2016 (100% Sauvignon Blanc)
A warm spring and an average summer, with some water stress alleviated by sea breezes that cooled the nighttime temperatures. Broader and more evolved than 2015, more yellow fruits and nuts. Plenty of freshness, acidity, energy, and drive. Lovely texture. | 91
2017 (91% Sauvignon Blanc, 9% Viognier)
A hot, dry year, with the earliest ever harvest here, starting on August 7. Heinz was away on holiday and allowed his vineyard manager to pick a few plots. "It's always dangerous to allow your vineyard manager to pick when you're not there," he says. "You never know what you'll find." It was never the greatest year for whites, he adds, but it's aging better than expected. Pear and fennel on the nose; ripe pear and citrus on the palate, with good freshness, herbal touches. Very good length. | 91
2018 (91% Sauvignon Blanc, 9% Viognier)
This was the year when Heinz wanted to find out how late they could pick. "When picking had finished, I thought we might have pushed things too far, so we slightly reversed the trend in 2019. But the wine surprises me: I thought it might not age, because of how far we'd pushed it. Aromatically, it's a bit past what we wished, but its evolution is positive." Taut, tight, rich, slightly hot on the finish—quite hot, actually. But fresh, with underlying finesse. But that weight of heat on top makes it feel a touch top-heavy. | 89
2019 (81% Sauvignon Blanc, 19% Viognier)
A rainy spring and a late start, and then 45 consecutive days without rain in summer, with a cooler August. A hot summer after a rainy spring. Perfumed, a bit greener on the palate; crunchy—certainly a reaction to 2018. Tight, precise. Silk wrapped around crunchiness; lovely texture. Some green hazelnut notes and an attractive slight bitterness. Very polished. | 94