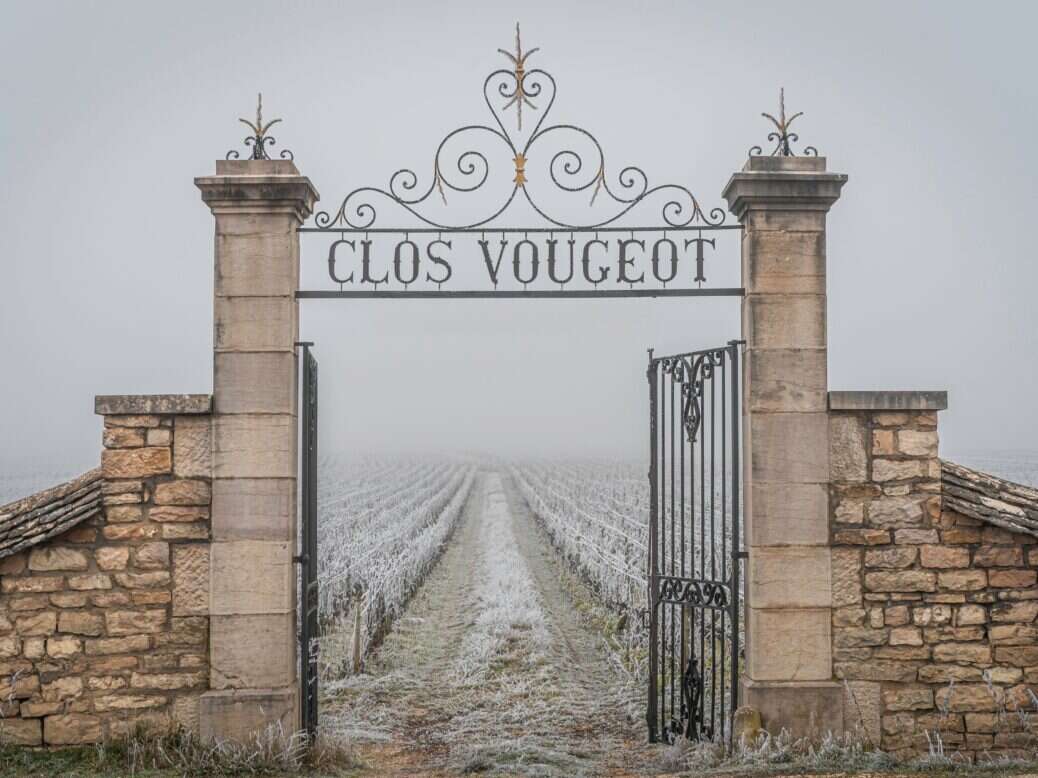 Andrew Jefford is inspired by a single bottle of Château de la Tour 2018 Clos-Vougeot Vieilles Vignes.
Does the wine world have a center? Or a periphery? Surely not. Difference is the engine of wine creation, which in turn seeks out new difference. The global roster swells; skies change, reform, surprise. Thus, the many-scented ripples extend, washing to and fro, bringing joy and intrigue, every glass chatting companionably with every other: a demos unlimited.
Step into time, though, and the case may be different. There is a gravity of succession at work here. Side-lit in this way, the little upstairs room in which I tasted this wine may well lie close to the center of our wine world. It's in a place, in other words, where an emblematic pattern of restorative loveliness first came into being.
Château de la Tour is the only winery inside Clos Vougeot, its wine drawn from the largest holdings (5.48ha [14 acres], or around 400 barrels a year) of the grand cru. The building dates from 1890; before that, this room would have been air over vines. Eighteenth-century swallows would have swooped here in summer; 15th-century crows cawed their way through the still, frosty winter chill. The vines and their ancestors have stood for 800 or 900 years. This was a vineyard cleared, planted, and eventually walled by patient Cistercians, over the course of two centuries, from 1109.
It was a local vineyard, initially: Cîteaux, wheezing in its forest marsh, had been founded 11 years earlier, under 9 miles (14km) away. The dissatisfied radicals behind it struggled until the arrival of Bernard de Fontaine in 1113. Despite his own poor health (including, Britannica claims, "an atrophied sense of taste"), Bernard proved an inspirational leader. Forty years later, Cîteaux was motherhouse to 400 abbeys. A cellar and dormitory were built among the Vougeot vines in the 12th century and subsequently much expanded, including the installation of four giant presses, each capable of pressing 4 tons of grapes. That monastic grange, the Château du Clos de Vougeot, is the second, older and larger building inside the vineyard walls. Wine is no longer fermented there, though its rafters often ring with song.
Clos Vougeot: Grand cru joy
The only wine coming into being inside the clos is fermented at Château de la Tour by François Labet, his son Edouard, and their helpers. While Edouard supervised the barreling of the 2022 harvest in the cellar downstairs, 16 fellow students and I gathered with François in that upper room to taste two vintages of the classic cuvée (2017 and 2018) and five of the Vieilles Vignes cuvée (2019 back to 2015). We laughed a lot; father and son are both full of fun. The room was sunlit, warm. But the wines were joyful and exuberant, too: broad-shouldered, generous, tender, animated. Perhaps that's Clos Vougeot at its best? It's not the sternest red grand cru (Corton, maybe); nor the grandest (Chambertin), the most exotic (La Tâche), the most courted (Romanée-Conti), or the most delicate (Musigny). But it can be the most joyful.
"Wine should be like a ball in your mouth," François told us. And these wines were—aided in these vintages by what he calls "climate deregulation, very good for the northern regions." Thus far. The downside, he said, was "more climate accidents": quantitively, Château de la Tour has lost the equivalent of two full harvests between 2010 and 2020.
What defines a ball? Its roundness, to begin with; there was nothing ribbed or angular here. All of the wines were fleshed and poised, not gaunt. A ball needs inner substance, held smoothly in place by its shell, no matter whether that substance is air, rubber, twine, cork, sand, or gel. These wines are warm with fruit flesh, itself lent density by the structuring effects of whole-bunch fermentation, as well as by skin and pip tannins, coaxed into solution with a little foot pigeage; however, said Edouard, "we are infusion now—more like a tea." And a ball, realizing its purpose, implies movement and energy. These not only filled the mouth but described an arc within it. As I tasted, I jotted the words "breathing" and "breath," as if the wine was a kind of athlete, ventilating as she or he surges forward.
The differences in season were there: 2019 zesty and bright yet still misty with youthful sweetness; 2017 aromatically allusive, a charmer, easier to read at present than its peers; 2016 as elegant and detailed as a book of hours, tight-stitched and pure; 2015 the biggest and densest of all, grand and yak-like, with a steam of fruit swirling from its nostrils. But let's choose the 2018, since it was with that wine that I felt I might have seen what the distant Cistercians glimpsed when summer had been kind, what they took with them back to the cold cells of Cîteaux, and what later became so prized that even the Avignon popes wanted "Beaune" on their tables.
It was, in a way, an overture to the hills above and the land beyond: summer itself, in pasture and meadow, in bramble and stone, in spice and herb; a wine so joyous that it almost seemed loving.
"On apprend beaucoup plus des choses," wrote Bernard to the English cleric Henry Murdac, exhorting him to the monastic life, "dans les bois que dans les livres; les arbres et les rochers vous enseigneront des choses que vous ne sauriez entendre ailleurs …" (Lettres 106). "You learn more in the woods than in books," the man with an atrophied sense of taste wrote; "the trees and the rocks will teach you things that you'll never come to know elsewhere." Indeed; and the vineyards, too.