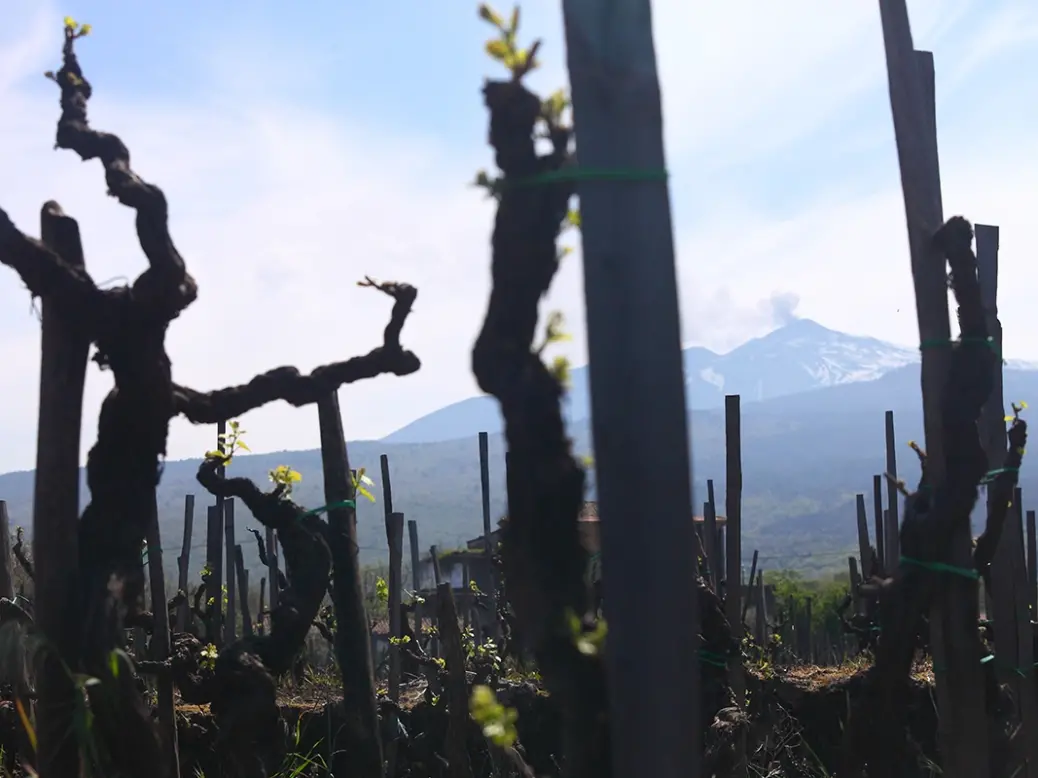 The modern revival of winemaking on the slopes of Mount Etna is only 30 years old. But the best of the elegant wines produced in these extraordinarily complex soils are already some of Italy's finest, says Andrew Jefford after a tasting shared with Bruno Besa and Michael Palij MW.
For scores and detailed notes on all 30 wines included in the tasting, subscribe to The World of Fine Wine.
Mount Etna is one of the world's most active volcanoes, with five distinct craters, 300 or so vents, and continual volcanic activity. Between eruptions, the vines have come and gone on its lower slopes for three millennia. Production peaked at the end of the 19th century; most sources suggest that Etna then had more than 50,000ha (123,500 acres), and perhaps as much as 90,000ha (222,500 acres), of vines. The 70-mile (110km) Ferrovia Circumetnea railway, lassoing the inland side of the mountain from its sea-stations at Riposto and Catania, was built (between 1895 and 1898) in part to transport wine. 
Viticulture on Etna dwindled during most of the 20th century. It's true that Etna was the first zone on the island to be given a denominazione (the decree was published on September 25, 1968), but in productivist times, the best sites of Etna had little to offer; the work was hard and uncertain, and wines grown at altitude didn't have the easy allure of generosity evident elsewhere. It took the scientifically minded pharmacist Dr Giuseppe Benanti, working with enologist Salvo Foti, to rekindle quality traditions from the late 1980s onward. Their work did not go unnoticed. Ambitious outsiders like Frank Cornelissen, Marc de Grazia, and Andrea Franchetti began to arrive in the early years of the 21st century. The new wines of Etna not only impressed, but their delicacy of style chimed with drinkers in a rapidly warming wine world where power and opulence were modulating from asset to liability—so much so that, over the past decade, Etna has been the subject of a vine rush: Plantings nearly doubled between 2013 and 2021 (from 680 to 1,184ha [1,700 to 2,900 acres]), and there are plenty more on the way. 
Etna's myriad attractions
What's the draw? Old vines are one reason; some predate phylloxera. (The louse struggles in certain Etna soils; those based on ash, pumice, and sand.) Another reason was altitude. Where is it possible to produce wines of delicacy and innate refreshment at lower latitudes? Only at altitude—of which Etna has plenty. The black and blistered mountain blows out at about 11,000ft (3,350m)—its height is never fixed for long—but most of the vines grow, peacefully enough, between 1,000 and 4,000ft (300–1,200m). Indigenous grape varieties capable of producing wines of grandeur and longevity are never common, yet Etna has not one but two such: Carricante for white wines, and Nerello Mascalese (and its less widely planted Cappuccio cousin) for red. These are, decidedly, a third attraction. The grandeur equation has two key terms, though, the other one being a distinguished site; without this, varieties are a postulate. And there it was, the magnetic fourth: Etna's extraordinarily complex suite of assorted volcanic soils. The more widely those involved in Etna's renaissance examined its potential, the more complexity they saw waiting. The proof was there, in the glass. As the results of our tasting show, when attentive and fastidious wine growers work with top-quality Etna fruit from the best sites, the results are remarkable: complex, delicate, poised, finely but firmly structured and eminently ageworthy red wines of effortless gastronomic potential.
A quick word about Etna's growing zone. This stretches, like a crescent moon, from Randazzo to the north of the mountain, via Milo in the east, to Ragalna and Rognoni in the southwest. (The bare, stony west side of the mountain has few vines, though the pistachios of Bronte are splendid.)
Milo and the eastern section of Etna is the preferred area for white wines (which we will taste on a later occasion). Most consider the greatest area for red wines to be the northern zone, between Castiglione di Sicilia (the town itself lies outside the growing zone) and Randazzo. There are, though, some great sites in the east and southeast, too; the clear winner of our tasting (a Benanti wine, fittingly enough) comes from Monte Serra, a distinguished site in the township of Viagrande in the southeast of the zone. There will, doubtless, be many classifications made of Etna's sites in the future (some specialists, like Ian D'Agata, have already made a plausible start on this), but it seems too early to be definitive.
Anyone coming to grips with Etna, though, will encounter the word contrada (contrade in plural). There are 133 officially recognized contrade in the growing area, and Etna enthusiasts regard the term as roughly analogous to climat in Bourgogne or cru elsewhere: a "distinguished site." Is this so? In one sense, contrade on Etna represent a kind of perfection of terroir. The volcano's infant geology, a work in progress, means that the outlines of many contrade correspond to precise lava flows and the soil types and structures they have bequeathed over a few thousand years. The growing zone's complex soil map represents this. Other contrade, though, have social or cultural origins—and in any case, altitude itself, and the topographical quiddity of a site, may be just as important as geology. (In a changing climate, perhaps more so.)
The greatest enthusiast among our tasters was Bruno Besa (despite approaching the tasting "with a certain sense of apprehension"): Bruno found 16 wines meriting a score of 93 or more ("Outstanding wine of great beauty and articulacy"), compared to eight apiece for Michael Palij and me. My own score sheet, though, was the only one to reach our highest category of 97–100 ("Great wine of spellbinding beauty and resonance, leaving the drinker with a sense of wonder")—which it did twice, with a further score of 96. We all found less successful wines; Michael Palij's criticisms were coherent and sustained, as his conclusions outline. There was agreement, though, about the qualities we liked in the most successful wines, perhaps best summarized in Bruno Besa's formulation: "Restrained, vertical, inviting, saline, weightless wines of considerable quality." And there may be more—much more—to come.
The Top 5: The best Etna reds
Benanti Contrada Monte Serra Etna Rosso 2016 (13.5% ABV) | 95
Bruno Beta | Pale garnet to tawny; pink rim. Youthful, vinous nose, with pomegranate, cranberry, wild strawberry, blood orange, and wild herbs. Medium-bodied, with super-fine tannins, super acidity, sweet cranberries, and red stone fruits. Long and refined. | 94
Andrew Jefford | Very light and translucent, with some bricking toward the meniscus. Refined, warm, harmonious, and at ease, with the fresh fruits now set back and the sweeter buried autumnal sugars coming forward; a lovely, mellow, end-of-season glow here. Perfect maturity, it would seem, the wine at its aromatic apogee. A wonderful nose-journey. Full and ample compared to the more sparely fleshed of its peers, yet fresh and nuanced, too—2016 was clearly a very good vintage for Etna. Great harmony and poise. The balance is so serene that one is almost in danger of underestimating the composition. This is a sublime wine of magnificent poise, naturalness of articulation, uniqueness, and truth to place. | 97
Michael Palij MW | Delicate notes of cooked plum, cherry, raspberry, violet, wet leaves, forest floor, leather, cinnamon, coconut, and cedar. The palate shows admirable concentration, with a lovely balance of fruit, acidity, and alcohol. Now at the peak of its powers, this nonetheless has the complexity and balance associated with high-quality, mature red wine—a quality all too rare in this tasting. | 94
Tenuta delle Terre Nere San Lorenzo Etna Rosso 2020 (14.5% ABV) | 94
BB | Garnet to lively pink. Open and vinous, with pomegranate, cranberry, red apple, herbs, and smoke. Medium-bodied, layered, and complex on the red-fruit palate, with super-fine tannins and a long, mineral finish. Beautiful red wine to enjoy over the next 5–10 years. | 95
AJ | Dark black-red. Clear and bright, but deeper tones than most. Sweet, bubbling cherry fruits, with some blood-orange freshness; a more primary aroma than most of its 2020 peers, but attractive and far from overt or obvious. On the palate, too, this is a softer, fruitier, and more immediately appealing wine than its craggier or more allusive peers, but with plenty of plant and crushed-herb freshness behind the redcurrant and bitter cherry. Excellent wine, pure and beguiling. | 92
MP | Black and red cherry on the nose, with woodsmoke, dried rose, Bovril, cinnamon, and licorice. The oak brings tannins that sit uneasily at the moment alongside the very delicate fruit. The finish is driven by the phenols, and though there is plenty of fruit, it is cloaked by barrel-maturation notes. Weighing up the use of oak and the concentration of fruit, it is likely that this wine is capable of assimilating this much wood—but only just. | 94
Donnafugata Contrada Marchesa Etna Rosso 2019 (13.5% ABV) | 93
BB | Ruby to lively pink. A touch closed on the nose, yet complex and refined, with small red fruits, cassis, fresh and dried herbs, blood orange, and star anise. A super palate, with very refined tannins, layered, small red fruits, and a long, weightless finish. Wow. | 96
AJ | Bright, deep cherry-red; translucent. A little more vegetal in aromatic profile than most of its peers: leafy notes with mushroom, too. Not unattractive: warm, ripe, a sense of site expression rather than misjudged harvest. Deep, firm, almost tarry in flavor, with fine, expressive tannins, lifted herbal notes, and restrained forest-berry fruits. Just a touch dry on the finish, but this is almost to carp. Another fine-grained expression of southern mountain fruit—a distant southern echo of Valtellina. | 90
MP | An intense and robust nose, jumping out of the glass. Notes of cherry jam, cooked plum, raspberry, and black cherry are allied to subtle notes of toast and cedar. The tannins are firm, and the acidity is finely chiseled, with more than sufficient structure for the ripe red and black fruit. Although dusty and drying at the moment, the weight of fruit suggests that this will develop well in bottle. | 92
Eudes Milleottocentoquaranta Etna Rosso 2017 (13.5% ABV) | 93
BB | Ruby to garnet pink. Open, complex, smoky, black-and-red-fruit, mineral nose, with hints of road tar, crushed stones, wild fennel, and oriental spices. Medium-bodied, lively, uplifted palate, with great acidity, fine tannins, and a sweet-cherry finish. | 94
AJ | Deep but clear and translucent black-red. Fine spice and herbal notes, but at first it seems to lack a little freshness and precision compared to the best of its peers. A very attractive aromatic profile nonetheless: pure Etna, serene and harmonious now with some bottle age. I come back 20 minutes later, and the freshness is gathering and lifting, so this is an authoritative wine that needs time and air, despite its six years of age. Orchestral, complete, and harmonious. Very good on the palate, with a sense of vitality and drama (thanks to magnificently articulate tannins) that wasn't evident on the aromas. A totally commanding wine, deep and tight-hewn still, with a huge amount still to give. 2017 was obviously a special vintage here, and this still has a long way to go. | 94
MP | A surprisingly fresh and vibrant nose, with cooked cherry, pomegranate, plum, and some earthy notes. At least it isn't oxidized. The finish leads with redcurrant, cranberry, and plum, supported by attractive levels of acidity, tannins, and tertiary complexity. This is drinking well now, though there is no rush. | 92
Tenuta di Fessina Il Musmeci Etna Rosso 2015 (13.5% ABV) | 93
BB | Deep garnet to tawny, pink rim. Mature, compact, and a touch rustic on the nose, with road tar, black fruits, black cherries, and prunes. Full-bodied, with big, powerful tannins, yet somehow balanced by the sweet black fruit. A long, muscular finish. | 92
AJ | Lots of redness still in this eight-year-old wine; relatively dark-hued. Vivid, earthy, clean, and pungently fruity; sweet and warm. Lively and still in very good shape, with the wild-fruit, herb, citrus, and stone notes all coming together gratifyingly. Grand Etna classicism here. Dense, meaty, earthy, vital, almost elemental: a wine of huge character that still seems relatively unevolved. Grand power and pungency here, with prodigious and articulate tannins. Magnificent European fine wine that still needs some time, though it is not "an easy drink" and is the complete style opposite to a grand Napa Cab. But just try it. | 94
MP | Earthy, complex, ripe, generous, intriguing nose, featuring rhubarb, beetroot, wine gums, violets, peonies, caramel, wet leaves, truffle, and cedar. The palate has ripe fruit, gently softened tannins, fine acidity, and a lovely balance between the constituent parts. Echoing mature Burgundy at times, this wine shows the rarely seen potential of this region. It's long, refined, and carefully etched. Drink now. | 94