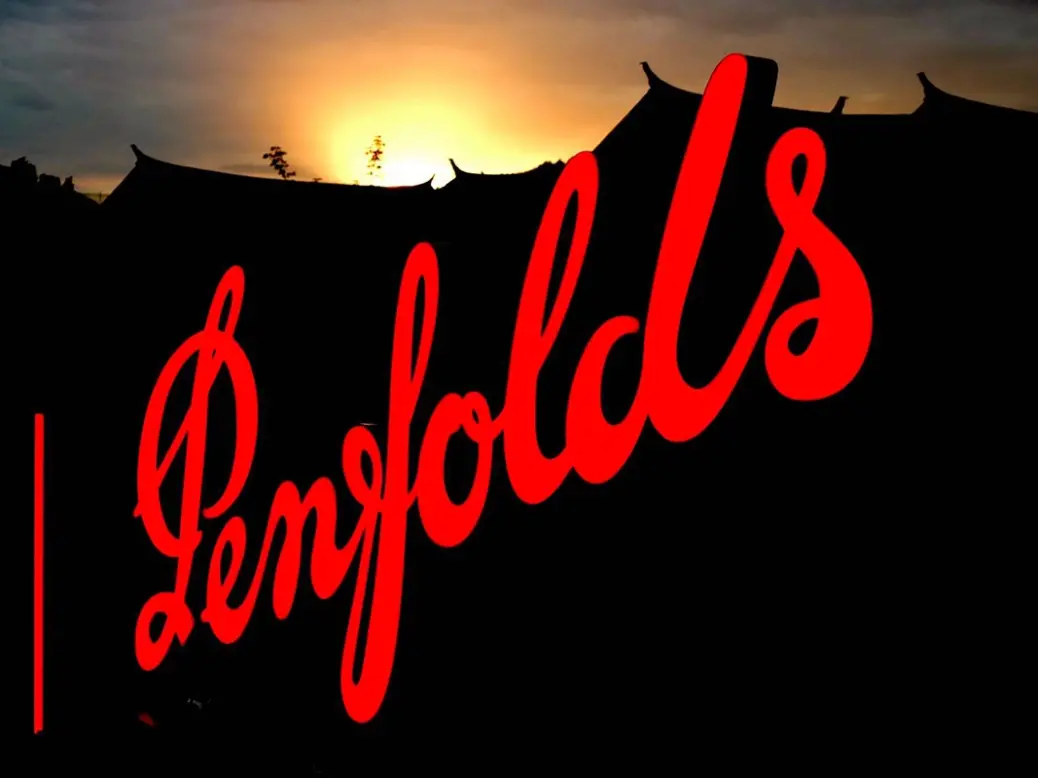 Even for a company with a history of international cooperation, Penfolds' Chinese project marks a bold new departure. Nick Ryan heads to the Himalayas for the launch of its first exciting release.
Shangri-La is many things all at once. 
A fiction made physical.
A Hollywood fantasy overlaid on a Chinese map.
A dream drawn by a desire to convince ourselves there could be some wriggle room on negotiating our mortality and a breathtaking landscape that can quickly and cruelly illustrate the futility of that thinking.
In James Hilton's popular novel Lost Horizon and Frank Capra's studio-straining film of the same name, Shangri-La is an isolated and temperate valley sheltered from the harshness of the Himalayas, so blessedly benign that galloping age slows to a languid crawl.
The name has now been co-opted for everything from billionaires' beach-houses to luxury hotel chains; and in 2001, the Chinese authorities, with an eye to the tourism potential of package deals to Paradise, declared that Zhongdian County in the Tibetan Autonomous Prefecture in northwestern Yunnan Province would henceforth be known as Shangri-La.
And it's working.
Spend some time wandering through Shangri-La's well-preserved Old Town, where dozens line up to climb aboard wheezing yaks and mildly terrified children are pressed into photographs with Tibetan Mastiffs that could swallow them whole before falling back to sleep, and you are carried along by a wave of domestic tourism drawn to the region's history, beauty, mild climate, and clean air.
And maybe one day, if the ambitions of some of the biggest names in the world of wine play out as hoped, they'll come in search of vinous pleasure, too.
Inherently Chinese, recognizably Penfolds
The Shangri-La winery—yes, add "winery" to the list of many things Shangri-La can be—sits surrounded by jagged mountains and looks out over the churning, coffee-colored Yangtze River. Tucked away in a garden near its entrance, a jagged rock the size of a small suitcase is wrapped in a ribbon. It was put there after it found its way from a great height into the passenger seat of winemaker Reno Liu's car on one of his regular missions to inspect some of the highest and most isolated vineyards on earth.
Mercifully it's not a memorial—Liu escaped with some minor injuries and a good story to tell about how geology can become a traveling companion—but it does serve as a reminder that this is winemaking on a challenging new frontier.
Liu is part of a small team from Penfolds that has come to cross it. He began his career with Penfolds as a young man, starting out as Peter Gago's interpreter for the increasingly regular trips the chief winemaker was making as the company powered along the path to becoming arguably the most prominent wine brand in China. He now has a winemaking and grower-liaison role within a small team that is taking Penfolds from being simply a seller of wine in China to a producer of Chinese wine, too.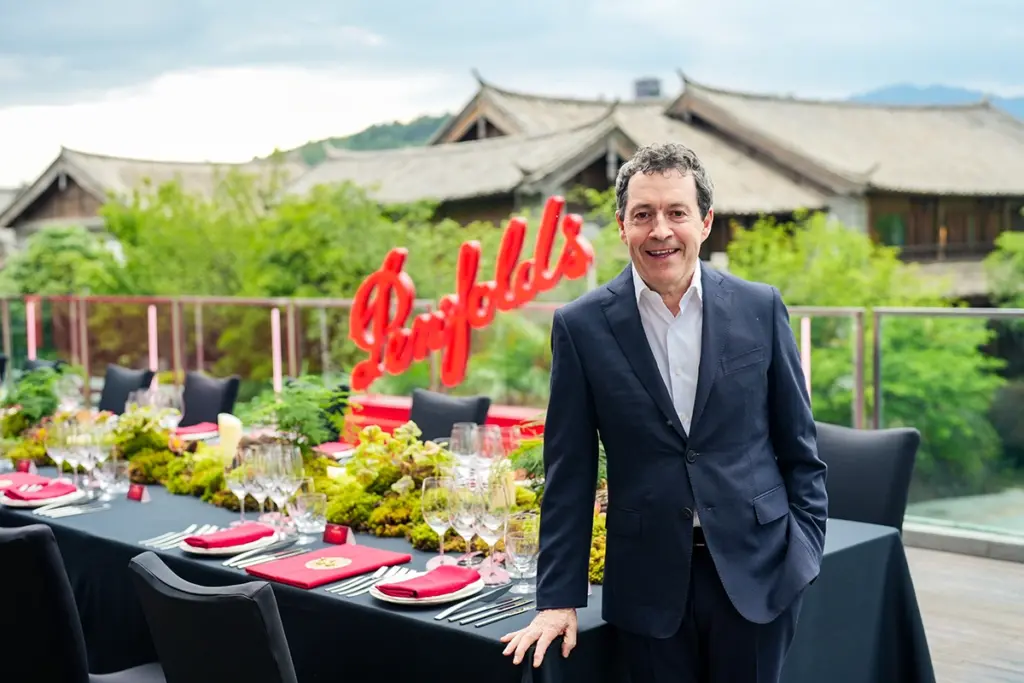 Shanghai-based Josh Miles—who is a technical director with winemaking experience in California, New Zealand, and Australia—works closely with Liu, and the project is overseen from Penfolds HQ in the Barossa Valley by senior winemaker Matt Woo, whose Chinese forebears arrived in Australia with the gold rushes of the 1850s. He makes several visits a year to China, including two months through harvest, and is chiefly responsible for the one key element that sits at the heart of this project: finding those connection points where Chinese fruit locks in neatly to the storied Penfolds house style, understanding those points where the gears might grind, and ultimately ending up with wines that are both recognizably Penfolds and inherently Chinese.
Fortunately, he doesn't need to look too far afield for advice. A good number of his colleagues have been having to ask themselves similar questions. Because Penfolds is on the march.
A global perspective
The visitor to Penfolds' Magill Estate in Adelaide's foothills follows a softly serpentine driveway through an old vineyard, ascending toward a collection of heritage buildings that have nurtured some of the greatest wines born from Australian soil.
They may not even see the small white cottage surrounded by vines about halfway up that driveway on the left. Its significance is historical rather than architectural. Even more than that, it's symbolic. It was the ultimate destination of the journey Dr Christopher Penfold and his wife Mary made from West Sussex in the UK to colonial South Australia, the modest home they made a world away from all they knew, a few vine cuttings and an idea to produce medicinal tonics and brandies about all they had to sustain them. And it was the starting point of a winemaking journey that now spans four continents and has turned the name of the couple who built it into one of the most recognizable in the world of fine wine.
It is to this humble cottage that Peter Gago's mind turns as he nurses a cup of locally grown Yunnan coffee on a crisp morning in the old town of Lijiang, having just unveiled the first wine from the company's ambitious Chinese Winemaking Trial. If air miles were dollars, the name Gago would sit alongside Arnault, Bezos, and Musk.
His is an unavoidably global perspective, and he has led the Penfolds winemaking team as it has ventured beyond Australia into Champagne and California, Bordeaux and now China. While there are some who are puzzled by this global roaming—particularly a certain generation of Australian consumers rusted onto what they think Penfolds used to be—a willingness to push beyond boundaries in search of great wine has always been part of the Penfolds DNA. "More than 150 years ago, the decision was taken to plant vineyards in the Barossa because Penfolds had outgrown the original site at Magill, so that willingness to look beyond our immediate surroundings is nothing new," says Gago.
The company grew and grew, held significant vineyards in New South Wales and has had a presence in virtually every other major wine region across the continent. It's most famous wine—Grange—has been since its inception a wine wedded to a style rather than a place, a wine made from the very best Shiraz fruit that suited the Grange style, wherever that might be found across South Australia's vineyards.
Penfolds has never been afraid to look beyond near horizons, but even Gago concedes the Penfold name adorning wines from Chinese vineyards is a reality unimaginable for most of the company's 180-year history. "It's probably fair to say Christopher and Mary never imagined that willingness to venture beyond would bring us here," he says. "This project does feel different from everything that has come before it. The other international projects were an evolution, but this is the first step in an entirely new direction. So much is informed by our previous 180 years; this feels like the next 180 years."
The wanderlust has kicked into overdrive over the past decade as Penfolds has transformed from Australia's best-known winemaker into a major player in fine wine on a global scale. First it was a Champagne collaboration with Champagne Thiénot, then winemaking projects in California and Bordeaux, but this push into China is the company's boldest move yet.
There are synergies in the earlier projects that make sense. Penfolds is comfortable in a community built on blending, so Penfolds in Champagne fits. It doesn't hurt that Peter Gago began his career as a sparkling-wine maker and has a passion for the stuff that borders on the pathological. While he is actively involved in all the company's international projects, it's fair to speculate this is the one he most closely nurtures.
The company stepped gently onto chalky territory, understanding a vainglorious arrival in Champagne would be unwise and unwelcome. The close and productive relationship with the Thiénot family has been key, and the wines so far released have more than eloquently spoken to the serious intentions behind them. Even the initially resistant Comité Interprofessionnel du Vin de Champagne has softened its stance, and while the wines were initially labeled as Thiénot and Penfolds, they will now be branded solely as Penfolds.
California, as they never say in the classics, was a complete no-brainer. The company has been in California since the 1980s; parent company Treasury Wine Estates holds substantial vineyard assets in key regions; and the plushness and opulence of the wines made there sit nicely within the classic Penfolds house style.
Even Bordeaux, the seat of wine's Old World aristocracy, has warmly welcomed the antipodean interloper, and the region's tradition of ageworthy, barrel-matured red wines is always cited as the inspiration that led legendary Penfolds winemaker Max Schubert to develop the company's most famous wine, Grange.
However, establishing a winemaking footprint in China, a place where fine-wine consumption is now well entrenched but the production of it less so, was always going to be a far more challenging task.
Not in the Barossa anymore
"The first time I came to Shangri-La and saw these mountains and the intricate patchwork of small vineyard plots in villages scattered through the river gorges, I thought, 'We're not in the Barossa anymore, Matty,'" says Matt Woo.
When you consider that the Barossa's high point is a mound masquerading as a hill topping out at 1,500ft (450m) and not even posing a threat to unwisely Lycra-clad winemakers on overpriced bicycles, you can see why Woo knew his learning curve, like his surroundings, would be steep.
"While I was aware of the climatic differences, I didn't fully grasp the nuances of the Chinese winemaking regions until my boots were on the ground walking the vineyards and I was working in the winery. The unique microclimates are different [from those in] any other winemaking region I have worked in. From soil types, to availability of water and high altitudes, it was a huge learning experience from the very first day I touched down in Yunnan."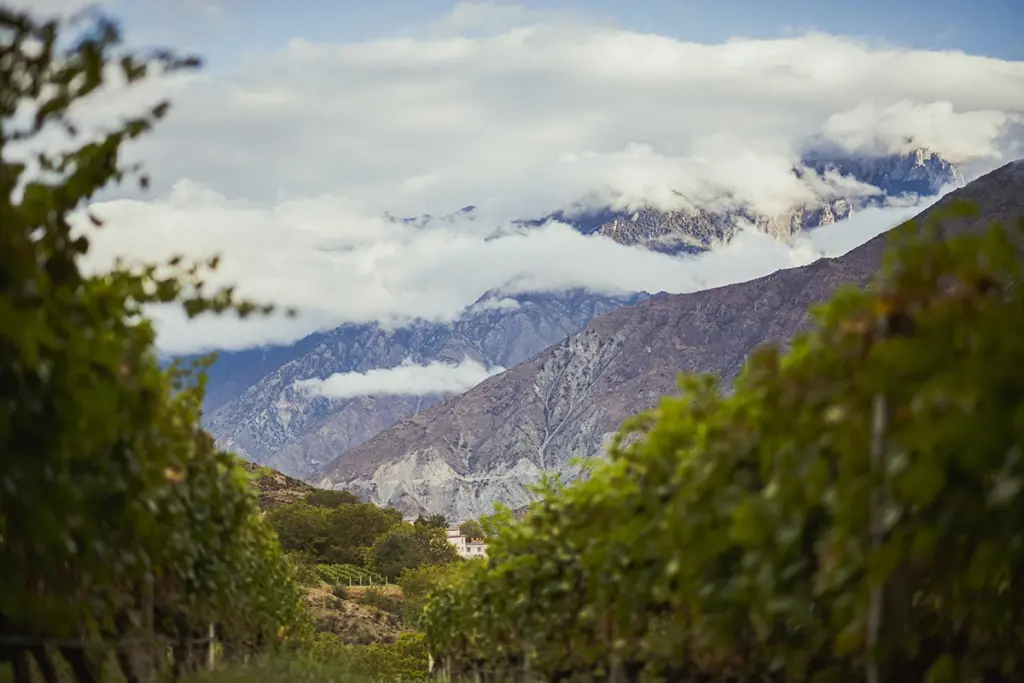 Penfolds is not the first foreign powerhouse to make the trek up toward the Himalayas. Dr Tony Jordan, the Australian consultant who was best known for his work with Domaine Chandon, first identified the region's potential, and LVMH has been there for more than a decade with its high-profile, high-priced Ao Yun label. In the early 1990s, local authorities began actively encouraging the establishment of vineyards and investment in wine production, but in reality the region remains small in scale but enormous in terms of potential.
The first vines were planted in the 1840s by Christian Brothers missionaries, and today viticulture remains on a very human scale, with small, family-owned vineyard plots measured in 0.16-acre (0.06ha) increments known as a mu, spread across several river valleys and sitting at altitudes between 7,200ft and 8,500ft (2,200–2,600m) above sea level, with a mixture of soil types ranging from free-draining gravels to fine sands and clays.
On pure numbers, this should be a no-go zone for the grape vine. At 28° north, it's a latitude better suited to the production of pineapples, but the monumental altitude moderates any impact from equatorial proximity. Rainfall is low, at 6 cubic inches (100ml) annually, but snow melt can be channeled to irrigate vineyards. And while the growing season is drawn out, it is aided by abundant UV light and the steep walls of the river valleys reflecting it, nudging ripeness toward a November harvest that can sometimes extend into December.
But a relatively benign climate doesn't necessarily mean this is winemaking made easy. The region's remoteness, topography, and lack of the kind of infrastructure typically found in wine regions all present abundant challenges. Reno Liu knows all too well the dangers of driving Shangri-La's high mountain roads, and as if to emphasize the point, a trip to the vineyards scheduled for WFW's July visit had to be canceled after heavy rains in the mountains had made it unsafe.
Even when the roads can be driven, they are driven painfully slowly. "It's a journey of at least six hours from the winery to some of the vineyards," says Woo. "Even longer in an old truck. That requires some pretty meticulous planning around harvest timings."
While the complicated logistics of getting grapes off vines and into fermenters shapes Woo's thinking, the overarching principle remains how to harness appropriately varietal and regional character to the well-defined Penfolds house style. Woo is excited by what he has seen so far from Shangri-La Cabernet Sauvignon. "The aromatics strongly display Cabernet Sauvignon varietal typicity, overlaid with regional nuances that remind us of jasmine and oolong tea. Flavor is distinctively true to variety, interwoven with lots of fresh fruits and some preserved fruit. After that, the umami and savory flavors tie everything together. Structurally, the tannins are fine-grained and persistent. The natural acidity creates line and length, as well as a counterbalance to the fleshy mid-palate.
"We applied the fundamental and time-honored Penfolds winemaking techniques in the pursuit of house style. While we are still learning and evolving with each season, some of the techniques remain consistent: harvest decisions that determine degrees of ripeness and concentration, barrel fermentation, cap management, time on skins, and rack-and-return."
But this is a process that requires some degree of flexibility. Woo is not simply looking to overlay whatever works in one place on what a very different environment has delivered him. "The process is not a set path; we make small adjustments throughout the process and respond accordingly to how the ferments are behaving. This is true across all Penfolds country-of-origin sourcing countries—the USA, France, Australia, and now China—where each region comes with a unique set of challenges and opportunities. It's important that we approach each region with an open mind, learning and observing local winemakers and viticulturists, while maintaining a Penfolds lens."
This ties in neatly to the tradition of winemaking trials that have long been a part of the Penfolds methodology. It's what gave us the Special Bin wines, many of which are counted among the best ever made in Australia—most notably the 1962 Bin 60A, a blend of Coonawarra Cabernet and Barossa Shiraz widely considered Australia's greatest wine (see WFW 78, pp.108–10). When the decision was made to chase the white-wine equivalent of Grange, winemaking trials counted in the hundreds before eventually delivering Penfolds' flagship Chardonnay, Yattarna. And trials to ferment and mature Grange-quality Shiraz fruit in French oak rather than the traditional American resulted in a wine released as RWT at a time of sparse marketing-department inspiration.
Carrying on that prosaic theme, one of the wines released from Bordeaux is FWT, and now—applying the principle of "If it ain't broke, don't fix it (or even try to improve it a little)"—the world is being introduced to the first Penfolds wine made in China: CWT.
Aiming ever higher
The 2021 CWT 521 is the step that begins the journey of a thousand miles. It marks a moment in time, a point where enough fast-tracked learning has been accumulated to release a wine worthy of the place it holds in the Penfolds hierarchy, while still acknowledging that evolution, refinement, and deeper understanding are still to come.
The wine is a blend, both varietally and regionally. Some 82 percent of it is Cabernet Sauvignon drawn from four small villages in Shangri-La: Sinong (at 7,550ft [2,300m]), Xidang (7,200ft [2,200m]), Dong Shui (7,400ft [2,250m]), and Mingyong (7,200–7,550ft [2,200–2,300m]). The remainder is Marselan, the Montpellier-conceived hybrid sourced from vineyards in Ningxia.
The best known internationally of China's wine regions, Ningxia is a key part of Penfolds' China strategy, able to provide the kind of variety and volume that isn't yet, and may never be, possible in Shangri-La. The use of Marselan in the blend is more than simply stepping in to take the pillow-plumping role that Shiraz has traditionally played in so many classic Penfolds wines. There's a little vinous diplomacy at work here, too—the grape variety's success and popularity in China means its presence on the label delivers a message in clear shorthand that this is not just some transplanted Australian but is a wine of real Chinese soul. And that's important, because Penfolds plays a huge role in the Chinese relationship with fine wine.
"Penfolds and Château Lafite are the two best-known wine labels in China, so for Penfolds now to be making wine here is a big deal not just for them but for China, too," noted Shawn Jiu, a wine communicator from Hong Kong and part of a small international wine-media contingent that traveled to Shangri-La for the launch of the 2021 CWT. "This is a wine that will really appeal to the knowledgeable Chinese consumer," Jiu predicted. "It has the fruit richness they look for and the oak influence as well, with good structure and a little softness through the finish."
There is a cynical view that this Penfolds project, and the other international ventures, are merely attempts to keep sales flowing in the face of the punitive tariffs on Australian wine that were imposed by the Chinese government in March 2021. While there is an undeniable benefit for Penfolds to have something to sell while the bulk of its production is made unviable by tariffs of more than 200 percent, each of the projects was well under way before the faucet of Australian wine was turned off. There is more to this project than simply rolling with the geopolitical punches.
The wine itself proves that, too. It's an impressive, polished wine in the glass, a beautiful deep crimson; and the nose that approaches it finds blackberries and their leaves, ripe plums and cassis, oolong tea, and, for the easily suggestible, a flourish of calligrapher's ink. It's a plush wine, driven by dark, brambly fruit and underpinned by a seam of warming spices drawn from both fruit and deftly deployed oak. There's a smidge of mid-palate sweetness, probably only discernible to those weaned on sterner styles, and the wine tightens with lithe acidity and finely pixelated tannins. It is both recognizably Penfolds and intriguingly different.
There is more than enough here to suggest that Penfolds' pursuit of a Chinese dream is a valid one. Having tasted several barrel samples from the 2022 harvest of Shangri-La Cabernet from sites of even greater elevation, I suspect that Penfolds is aiming, both literally and figuratively, even higher.
To say that Penfolds has turned a Lost Horizon into a Paradise Found would be not only a terribly hackneyed way to wrap up 3,000 words but unwisely premature, too. But it might just be looking in the right place.