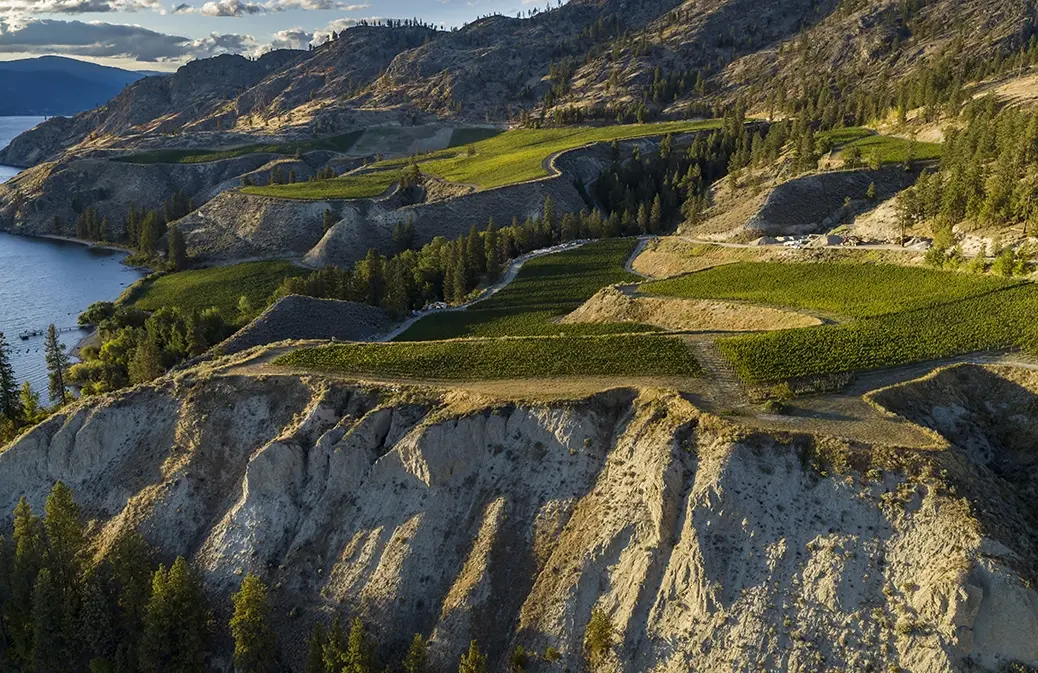 Sarah Marsh MW's odyssey through the wine regions of Canada continues in the northern part of British Columbia's Okanagan Valley, where she finds a rapidly developing scene that is beginning to reach its full potential.
When the ice dam burst 12,000 years ago at the place known today as Okanagan Falls, it carved the wide valley of the southern section of the Okanagan Valley, flooding it with the silty outwash from the lake behind the glacier. The 180km (112-mile) valley, through which there is a snake of lakes and rivers, is not the easiest place to get your head around. I spent ten days working my way from north to south visiting 40 wineries, and like to consider the valley in two or even three parts: the cooler northern part where the hot summers and cold winters are moderated by deep lakes; the wide desert-like southern part with its sandy soils and lightly sloping benches, and the 3km (1.86 miles) short, narrow, nipped-in waist of the Okanagan Falls—which has kettle holes, whistling wind, and multiple aspects—plonked firmly between the two.
The Okanagan Valley is a dynamic, swiftly evolving region on the cusp of expressing its full potential. It has taken a mere three decades to get to this point. The pioneers planted Vitis vinifera in the 1980s and many followed in the 1990s incentivized by government grants to rip out hybrids. There are plenty of well-established vines, but the varieties were not always well matched to the sites. Since then an influx of investment has seen more planting, but style has come before substance and it wasn't until recently, most noticeably in the past five years, that the true identity of Okanagan Valley has begun to establish itself. I was able to assess this change for myself as I tasted through previous vintages at many of the wineries I visited.  
For most of its short history Okanagan wine conformed to the style demanded by the local market which favours rich, sweet, and high-alcohol wines, which is cloaked in new oak, some of it American. All but a tiny fraction of Okanagan wines are sold in British Columbia with many going through cellar doors. Anxious to please the local palate, and maybe unsure of finding their own expression, the producers imitated California and created Napa-style wines. 
More recently, however, many producers have seen a growing demand for more elegant styles. That's not to say the chest-beating, overly oaky, over-extracted wines have disappeared, far from it, but they are often reserved for winery club members. More restrained wines can be found further down the pecking order at a slightly lower price point. There is also a sense that producers would like a place on the international stage and this has steered them to a more European approach in their winemaking. 
The region is bristling with talented winemakers. Among my favorites are Severine Pinte (La Stella and Le Vieux Pin Wineries) who impressed me with her elegant touch and blending; Shane Munn (Martin's Lane Winery) for tannin management; and Darryl Brooker (Haywire and Okanagan Crush Pad) for his bloody-minded, experimental approach. And there are many more heading in the right direction.
Many of the middle-aged and younger winemakers trained or worked abroad and quickly realised it was not possible to apply the same principals they had used in Bordeaux, California, Burgundy, or New Zealand to the Okanagan Valley. Most significantly they had to adapt to producing wine in a much shorter growing season. 
In the Okanagan Valley, the daylight hours are long, but the season is truncated. Bud break starts in early May and the first frost often arrives by mid-October. Research into how to manage the vines, particularly the canopy, to produce less sugar while shading the fruit from sunburn is ongoing. It's clear the producers are thinking more about the picking date and modifying the approach of their predecessors. 
In the winery new oak and hearty extraction are being dialled back. In their place more interesting experiments are afoot with techniques to build texture. It was very exciting to see how style is giving way to substance, as the focus shifts to terroir and how best to express it.
A Canadian terroir story part I: Niagara Peninsula and Prince Edward County
So there are several strands that must be woven into this Okanagan Valley story, including the people who are driving this change.
There are the seriously monied individuals who are fulfilling grandiose ambitions for family legacies. Former stockbroker John Skinner, a passionate ambassador for all Canadian wine, created a pristine clifftop vineyard with the help of Alan Suter's expertise and has his newly minted Skaha sub-GI to validate this section of the valley. 
At Phantom Creek Estate, which has some of the valley's original Vitis vinifera vines, Chinese owner Richter Bai has parachuted Californian wine maker Mark Beringer into the $100 million winery and art gallery, itself a glamorous work of architecture, to make the 2022 vintage. The Rieslings made by Olivier Humbrecht MW have already made waves, while some of the reds could be refined. It will be interesting to see how Beringer manages this. 
At the other extreme there are those of modest means and rudimentary equipment. I admire my fellow MWs pushing the boundaries in expressing their terroir; Marcus Ansems (Daydreamer) with his shack on a steeply sloped vineyard on Naramata Bench and Rhys Pender at Little Farm in the neighbouring Similkameen Valley who is making some of the most engaging wine I tasted on the trip with not much more than a large shed and a collection of old barrels. 
Of course there are companies too. I was impressed with the approach of billionaire Anthony von Mandl, who made his money with White Claw, a flavoured hard seltzer in a can, and is best known in the wine world for the Mission Hill brand which owns 20 percent of the vineyard area in the Okanagan Valley. Mission Hill's portfolio of top-end wines is still transitioning from the Californian model, but von Mandl has also invested in several excellent independent wineries which are producing some of the most impressive wines in the Okanagan Valley.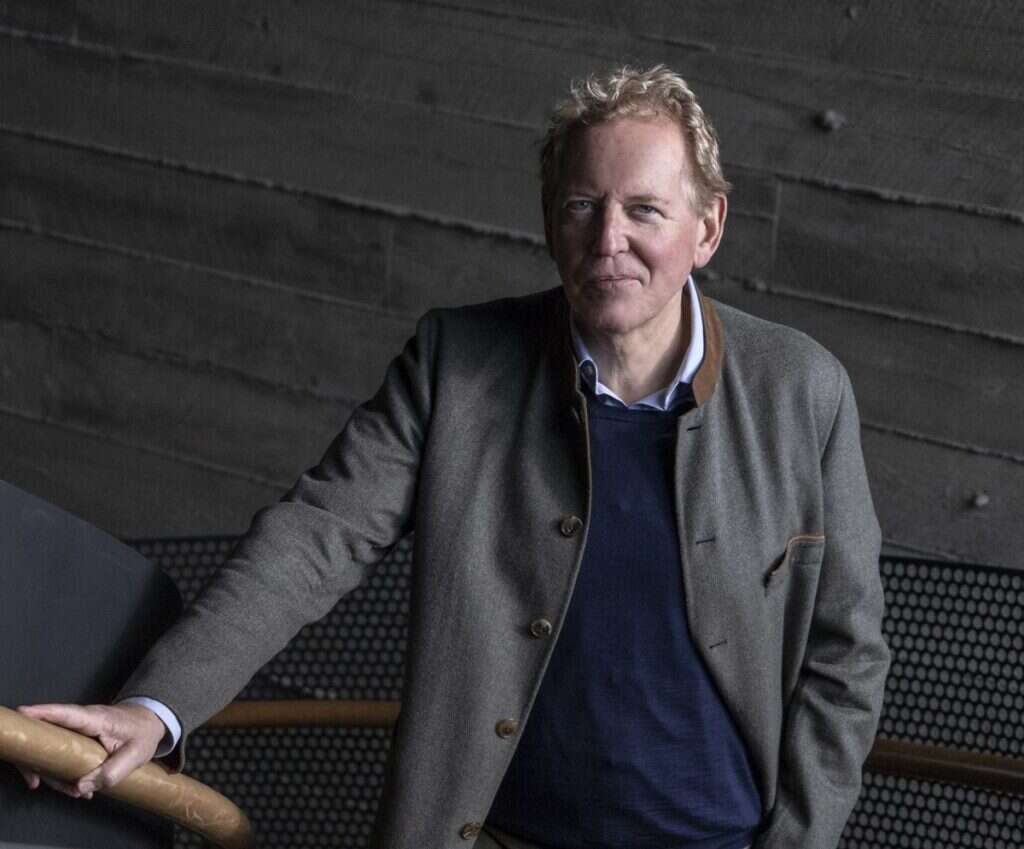 I particularly liked the wines from Martin's Lane Winery, Cedar Creek Estate, and the recently acquired (in 2020) Liquidity. It seems von Mandl has the cash and motivation to invest in producing wines at the top level, as well as spearheading the organic movement. All his vineyards are managed organically, which is good news for BC, and more should follow suit.
The jury is out on other big players. I had high expectations of the boutique winery Laughing Stock, established by David and Cynthia Enns in 2003. This was acquired by Arterra Wines Canada (formerly Constellation Brands) in 2017, but I was disappointed with the wines currently produced there. Arterra has also hoovered up Culmina, but for the moment the French winemaker Jean-Marc Enixon has been left alone to figure out the potential of this interesting vineyard site on Golden Mile Bench. The other big player, Peller Estates, has bought Black Hills Estate Winery which was a pioneer of Bordeaux varieties back in the day. Here the wines are changing for the better, under the ministrations of Ross Wise MW.  
A few facts and figures about the Okanagan Valley 
With 86 percent of the total vineyards in British Columbia, the Okanagan Valley is by far the most important region. There are 186 wineries along the 180km (112 miles) and approximately 9,617 acres (3,892ha) of vines. The climate is one of extremes with hot summers, freezing winters, and spring frosts. Summer can hit 40°C (104°F) and in the winter -25°C (-13°F). A series of lakes moderates the temperature, but at the Okanagan Falls the lake dwindles and disappears. South of this point there is no lake influence in Oliver and Golden Mile Bench, until we reach the lake of Osoyoos. The east side of the valley is warmer than the west for it is bathed in afternoon and evening sunshine.  
Merlot is the most widely planted red variety, with 1,616 acres (654ha0 in BC, but Pinot Noir is just behind and catching up fast. Cabernet Sauvignon, Cabernet Franc, and Syrah each represent about half that of Merlot, with Syrah the smallest at 551 acres (223ha) in BC. There were no figures available specifically for the Okanagan Valley.
The most planted white variety in British Columbia is Pinot Gris with 1,164 acres 9471ha), which comes in a variety of styles. Most are sweet to some degree, but very few provide much interest, so this is the only time I will mention them. It fulfils an entry level role and is not the variety for Okanagan Valley vintners to hang their hat on. 
Chardonnay is nearly as widely planted and much more interesting. With about half the acreage of the front runners, Gewürztraminer and Riesling are almost level pegging. I don't think I tasted one Gewürztraminer, for which I am grateful. Riesling is a very different matter, but I tasted only one completely dry Riesling from Phantom Creek courtesy of Olivier Humbrecht MW. If only more producers would dare to go dry.
There is one general appellation the GI (Geographical Indication) of Okanagan Valley and several sub-GIs. The most recently designated in 2022 are also the most northerly: East and South Kelowna Slopes. Summerland Valleys, Summerland Lakefront, Summerland Bench, and Lake Country, also became sub-GIs in 2022. They join the sub-GIs of Naramata Bench, Skaha Bench, Okanagan Falls, Golden Mile Bench, and Golden Mile Slopes. The other areas to which I will refer, are acknowledged sub-regions, but not yet official GIs.       
From north to south
The calling card of the Okanagan Valley should be freshness. Even in the southern section, strange as this may seem given it is Canada's pocket desert, but the nights are cool and the acidity is pronounced.
Northern Okanagan Valley 
Lake Country 
Lake Country is pioneering territory in the furthest northern reaches of the Okanagan Valley, among the most northerly vineyards in Canada and for that matter the world. No surprise that it's difficult to ripen fruit every vintage. At best, the wines from Lake Country should be light, crisp, and elegant. It is a good place for Riesling and quite feasible for Chardonnay, but skating on the edge for Pinot Noir.
It's among the few places left to venture where land is available. In the Okanagan Valley, land prices have rocketed not least as the super-wealthy compete for land to create their legacy projects. On Skaha Bench, former stockbroker John Skinner was outbid for a 10-acre (4ha0 parcel of plantable land neighboring his vineyard Painted Rock, which went to Phantom Creek Estates for $400,000 an acre. There has been a land grab in the Similkameen Valley, where the going price is $200,000 and the big wine companies have been acquiring multiple parcels.  
There is serous money awash in the Okanagan Valley and high investment is accompanied by high prices. Inevitably many wines sail well ahead of a reasonable price-quality ratio. 
The first winery I visited was O'Rourke Family Estate where construction magnet Dennis O'Rouke blasted a multimillion-dollar crater from a hillside in the Lake Country for his amorphous winery, complete with multiple restaurants, entertainment spaces, and 314m (1,030ft) of tunnels to mature the annual production of a mere 72,000 bottles of wine. 
The surrounding 105 acres (42.5ha) of vines are young, some in fifth leaf, and the wines, which are very nicely made by experienced winemaker Nikki Callaway, reflect this in their modest intensity, while their $40-50 price tag does not. Money doesn't buy you happiness or indeed the guarantee of producing quality wine and thank goodness lack of it does not preclude it. 
The most northerly of the wineries I visited is 50th Parallel. It produces Riesling, Chardonnay, Pinot Noir, and fizz. I quite liked the citrusy 2020 Estate Chardonnay, but the Unparalleled Pinot Noir didn't live up to its name. Owners Curtis Krouzel and Sheri-Lee Turner-Krouzel, a vibrantly engaging couple wearing leopard skin, tight leather trousers, and dark glasses, are as interested in fashion as wine. Wine is seen differently in the Okanagan Valley. For some it is part of a bling lifestyle. In the winery there were well-heeled ladies trying and buying equally well-heeled Louis Vuitton shoes, semi-concealed behind silky red drapes at an exclusive event among the vats. 
Frankly I was loving the change of scene from Burgundy. It may be marginal territory for quality Pinot Noir, but for a Pinot/Chardonnay traditional method sparkling, it's rather good. I enjoyed 50th Parallel 2018 Blanc de Noir and Pinot Noir contributes a red berry note to O'Rouke's Peak Cellar light and fruity NV Brut.  
Kelowna GIs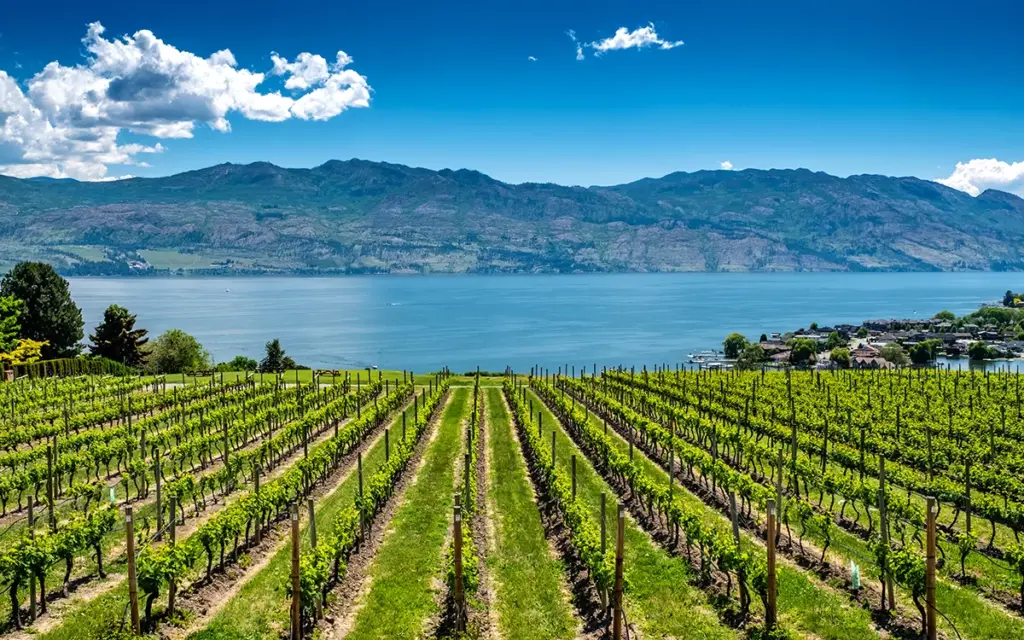 Moving southwards along the valley to the Kelowna Slopes, an area which has recently been bestowed with two sub-GIs, South Kelowna and East Kelowna, I was on the lookout for Pinot Noir, but was more impressed with Riesling.
Riesling is resilient to the Okanagan Valley's cold winters and hot summers, both of which are moderated by the deep lakes in the northern section from Lake Country down to the Okanagan Falls where it thrives on the higher side of the lakes in vineyards that are planted at 350-600m (1,150-1,970ft). The best examples have glacial freshness and a shimmering quality. The acidity is high—typically 9g/l total acidity with a pH of 2.9 or less. However, too many producers are playing it safe, balancing high acidity with too much residual sugar. There are some exceptions, among them Tantalus Vineyards, which has some of the area's oldest Riesling vines, planted in 1978. 
Tantalus Vineyards is situated in East Kelowna. Riesling gets fully ripe in East Kelowna as the best facing slopes are warm. Tantalus Old Vines Riesling, in the cooler 2019 vintage, is a focused and intense wine with 8 g/l residual sugar and 13.5% alcohol. This is a classically made Riesling while at Cedar Creek Estate winemaker Taylor Whelan takes a more innovative approach with his Block B Riesling from a high altitude vineyard also on the East Kelowna side. The bunches are trodden by foot to moderate the cutting acidity and contribute some phenolic bite and with this approach a snappy bitter character offsets the almost candid citrus fruit.
In the vineyards around the town of West Kelowna, on the other side of the lake, the vineyards are protected from the hotter afternoon sun. At Martin's Lane, a sleek, glass-and-steel, six-level, gravity-operated winery neatly carved into the hillside, the approach is haute couture. Many millions have been invested to make an annual production of 6,000 cases with a focus on Pinot Noir and Riesling. Winemaker Shane Munn makes a standout Riesling from Fritz's vineyard, which is slightly unusual in having some clay. There are pockets of clay deposited in the northern section of the Okanagan Valley, where the soil is predominantly gravelly and silty loam. There is no limestone in the Okanagan Valley. Fritz is a cooler site and turned out a floral, racy, and linear Riesling in the warmish 2018 vintage.  
Kelowna, in contrast to the Lake Country, has well established vineyards, not only of Riesling, but Pinot Noir. Quails' Gate Winery was among the first to plant Pinot Noir in 1975. Pinot Noir is the second most widely planted variety in the Okanagan Valley, and in BC in general where it covers 538ha (1,329 acres), not far short of the 654ha (1,616 acres) of Merlot and catching up fast. It would seem to be the ideal red partner for Riesling, in the northern section of the valley, but few have mastered this capricious variety. Decades were lost in pursuing a Californian style of rich and oaky wines favored by the local market.
I was looking for Pinot Noir's trademark fine texture and finesse, but often encountered rather robust tannin and jammy fruit which can mask terroir and undermine the subtly of Pinot Noir. It's a challenge to obtain phenolic ripeness while controlling rising sugar levels and the fashion for including stems, which are rarely lignified, does not help. It became apparent that Okanagan Pinot Noir currently lags behind Ontario in terms of finesse. 
However, there are exceptions which show that elegant, terroir-driven Pinot Noir is quite achievable. Among my favourites is Martin's Lane Simes Vineyard which has intense, supple, black chocolate fluidity. This vineyard is located on the east side of Lake Okanagan, just at the point where it bends, which means the vineyard turns slightly north, which allows for a long, slow maturation. Cedar Creek Winery also pulls fruits from this vineyard and it was my favourite Pinot Noir in their portfolio. Shane Munn is one of the few winemakers using stalks successfully and 70 percent to boot. However, he barely touches the grapes, so extraction is minimal. The fermenting wine is run over over a racking plate to lightly sprinkle the cap. Pinot Noir here is finely tailored, with a notable shift to a more refined style after the 2016 vintage. 
There is a good deal of talk in Okanagan Valley about the changing approach to winemaking so whenever possible I took the opportunity to taste flights of older vintages stretching back over the past decade. This revealed an evolution in style following the robustly textured 2015 and 2016, both of which were hot vintages. Certainly from the cooler 2019, recent vintages of Pinot Noir are more elegant and restrained with a focus on terroir over style. They have greater sense of place, but many are still struggling to nail the delicacy of tannin and texture.
And this seems to be more difficult to achieve in the cooler West Kelowna, where the style can be more awkward, although Tantalus Vineyard makes an easygoing, fruity, foot-trodden Pinot Noir. Quails' Gate Winery have several appealing Pinot Noir, but need to finesse the tannin a touch. I found the most supple-textured came from Richard's Block which was planted in the 1990s. 
It is surprising there is not more massal selection from older vineyards which will have mutated. Canada is still planting the Dijon clones I studied in Burgundy 20 years ago. A restricted palate of seven clones limits complexity. 
And, for my taste, there is still too much new oak used in the Okanagan Valley. Too many wines I tried, from Chardonnay to Cabernet, suffer from the misconceived notion that hotter vintages can handle more new oak, when the contrary is true. In West Kelowna, high in the hills, Joanna and James Schlosser have a tiny vineyard, home territory for James who grew up on this farm. They were just painting their new and appealingly modest winery when I visited. I liked their pretty, neatly edged, and lightly mineral Farm House Series Pinot Noir (2018 and 2020), but the oak on the Single Barrel Pinot Noir 2020 steamrollered all expression of terroir.
Naramata Bench GI
Moving a little further south, Naramata Bench is the sweet spot for Pinot Noir, where I found a more widely spread impression of quality and consistency. The profile is a little fuller. The vineyards are west-facing at altitudes from 400-700m (1,310-2,300ft). This warmer aspect is still too cool for most reds, although Poplar Grove Winery has a particularly warm and sheltered west-facing vineyard from which Tony Holler produces a delicious, rich, and energetic Cabernet Franc, among the best I tasted in the Okanagan. Holler admits he has tried to ripen Cabernet Franc on other sites on the Naramata Bench and failed. It's another good spot for Riesling, and there's Merlot here too, but Pinot Noir has found its niche. 
Near the town of Penticton, where the cliff falls dramatically to Lake Okanagan, there is a concentration of wineries and vineyards. I prefer the vineyards on the slope above the road, where the bedrock is granite and the top soil glacial till. Below this, in the looser silty soils, the wines lack some definition. I liked Foxtrot Vineyards Estate Pinot Noir, which comes from above the road, while their single-vineyards from below were not quite as good. The soil is generally glacial till and silt with pockets of clay.
On the Naramata Bench, land prices, bumped up by minted retirees (some of whom are giving winemaking a shot) are now four times those of the Bench in Niagara. Von Mandl can afford to have a foothold. The 2020 Pinot Noir Reserve made by Liquidity Winery (part of the von Mandl stable) from a vineyard at the north end of Naramata Bench has a slippery chalk texture and balances vibrancy with richness, while Martin's Lane Zenith, from a high-altitude, warm-aspect vineyard, is succulent, svelte, and has a racy finish. 
So much for mega-buck projects. It's possible to make delightful Pinot Noir on a much tighter budget, especially for those producers who got in early to buy or rent vineyards. Among them are Toronto-born Dylan Roche and his wife Pénélope, the sixth generation of a Bordelais winemaking family. They met in New Zealand and make pretty Pinot Noir from a rented parcel on the Naramata Bench above the road, while continuing to consult and to teach viticulture at Okanagan College.
Some of my favorite wines are made in simple, functional spaces. My eye was caught by a sophisticated and silk-textured Pinot Noir made in a storage facility. The tiny winery is 1 Mill Road, named after a small vineyard perched on a clay terrace. Formerly a pear orchard this gorgeous spot was bought and planted by David and Cynthia Enns, pioneers in the Okanagan wine trade who established Laughing Stock Vineyards. They made just two vintages of 1 Mill Road before handing the reins to talented Australian Winemaker Ben Bryant and his wife Katie. This is a couple to watch. Byrant is prospecting for other small parcels to make terroir-driven wine and he knows where to find them. He was VP of the von Mandl winemaking group.
Pinot Noir in Canada: A patchwork of styles and successes
Another talented Australian is Marcus Ansems MW, a flying winemaker and consultant who established Daydreamer winery in 2013. Marcus bagged himself a perilously steep slope where he planted Pinot Noir and Chardonnay. It was no easy task to establish this vineyard, which required Ansems to drill into solid rock for the trellising posts. The vines survive in the top soil of glacial till. It's an exposed site which catches the sun. In hot vineyards like 2021, it is quite warm for Pinot Noir, but in the more moderate 2020 vintage Daydreamer Tay Pinot Noir has enticing austerity and clip.
Many wineries in the Okanagan Valley sell directly from the cellar door. Don't expect any bargains, some prices might leave you speechless, but others, including Daydreamer wines, which are sold from a rather hip shack beside Ansems' vineyard, are fairly priced.  
At the risk of over publicizing von Mandl, I can't leave the Naramata Bench without mentioning one of the more captivating Rieslings I tasted in the Okanagan Valley. Martin's Lane Naramata Ranch vineyard was planted with Riesling  in 1976. Winemaker Shaun Munn targets ripe golden skins, although less so in the hot 2021 vintage. The lightly crushed grapes had 24 hours skin contact in 2018. It is fermented with indigenous yeast in neutral foudres at ambient temperature and has extended lees contact. It's not fined. Munn wants the phenolics. The 2018 expresses the warmer, fuller character of the Naramata Bench with savory richness from the winemaking and a smoky graphite note. It has 10 g of residual sugar.
Summerland GIs
With climate change the cooler Summerland area, which lies directly across the lake from Naramata Bench, may well come into its own. It's showing good potential for whites and Pinot Noir. Christine Coletta and Steve Lornie, owners of the Okanagan Crush Pad (a custom winemaking facility) and the Haywire brand, are banking on Summerland's long-term potential having planted an extensive and ambitious vineyard in Garnet Valley in 2013. 
At 550-700m Garnet Valley is the highest vineyard in The Okanagan Valley and 75 percent is planted with Pinot Noir. Given the freezing winters, this is a risky venture, but the results are promising and the wines have a real sense of place. Haywire Vintage Bub 2014 is a taut, mineral, and steely traditional-method sparkling wine from Garnet Valley's young vines, aged five years on lees, while the 2021 Pinot Noir from Garnet Valley is light, crisp, and delicate. The proximity of the lake together with the cool aspect combine to give a pure and fruit-forward character and vibrant freshness to Summerland's wines. In hotter vintages Summerland may emerge as a region to rival Nararmata with wines that have a lighter, more restrained style and the Garnet Valley vineyard will undoubtedly shape the profile and future of this appellation.  
Winemaker Matt Dumayne, who lives in a cabin in the wilderness of Garnet Valley with coyotes and bears as neighbors, typifies the energy and resourcefulness of Canadian winemakers. Dunmayne uses an extended 14-21-day post-ferment maceration on the Haywire Pinot Noir, a blend of grapes from Summerland, Naramata, Kelowna, and Oliver, to polymerize the tannins and the result is nice and silky. 
In the process of making the Okanagan Crush Pad and Haywire labels Dumayne has fermented wine in every vessel conceivable and has cultivated a yeast soon to be commercialized. Okanagan Crush Pad Free Form Riesling 2019, from a high-altitude 670m (2,200ft) parcel on rocky granite and clay, is pure as a whistle with a singing silver finish while Free Form Sauvignon Blanc, a wacky wine aged for nine months on skins in amphorae and stainless steel, was unexpectedly moreish.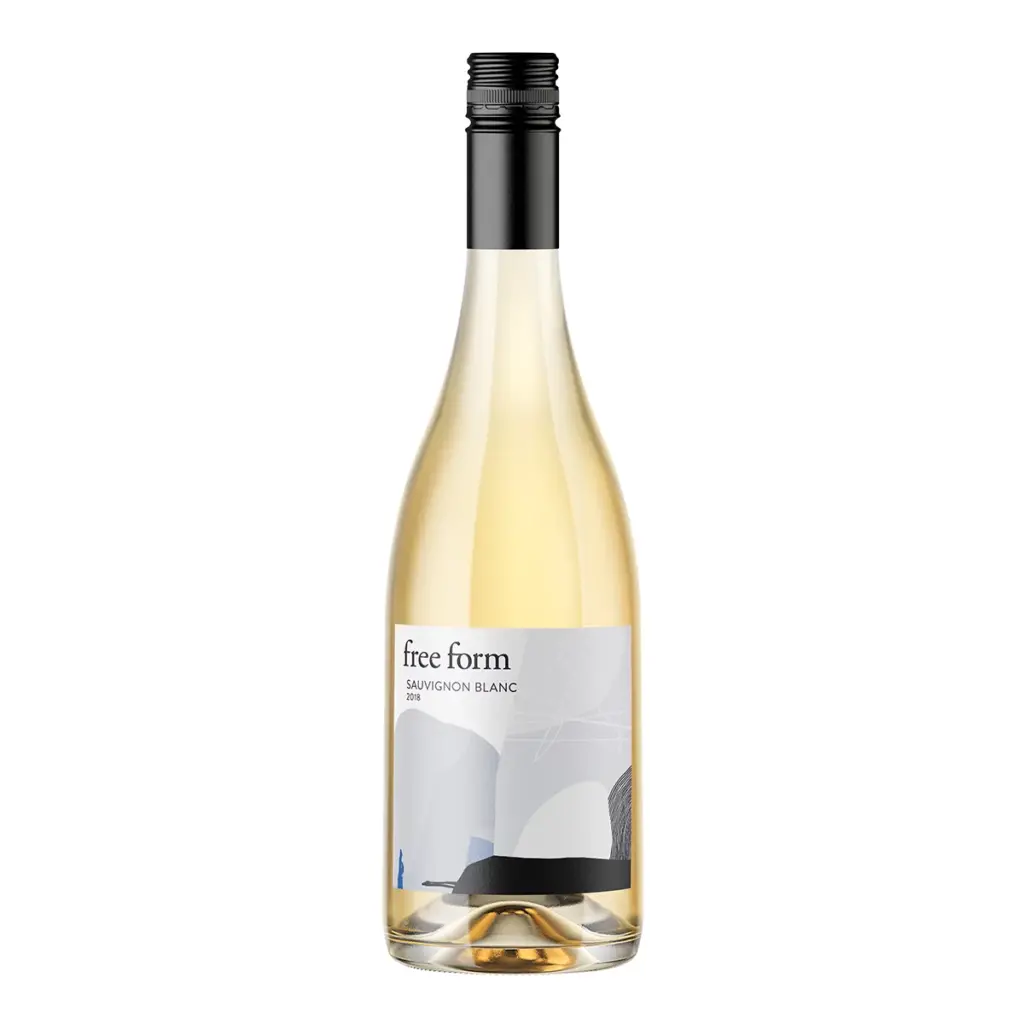 Skaha Bench GI
Driving down the east side of Skaha Lake south of Penticton you arrive at the small sub-GI of Skaha Bench. This doesn't really fit into the profile of the northern section of The Okanagan Valley, both in the varieties it can ripen and the rich style of wine it produces. Not that there's a lot of wine. There are a couple of small farms here, but John Skinner has 56ha (138 acres) of Skaha's total 75ha (185 acres). This is the spot where Skinner realized his winemaking dream after three yeas of searching for the right site. From 2005 he planted 27ha (67 acres) with Bordeaux varieties, Syrah, and Chardonnay.
Painted Rock Estate Winery has a striking clifftop vineyard, sitting in a natural amphitheater. The west-facing, sun-baked slope can happily ripen Bordeaux reds and Syrah. The east-to-west-orientated rows are  unusual, a neat approach which allows the cool air from the hill above to flow down through the vineyard.  Painted Rock's elegant 2020 Syrah hit the mark with violet, floral, and peppery notes, finely textured tannins, and lively acidity. I also enjoyed the intense, smooth and energetic Cabernet Franc. In the northern Okanagan Valley, ripening Cabernet Franc is very site specific. The two standout examples come from Painted Rock and Poplar Grove. Skinner says his Cabernet Franc only became interesting when the roots had grown down through the glacial till and clay and entered the gravel beneath. 
It was Lauren Skinner, John's daughter, who presented and won the case for a sub-GI in 2019 and with this the Skinner family have put Skaha Bench firmly on the map.
Okanagan Falls GI
So what about Chardonnay? Of course it is planted from tip to toe of the Okanagan Valley, but only some grabbed my attention. Many are over-oaky and lack distinction. Chardonnay is a trooper. Plant it anywhere and it should deliver something palatable. Plant it on limestone and clay and in the right conditions and it can be riveting, but on warm sites in silty, sandy soils it can feel dumbed down. Moreover there was a prevalent flavor profile which seemed to originate from the most widely used cultured yeasts.
However, in and around the short and narrow Okanagan Falls, Chardonnay picks up the pace. This was the second region in 2015 to become a sub-GI. On the west side looms the distinctive McIntyre Bluff, while Peach Bluff guards the eastern flank. It is characterized by kettle holes where buried ice blocks, fallen from glaciers, later melted and left deep dimples in the space between the cliffs. The result is a charming roly poly landscape with 360 degrees of growing slopes and a wide range of soil types. There is more glacial till here in contrast to the lake bed deposits of Kelowna. The small 150ha (370 acres) appellation is located on the east side of the valley with most of the vineyards at 400-500m (1,310-1,640ft). There is no lake to moderate the heat of summer, but cool air flows down from the higher elevation at night and a cool wind whips up around 2pm, funnelling through the valley, which is so much narrower at this point. It was bang on time and whistled crisply through the vines when I visited. 
Chardonnay from the Okanagan Falls expresses a sense of place. It has tension, super freshness, and focus with vibrant examples from Noble Ridge, Stags Hollow (Reserve Chardonnay), and Meyer Family Vineyards. At Liquidity the Chardonnay could be taken up a notch with a few tweaks—exchange barriques for older puncheons, put it through malolactic fermentation, cut out bâtonnage and it could be something quite special. With new winemaker Amy Paynter at the helm I have expectations for the 2021. She was busy on the crush pad receiving fruit for sparkling wine when I was tasting, but a sample from tank was promising.  
The profile of Chardonnay from the Okanagan valley is just the ticket as a base wine for sparkling. I tasted plenty of delicious traditional-method wines from the northern Okanagan valley, but the Okanagan Falls is a sweet spot. There were fine examples from Liquidity and Noble Ridge Vineyards.
However, I was a little disappointed with the Pinot Noir from the Okanagan Falls which were generally overly oaky and a little on the robust side, although the Old Block Pinot Noir from Meyer Family Vineyards illustrates the quality which can be achieved. Old Block, which is planted in the gravelly soil of a dried-up creek bed has a specific microclimate, created in a bowl under Peach Cliff. The result is a rich velvety Pinot Noir, with some noticeable oak, but the depth to carry it. Meyer Family has a soft touch with Pinot, which also shows in their Naramata Bench Pinot. There are multiple aspects and the most diverse soils in the Okanagan Valley, giving the potential for captivating Pinot Noir.  
So to recap, the more marginal areas of Lake Country and Summerland are exciting regions where some of the most adventurous producers are exploring the potential, but yet to fully express it. The terroir of Kelowna, with some of the oldest planting in the valley, is neatly shown through crisp and crunchy Pinot Noir and vibrant Riesling. Moving southwards, the west facing warmer Naramata Bench has the most consistent Pinot Noir, fuller bodied with denser and riper tannins than Kelowna. While in the windy Okanagan Falls, Chardonnay takes the lead, acting as a conduit to the terroir with a racy, intense and fresh profile, and this area produces some high quality sparking wine.