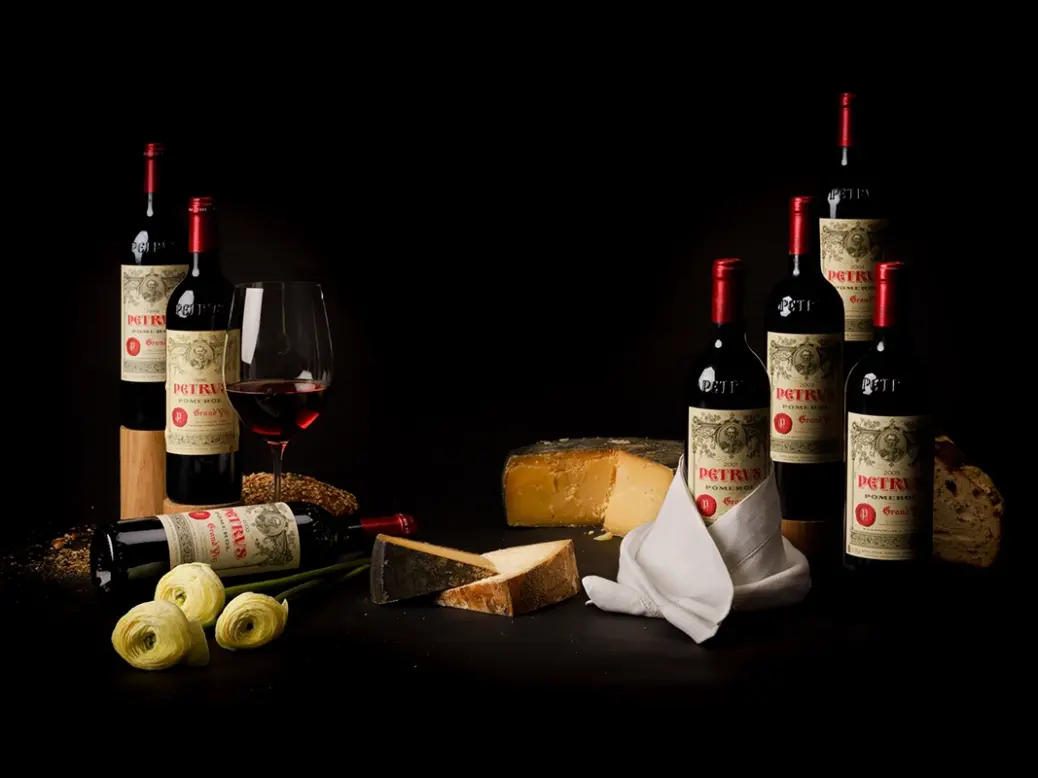 Has the fine-wine market finally been caught up in the chaos of the wider economy, asks Chloe Ashton in her latest in-depth overview of the secondary market.
As the first quarter of 2023 came and went, the world passed two significant milestones: 365 days since Russia invaded Ukraine, and three full years since the start of the first global pandemic in over a century. The effects of the former and aftermath of the latter have created a melting pot of macroeconomic turmoil—cost-push inflation from reduced food and energy supply due to sanctions on Russia, and demand-pull inflation following three years of low spending during lockdowns. Financial markets reacted to this concoction of chaos from March 2022, but the fine-wine market, as ever, has taken a little more time to reveal the symptoms.
Stable or stalemate?
Contrasting the general picture of the wine market in 2020, 2021, and the first half of 2022, in which Liv-ex indices climbed to record highs, fine wine appears to have flatlined over the past 12 months. Liv-ex's main indices remain stable—the Liv-ex 100 and 1000 both displaying positive 12-month performances as of March 2023, of 3 and 4 percent respectively, while the narrowest measure—the Liv-ex 50—has experienced slight negative growth, of less than one percent (fig.1). Meanwhile, the S&P 500 has continued to fluctuate heavily in comparison and has yet to recover its losses since last March. A closer look at the first three months of 2023 paints a less encouraging picture for fine wine. While financial markets show faint signs of recovery—the S&P 500 rising 7 percent in the first quarter of the year—the wine market appears to consolidate further. Liv-ex's 1000, 100, and 50 indices all dipped around one percent between January and March 2023 and registered further falls in April 2023.
Most merchants I speak to offer the same feedback: "It's been pretty quiet." Absence of demand is mechanically sure to lower prices in moderation, as those needing to liquidate their assets make compromises to close deals. Considering the sheer acceleration of demand—especially for Burgundy and Champagne—between mid-2020 and end of 2022, it's little wonder a portion of buyers now seek a quick exit. And while private bankers continue to suffer sleepless nights under the threat of another 2008 crisis looming, the wine trade seems fairly calm about it all. In the UK, Stephen Browett, chairman of Farr Vintners, tells me that "sales so far this year have held up well," though they are "a bit down on last year." In Hong Kong, Thibaut Mathieu, managing director of Corney & Barrow Asia, explains that "the lifting of all Covid restrictions in Asia and the reopening of borders had an impact on sales." Instead of boosting them as much of Europe anticipated, Mathieu specifies that "buyers resumed traveling and spent less on wines," though "the blue-chip fine-wine market, for new vintage releases, remained strong."
Zooming out for a moment, it's important to look at the reality beyond the recent numbers; market prices fell or remained flat for five years after Bordeaux's dramatic rise and fall around release prices for its 2010 vintage (fig.2). This gave rise to wider consumer interests—Barolo, Super-Tuscans, California, and Champagne—ultimately protecting the market through greater diversification. After fine wine's latest ascent, slower price performance is to be expected—but how long will this last?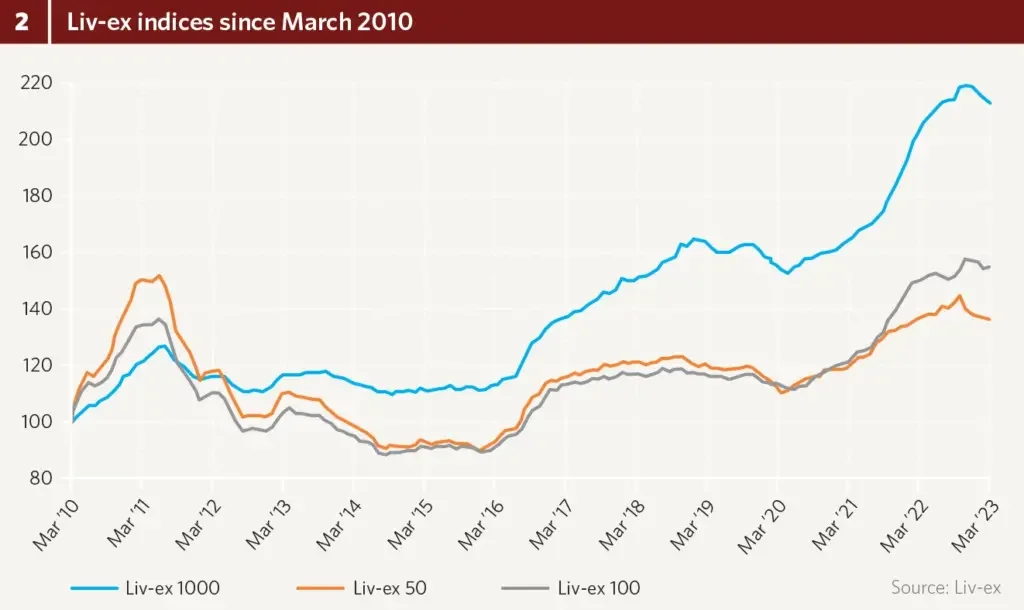 What goes up…
Some regions may be in for a rockier ride than others based on the 12-month performance of Liv-ex regional indices (fig.3). The Champagne 50 index displays a veritable price roller coaster in the months before 2023, following a huge climb through 2022 and subsequent drop of 5 percent in one month (Nov–Dec 2022. As the biggest riser of 2022, the index has flipped in 2023 so far, recording a further fall of 6 percent between January and March 2023, becoming this year's biggest loser so far.
Burgundy's climb and decline has been similar, if softer, displaying a gentler slope toward the end of 2022 and into 2023. It registers a loss of 1.5 percent in Q1 2023 for multiple reasons. First, rumors of the Burgundy bubble bursting have surely frightened a few buyers into selling wines whose prices have spiraled out of control—Domaine de la Romanée-Conti, Leroy, and the like. Second, appetite for the 2021 vintage, at least in the UK, has been good but not as strong as for the previous three vintages. As for Asia's take on Burgundy, Mathieu reassures me that "demand remained strong. Buyers have realized that 2021 is a good vintage, with good quality in red and very good quality in white. The style is different from solar years, but this is not new to them." Generally speaking, the current economic context has done Burgundy no favors, with previously consistent demand "at any price" starting to waver.
Meanwhile, Liv-ex's Bordeaux indices have essentially remained flat in 2023 so far. Browett mentions that "demand was strong for 2019 Bordeaux following the Southwold tasting in autumn 2022"—this surely served to help maintain the indices' stability, even if rumblings of an expensive en primeur 2022 vintage are sending storm clouds over the region again. And though these figures may appear bleak, we must consider them in context. This time last year, Liv-ex regional indices had registered an average first-quarter performance of 7 percent growth. Given the current macroeconomic backdrop, the average 2 percent drop from the same indices one year on is a natural, and perhaps even miraculously measured, reaction.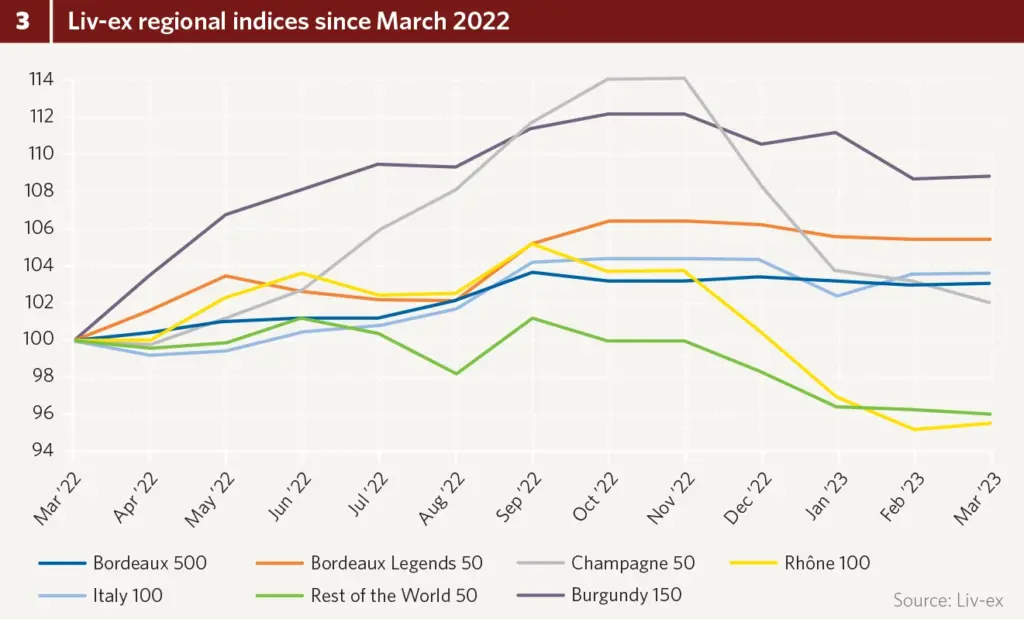 Auction update
Live and online auction revenues for Q1 2023 totaled $90 million—7 percent down on 2022 (fig.4). Digital auctions maintain their importance post-Covid, representing 15 percent of sales in value for the year's first quarter (as in 2022 and 2021). In contrast to the relative radio silence of the retail and wholesale markets, auction activity seems to have had a more energetic start in 2023. Marc Fischer, CEO of Zurich-based auction house, Steinfels, tells me, "Our first auction in 2023 showed stronger prices than the November auction. Wine merchants were actively bidding, and we had a record number of private bidders."
Euro-division
If there is a geographical success story to be told thus far in 2023, then Europe has stood its ground well, despite being most affected by the increased cost of living. Auctions across the UK, France, and Switzerland make up 14 percent of global auction figures in the first three months of 2023—2 percent more than in the same period last year (fig.5). Sales in Beaune and Paris have made most of the contribution toward Europe's boosted numbers. Sotheby's auction of "Iconic Wines from a Prestigious French Cellar" paid homage to its hosting region with a top lot of Georges Roumier's Musigny 1989 (11 bottles), reaching €112,500. Its sale totaled $2.5 million, representing a first-quarter result increase of 75 percent on Sotheby's Beaune auction in February 2022, featuring the same number of lots. Paris continues to prove popular with international bidders buying from a distance. French houses on home turf—Artcurial and Tajan—and international house Bonhams have all achieved well in the city of love thus far in 2023, with a combined Parisian auction sale total of just over $2 million.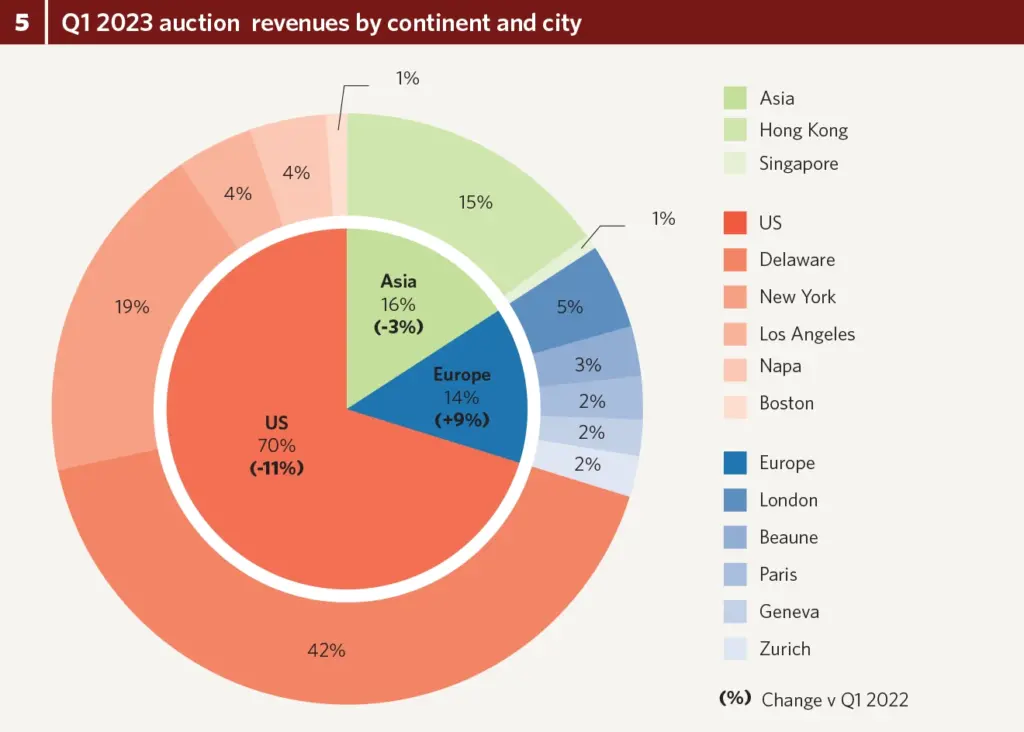 Auction revenues in Geneva were also up on last year's first quarter, thanks to Baghera's creative series of sales, including a record-breaking sale of rare Chartreuse. Rather appropriately for this poignant period in British history, the top lot (selling for CHF34,160) was two bottles of green and yellow Chartreuse VEP, complete with their original wooden case, distilled in 1953 (bottled in 1966), marking the coronation of Queen Elizabeth II.
While London's results were, perhaps expectedly, down 10 percent on the same period last year, the small decline in auction revenues from Asia is more of a surprise. Following the launch of its Singapore office last year, Baghera's "Wine o'Clock" auction, with online-only bidding, achieved a sale total of $606,260. This, combined with sales by Acker Merrall & Condit, Bonhams, Christie's, Gelardini & Romani, Sotheby's, and Zachys still falls short of figures covering Asia from Q1 2022, when some Covid restrictions were still in place.
Paddle persistence
The global wine market was expecting a surge of revival from Asia—led by Hong Kong—but as confirmed by Mathieu, the newfound freedom from Covid restrictions has had the opposite effect, lowering purchases but shifting consumers toward "focus-buying." Analysis from iDealwine's 2022 market barometer offers some positive light on the subject, suggesting that while buyers based in Asia may not loom large in volume, they will still lift the paddle for very specific lots: "Customers in France and the rest of Europe saw the lowest rates of overbidding [in 2022] (15 and 16 percent respectively), while those in Asia and the United States saw the most, with rates of 21 and 20 percent. Within Asia, Japanese buyers were the most ambitious, with a rate of 30 percent." Following more than a decade of increased buying of fine wines, it is not unusual to see this ultra-sophisticated and well-served market raise its expectations in terms of lot caliber, its biggest buyers seeking out only the few unicorns they've yet to acquire.
Strong numbers from global auction houses headquartered in the US prove that American demand remains wide and deep. Acker Merrall & Condit matches its total auction figure of Q1 2022 in the first three months of 2023, with live and online wine sales achieving $32 million (fig.6). Compatriot Zachys records three-month revenues of $14 million—a value decrease of 34 percent on the same period last year, but a pleasing result nonetheless after a quiet end to 2022. Zachys' head of wine-auction sales Charles Antin comments, "We have noticed a strong first quarter between our two March New York live sales, our London live sale, and our Hong Kong live sale dubbed 'The All Sar Collection.' The dip experienced toward the end of 2022 has largely rebounded, and we've continued to see high hammers for the finest and rarest wines, despite the uncertain economic climate."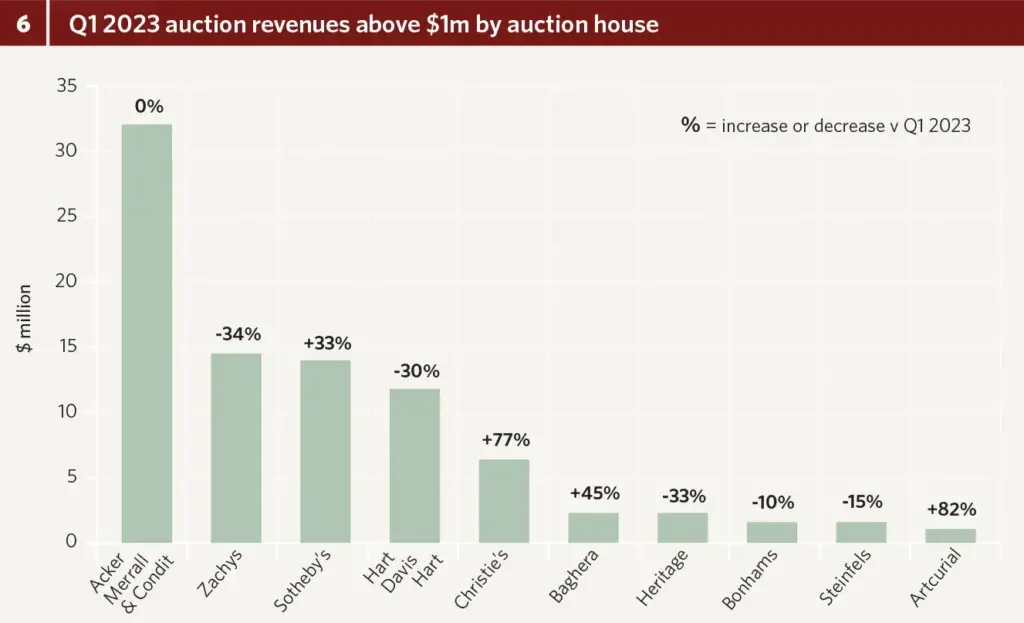 Sotheby's and Christie's both show vastly improved results compared to their figures for the first quarter of 2022: They achieved $14 million and $6 million from sales between January and March 2023. Hart Davis Hart, though down 30 percent on its Q1 2022 sale total, completes the global auction-powerhouse quintet, maintaining its 100 percent sold record.
Wavering prices of Burgundy on the secondary market do not seem to have slowed appetite for the region at auction. Burgundy claims 56 percent of all top lots disclosed in the first three months of 2023, while seven of the ten highest hammer prices of the quarter are Burgundian. As if providing a small glimmer of hope to the 2022 Bordeaux en primeur campaign, the highest hammer price of the quarter was won by Bordeaux—for a parcel of eight bottles of Mouton Rothschild 1945, sold in Christie's March auction, "Grands Crus Part III: Finest and Rarest Wines from the Cellar of Christen Sveaas," held in Hong Kong. This suggests that more than ever the auction market's success remains based on offering elite clientele the vinous treasures they cannot find elsewhere and have little hope of coming across again.
Sailing against the wind
While years such as 2019 and 2021 demonstrate the results of a fine-wine frenzy, wherein bidders are caught up in the action of simply possessing as many fantastic bottles as they can get their hands on, market conditions such as we are experiencing today separate the wheat from the chaff, both in terms of the personal esteem in which purchases will be held and in the quality of those bottles purchased. Louis Krieger, deputy fine-wine director at Boston-based auction house Bonhams Skinner, notes, "The market remains strong, with buyers favoring bottles with clear and demonstrable provenance. Highly desirable bottles continue to experience fierce bidding."
As fears of a recession mount, both auction and secondary markets are bound to tighten as buyers force themselves to be more selective with purchases. This will create greater competition for allocations of the rarest lots, or indeed create bargain opportunities for savvy players. Antin explains that Zachys has already noticed "especially strong results among the more entry-level fine and rare wines, as buyers capitalize on strategic opportunities." Long may these continue—to steer us through the calm waters that are bound to continue through 2023. What lies beyond the horizon will surely depend on the state of the global economy and how much wind the fine-wine campaigns of this year—2022 Bordeaux and Burgundy, and other key releases from Champagne, Barolo, Tuscany, and so on—can put in fine wine's sails.