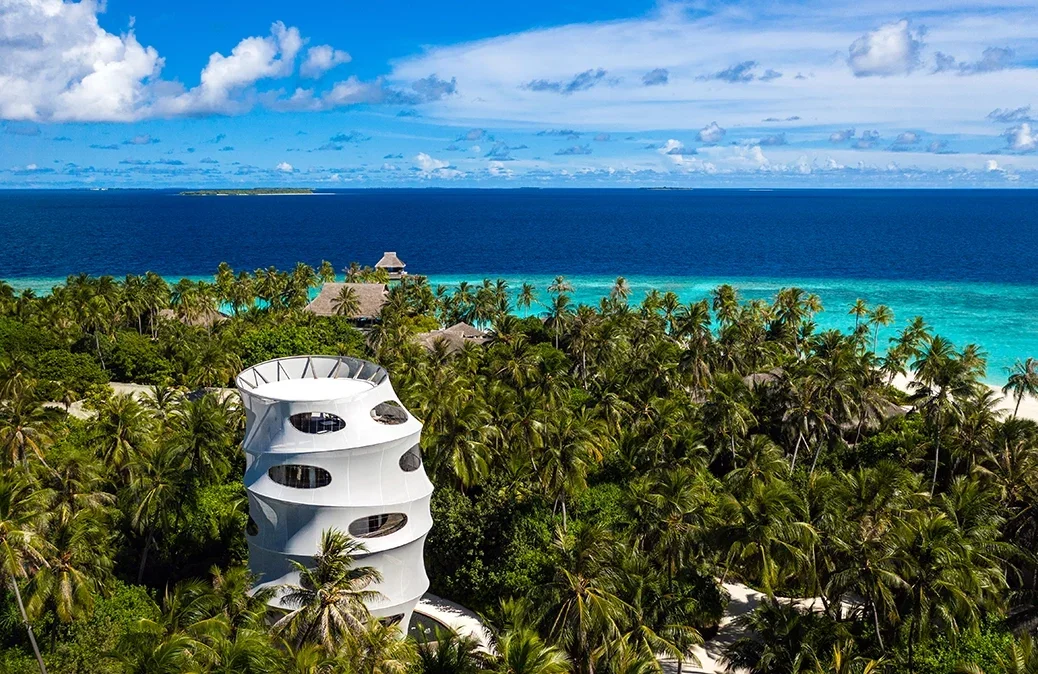 Neil Beckett takes a special trip to Velaa Private Island, an exclusive Maldivian resort that is celebrating its tenth anniversary this year, and finds a gastronomic paradise with an astonishing food and wine offer.
From above, the many smaller islands of the Maldives look like giant smoke rings in a two-tone sea of teal and turquoise, their beauty matched only by their fragility and seeming simplicity. It is hard to imagine doing much more on them than eking out a Robinson Crusoe-like existence, subsisting on coconuts and crabs, seaweed and white snapper—harder still to imagine creating a luxurious paradise for food and wine lovers, not only sun worshippers or water babies. Yet that is exactly what billionaire Czech entrepreneur and financier Jiří Šmejc and his wife Radka set out to do when they bought what is now Velaa Private Island ten years ago. And they have succeeded in fine style. No "demi-paradise" this—it's complete. But it is mini, an almost-perfect circle of little more than 500 yards (500m) across. You can easily saunter all the way around its dazzling white-sand circumference in half an hour. The broad oval shape resembles a turtle—velaa, in Dhivehi, the language of the Maldives—and turtles, mock and real, are everywhere (except the soup).
All along the archipelago—some 540 miles (868km) long from north to south, with an area of more than 8,000 sq miles (21,000 sq km)—many of the Maldives' 1,200 islands are beautiful, and more than a few are now home to luxurious hotels and resorts. (Among the many Dhivehi words for an island is huraa.) But none, surely, is more breathtakingly beautiful, exclusive, or luxurious than Velaa, on the Noonu Atoll 116 miles (187km) north of the capital Malé, whose impressive list of accolades grows longer year by year. (The latest haul can be found on its informative website velaaprivateisland.com and in its inspiring in-house magazine there, Velaa Moments.)
Arriving on one of Velaa's own seaplanes, flown the 45 minutes from Malé by two barefoot pilots in shorts, we were warmly welcomed at the Arrival Pavillion by no fewer than six staff, including Wayne Milgate, the experienced and hospitable Australian general manager; Lisa Jakobsson, the dazzlingly efficient and spirited Swedish director of PR, marketing, and events; and Addo, our butler (a model of courteous charm and discreet efficiency, who appeared as if by magic only whenever needed or wanted).
A maximum of some 150 guests are looked after by some 450 staff, including 26 gardeners. (All those exquisite orchids on trees don't get there by themselves.) All of those we met were unfailingly friendly and helpful, evincing a genuine sense of warmth and welcome. And despite the small size of the island, it never seems small, still less crowded. The circular shape and the clever arrangement of the carefully manicured meandering "roads" in the sand mean that the next attraction is always just around the next bend, as if tracing the scutes on a turtle's back. It is possible to walk all around the island seeing hardly another soul. And for those who don't want to walk, there are bikes at every apartment, as well as buggies driven by the butlers whenever required.
The 3o or so beach pool villas, deluxe beach pool villas, and larger private residences around the edge of the island are all as secluded as they could be, sheltered by the tall, lush tropical vegetation, and even the 18 water pool villas on stilts, including the Romantic Pool Residence accessible only by boat, all look out to sea, so there is never any sense of being overlooked. All of the accommodation is elegantly stylish and supremely comfortable. (The "pillow menu," running to 12 options, is longer than many good by-the-glass wine lists, even in the Coravin era.) Following refurbishments over four months in 2022, there is now a new gym, a kids' club, a yoga pavillion and Pilates studio, a spa, a wellbeing village, a water sports and dive center, a nine-hole golf course designed by José María Olazábal, complete with a resident PGA professional, and badminton, squash, and tennis courts, where some of the world's top tennis stars offer lessons and play matches. Among the artistic evening entertainments are ballet and opera (a recent production of Carmen involving soloists from the Metropolitan Opera in New York) and all kinds of music, from classical and jazz, to pop and rock (though never so loud as to break the restful tranquility of the residences).
Athiri and Tavaru restaurants
The sheer quality and range of the food and wine offering is as astonishing as it is thrilling. (No wonder that among Velaa's latest accolades was Asia's Best Fine Dining Hotel in the 2022 Boutique Hotel Awards.) Culinary director Gaushan De Silva, who used to cook for the Jordanian royal family, presides over a brigade of chefs of 14 different nationalities, who compile eclectic menus based on the cuisine of different nationalities, though many local dishes also figure prominently. Everything we ate was impeccably cooked and presented, well balanced and proportioned in terms of seasoning and serving size.
There are now four restaurants (including Faiy, opening this year), plus the Avi Pool Bar, the Beach Bar, and the Cru Champagne Bar out on the water. At Athiri, the all-day beachfront restaurant, the buffet breakfast and lunch offer an extraordinary cornucopia of delicious delicacies—from freshly baked bread and pastries, through fresh fruit, sushi and sashimi, to myriad cooked dishes, including fragrant local curries. At one lunch, where the brilliantly entertaining and knowledgeable Ahu wanted us to taste two local fish with a range of very different chilies (three Maldivian, one Thai), we enjoyed perfectly cooked and served grouper and white snapper, marveling at the mellow depth, as well as the fiery heat of the spices. Any excess heat was quickly tempered by the best coconut milk we had ever tasted—from yellow coconuts, which, Ahu assured us, are better than green or orange—gloriously rich and sweet and totally unlike the thin gray water I'd sipped with bafflement and disappointment after Pyrrhic victories at the coconut shy in my childhood. The pearly white flesh of the same coconut, as tender as the white of a softly boiled egg, made a nourishing but refreshing dessert. À la carte dinner options at Athiri in the evening, when it is possible to eat at candlelit tables on the beach, were equally rewarding.
Tavaru Restaurant, atop the Tavaru Wine Tower—at three stories high, the tallest architectural structure at any Maldivian island resort—affords superb views, as well as flamboyantly but fastidiously prepared teppanyaki grill food. Here, the highly skilled young chef Mark does well not to set himself on fire or lose a finger as he twirls the tools of his trade as speedily as a cartoon western gunslinger spins his guns. While he candidly describes himself as "a fake Japanese chef" (he's from the Philippines), he studied with some very good real ones, starting as a dishwasher then volunteering to work an extra three hours a day in return for cooking lessons. He catches the ear with his talk and the eye with his tricks, but he also captivates the palate with the flavors and textures of his cuisine.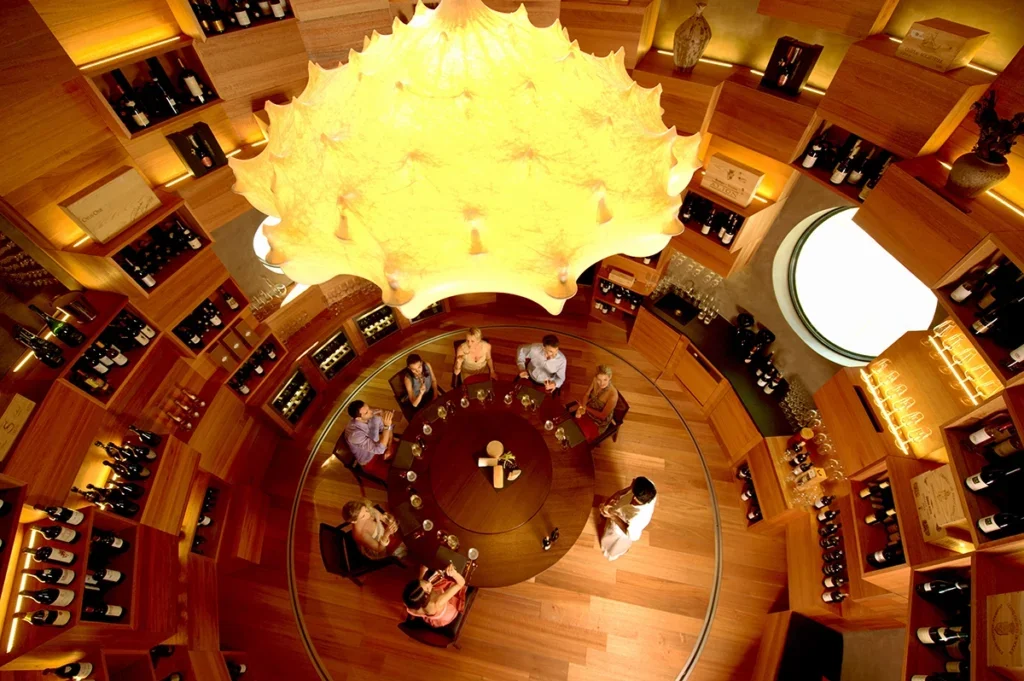 Guests may also arrange bespoke wine tastings with food, for various tastes, in the temperature-controlled Tavaru Wine Cellar under the restaurant. Here is housed what is described as "the most exclusive collection of wine in the Indian Ocean," including "the largest collection of Burgundy in the Maldives"—both claims entirely credible, despite the presence these days of other very impressive cellars at hotels on Madagascar and Mauritius, as well as elsewhere in the Maldives. Some 90 percent of the wines are sourced direct from the producers, and only 10 percent through the trade, to reduce as far as possible the risk of fraud—a serious consideration, given the many very expensive, very recherché wines on offer here (on which more below).
We were treated to a fascinating and fun tasting generously hosted and shared by Wayne Milgate and expertly conducted by the passionate and well-qualified Maldivian sommelier Musto. We hadn't given any indication of what we might like to taste, but Musto read us like a book, intuitively sensing that we might like a mix of the more and less familiar, from the Old and New Worlds: 2014 Clos Rougeard Saumur Brezé (still green-apple and herbal Chenin Blanc to smell, but densely layered, with great intensity of flavor and length); 2016 Evening Land Seven Springs Chardonnay (discreet, pure, herbal-mineral, and steely, with a gently flourishing finish); 2002 Château de Latour Clos de Vougeot Vieilles Vignes (cool, black-fruited, beguilingly silky, but still with excellent freshness and proper power); and 2016 Kaesler Old Bastard Shiraz (darkly spicy, glossy, and richly woven, the intensity from the ancient vines matched by the purity). Rajat Parr, the sommelier-turned-wine producer in California and Oregon, and the source of the Evening Land, is clearly an inspiration for Musto (and not only because he introduced another Parr wine, Sandhi, to one guest at Velaa who proceeded to drink all 36 bottles of that vintage during his stay). All four of the wines Musto served us showed very well—testimony to their provenance and storage, as well as to their selection and treatment (both of the reds brought up to the correct temperature and opened one hour prior to serving).
Still barely 3o years old, Musto has been a sommelier here for only three years but has been working in wine for 12; he was barely of drinking age when he started studying with the Wine & Spirit Education Trust in London. He modestly says that for him, as for many of his compatriots who didn't get straight A grades at school, hospitality was his "only option"—but he seems to have been getting straight As ever since and has embraced his profession wholeheartedly. Achieving the highest score for a student in Southeast Asia the year he sat his WSET Level 3 exam won him a scholarship to Champagne. One of his colleagues at Velaa, Imma, has also reached WSET Level 3, and equally admirable in its way is that 90 percent of the food-and-beverage and front-office staff at Velaa have at least a WSET Level 1 qualification. Ibbe, the young waiter who served us one evening at Athiri, was well able to extol the virtues of the Leclerc Briant Rosé NV, the 2020 Schloss Gobelsburg Riesling, and the 2018 Château de Meursault Clos du Château that we'd requested.
The commitment of the owners and managers to staff development and training is exceptionally high and is reflected in the exemplary standard of the service that the staff offer. Even when the resort was closed for its four months of refurbishment last year, all of the staff were paid, and the owners asked Milgate to select some 30 of them—not only chefs, sommeliers, and servers, but butlers, gardeners, hairdressers, and spa staff—who were sent all around the world to refine their skills, learning from the very best in their field. It may not be quite so surprising, therefore, but it is still telling— especially in an industry with such high staff turnover—that many of the staff have been at the resort for years, some ever since it opened, and several spoke with seeming sincerity of belonging to the "Velaa family." The English spa manager (one of those there from the very start) contrasted the accessibility and attentiveness of Velaa's owners, who visit the island four or five times a year, with the impersonal, impenetrable layers of management in a large multinational hotel group—a difference as stark as that between the congestion and pollution of the beach in the seaside town where she grew up (when it was possible to be on it at all) and the pristine solitude of the beach surrounding Velaa.
Aragu Restaurant
In glorious isolation, at the end of a long wooden walkway over the shallow aquamarine waters of the lagoon, sits Aragu Signature Restaurant and Cru Champagne Bar. While real rays and small black- and white-tipped sharks (not dangerous, I was assured at the dive center by Fazeel, another member of staff there from the beginning) swim underneath, a whole glide of brightly colored flying fish, not real, fortunately, soar suspended through the spacious dining room.
The Aragu wine list is the most extensive at the resort. It may not be the largest in the Indian Ocean, but it still runs to some 30 pages, offering around 1,000 wines—and it may well be the most exclusive; it is exceptional for the depth and height of its selections, as well as for its suitability to the affluent clientele and the cuisine (which is described as "contemporary European with an Asian twist").
Among the good by-the-glass options are Delamotte Blanc de Blancs and Rosé NV; Schloss Gobelsburg Riesling and Vacheron Les Romains Sancerre; Domaine Dugat-Pÿ Bourgogne Cuvée Halinard and La Dame de Montrose; and Les Carmes de Rieussec Sauternes (to highlight only some of the French options).
The Champagne selection (also available at the Cru Bar), some 70 cuvées strong, is headed by Delamotte, the "signature" Champagne house, while its suitably exclusive sister house Salon is also very well represented, with vintages stretching back to the 1970 Delamotte Collection Blanc de Blancs in magnum and the 1971 Salon in magnum. (There are also other Salon magnums, from the sublime 1983, to the spectacular 2008.) But while other top houses and great mature vintages are also here in generous profusion (Billecart-Salmon, Bollinger, Deutz, Dom Pérignon, Henriot, Krug, Laurent-Perrier, Pol Roger, Roederer, Ruinart, Taittinger…), so, too, are leading growers and smaller houses (Dhondt-Grellet, Fleury, Pierre Gimonnet, Jacquesson, Leclerc Briant, Pierre Péters, Philipponnat, Eric Rodez, Savart…).
The Champagne section sets the stylish tone that the rest of the list maintains. There are many of the great and the good from Bordeaux—all five first growths and all of the super-seconds on the Left Bank; Ausone, Cheval Blanc, and Figeac, Petrus, Le Pin, and Vieux Château Certan on the Right Bank, most going back decades, some to the 1920s. And the equivalents from Burgundy—Bouchard Père & Fils, Dugat-Py, Dujac, Lafon, Leflaive, Leroy, Domaine de la Romanée-Conti (back to 1959 La Tâche in magnum and 1978 La Romanée-Conti), Roumier (including four vintages of Chambolle-Musigny Les Amoureuses stretching back 20 years), and Rousseau (including Chambertin, Chambertin-Clos de Bèze, and Gevrey-Chambertin Clos St-Jacques).
Most of the wines are French, but there are also famous names from Italy (Altare, Biondi-Santi, Dal Forno, Gaja, Masseto, Solaia, Terlan) and Spain (Alvaro Palacios and Descendientes de J Palacios, Pingus, Roda, and Vega-Sicilia); California (Dominus, Harlan, Opus One, and Screaming Eagle) and Australia (Kaesler, Penfolds, and Torbreck). There are also a few very fine but much less expensive options—from Austria and Germany (Schloss Gobelsburg and Bassermann-Jordan and Dönnhoff Riesling); from California (Calera and Domaine de la Côte); from South Africa (Boekenhoutskloof and Sadie Family); and from New Zealand (Dog Point and Felton Road).
The affable, deeply knowledgeable, and widely traveled food and beverage director Davide Guidi—who arrived in 2022 after stints at grand hotels in London (The Dorchester, The Lanesborough, The Four Seaons Park Lane), as well as elsewhere in Europe and Asia—is aware that there are areas of the list that could be developed, not only with wines from his native Italy, though these are clearly close to his heart. Not even wine lovers who could afford to do so want to drink Champagne prestige cuvées, Bordeaux first growths, and Burgundy grands crus all the time. But it is a glittering treasure trove that Velaa has been able to assemble—especially remembering that it will be celebrating only its tenth anniversary this year—and rounding out the selection with a few more options for its more adventurous and curious wine-savvy guests will be relatively straightforward.
Special wine dinners
When he captured the magic of two very special Château Latour dinners at another elite Maldives resort more than 15 years ago, Michael Schuster revealed the way in which Latour president Frédéric Engerer wanted, in his words, "to get rid of the idea that certain wines should be drunk here, but not there" (see WFW 16,pp.80–87). Other crème de la crème producers have shared that dream since, to the extent that enjoying their wines with haute cuisine in idyllic, remote, tropical settings no longer seems quite such the "delectable incongruity," as Michael put it, that it did in 2007. Delectable, yes; incongruous, no longer.
Among those fine-wine producers is certainly Didier Depond, the capable, charming, and discreet president of Salon and Delamotte, who has been willing to supply Velaa with venerable vintages from both twin houses. In February 2022 and again in February this year, he has been there to present meticulously prepared Salon and Delamotte dinners in Aragu, in association with the boutique Argentinian producer Tiano & Nareno, represented by its founder Dr Ariel Savina, for the still red wine to go with one of the meat courses.
I was fortunate enough to be at last year's dinner, and memorably special it was. Elsewhere in this issue, Michael Schuster has described the exquisite pleasures of the Delamotte and Salon far more evocatively than I ever could (see this issue, pp.70–72), so it should suffice here to give a brief description of the menu and the wines at the Aragu dinner and to applaud not only the very high quality of the food, the wines, and the service, but also the success of the imaginative but sensitive pairings:
Delamotte Blanc de Blancs NV
Yellowfin tuna (raw, stuffed with olives and walnuts, goat cream, truffle caper dressing)
Delamotte Blanc de Blancs 2014
Spanner crab (steamed, avocado, yuzu, caviar)
Salon S 1997
Maldivian lobster (slow-cooked tail, cauliflower, spinach, sesame emulsion, puffed rice)
Delamotte Rosé NV
Barbary duck (ragù, Parmesan tortellini, rosemary oil, redcurrant reduction)
Tiano & Nareno 2015
Japanese Ohmi A5 (chargrilled tenderloin, potato, porcini sabayon, foie gras jus)
Salon S 2012
Cheese (Comté, Parmesan, Brie)
Delamotte Blanc de Blancs NV
Citrus saffron jelly (espuma mandarin and lemon sorbet)
The Tiano & Nareno calls for a little more explanation, since it will be less familiar than Salon to most. It may appear completely different from Salon in some ways but is actually very close in spirit. A fascinating boutique project, it was started by Dr Ariel Savina, a distinguished medical researcher, who is the grandson of the eponymous Sebastiano and Nazzareno, who emigrated to Argentina from Italy in 1908 and spent 50 years acquiring around Mendoza prime parcels of Malbec and Cabernet Franc. The next generation had other ambitions and sold the vineyards; but with great determination and passion, Ariel has gradually been able to buy Malbec and Cabernet Franc grapes from many of the same old parcels, with an average age of around 85 years. He was inspired by his family history, by old Argentinian Malbecs he tasted from the 1970s, and by Salon in terms of the very highest quality and the rarity and selectivity required to reach it. (Didier Depond is also a business partner in the project.)
Ariel started the venture in 2005, but 2010 (100% Malbec) was the first vintage, and since then only three other vintages have been released—2013, 2014, and 2015 (2017 will be next)—a result of the decision to produce the wine only in suitably fine years. The production is tiny; there were only 880 magnums of the 2010, 5,300 bottles and a few magnums of the 2015, and only half as much of the 2017. The 2015, a blend of 85% Malbec and 15% Cabernet Franc, matured in 50% new oak, is a very lovely wine: expressive but subtle in its elegant fragrance, as much floral and herbal as fruity or spicy, with a faint whiff of incense, becoming a little more leathery and savory with air; then on the palate, effortlessly intense and seamless, fresh, flowing, graceful, silky, and supple, with the gentlest grip on the lingering finish. A rara avis, but well worth catching if ever you spot it.
Other high-end producers who have recently staged wine dinners on Velaa include Hervé Berland, chief executive of Château Montrose (in January 2023), and more are planned, so anybody in the happy position of being able to attend should keep a careful eye on the program there via the Velaa website. Michelin-starred chefs from around the world also make special guest appearances, working alongside the talented home team.
Luxury and sustainability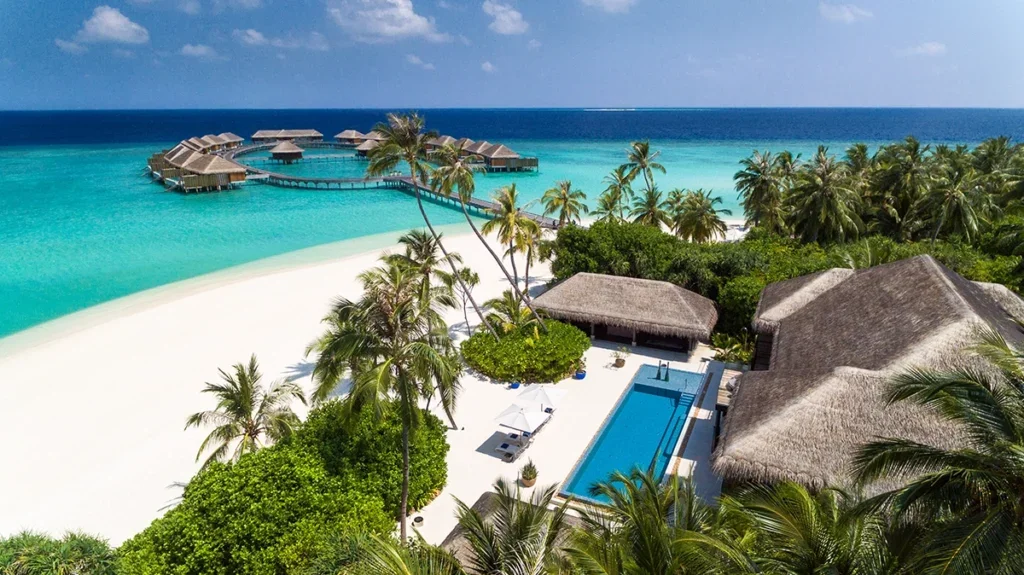 The idea of flying thousands of miles, at least the last hundred in a private plane where there may be as many crew as passengers, to indulge in a dazzling array of luxurious food and wine, all of which also has to be flown or shipped in, will give any responsible traveler pause for thought. But environmental responsibility and sustainability come in several forms. Ahu recalled that the coconut (kurum'baa) that was merely an exotic embellishment to one of our lunches had been, as recently as the years after World War II, almost the only source of nourishment for his parents and others of their generation on neighboring islands, its milk injected into those suffering from dysentery. Over the past ten years, Velaa has offered many young Maldivians far more opportunities for education and employment than it did as a farm for chilies and rice, though an old stone building, now a small museum, has been preserved as a memorial of that way of life and those times. (Jiří Šmejc is also the active chairman of Sirius Foundation, the charity he created to help underprivileged young people more widely.) The hundreds of staff on Velaa are housed in the center of the island but are allowed to have family members on other islands visit them and to make home visits in return. Even the fine-dining offerings on the island are increasingly sustainable, using more and more local, seasonal ingredients. A dedicated team of marine biologists based on the island is working on the most ambitious coral-restoration program in the Maldives, to help protect the ecosytem in the surrounding seas, and guests can adopt individual coral lines, receiving regular updates on their progress.
The fragility of the Maldives, in the face of climate change and ever-rising sea levels, makes their allure all the more compelling—indeed, well-nigh irresistible, for those with the wherewithal—now, as long as it doesn't hasten their disappearance. If all of them do eventually sink beneath the waves, Bacchus and Faunus will surely be begging Neptune to make Velaa their last huraa.